Vegetarian Barbecue Suggestions & Recipes

Use these vegetarian barbecue suggestions, recipes and menu ideas for an easy way to keep your non meat-eating friends happy.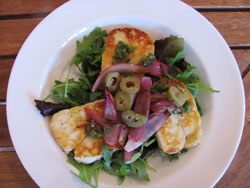 The aim of this section is to provide some healthy vegetarian barbecue suggestions that really involve the bbq cooking process and are not just a range of salads.
I have a number of guests who are vegetarian and I'm delighted to say that whenever they come round for a cookout I'm always able to give them something hot off the grill.
My daughter Hannah is vegan and has now caught the BBQ bug so (with a little help from me) is writing vegan BBQ recipes for those that prefer no animal products at all.
Roasted Veggies With Cauliflower Couscous
Plancha Grilled Vegetables - served with pesto dressing and grilled flat breads.

In addition to our main course vegetarian barbecue suggestions you can also check out these vegetarian barbecue menu ideas for sides:
Easy Grilled Vegetable Recipes
Baby Hasselback Potato Sliders - I made these to accompany a main meal but they just disappeared as finger food.
Miso Marinated Mushrooms - A really simple and super delicious appetiser.
Vegan Mini Sausage Rolls - Another tasty appetiser for any meal.
Cauliflower Pakora Florets With Pomegranate Raita - Subtly spiced Indian flavours for this vegetarian appetiser.
We also have a healthy selection of vegetarian barbecue suggestions in the barbecue salads section too.
TIP - Buy a Teflon® barbecue mat to grill vegetarian food for three reasons:-
It prevents contamination with the meat
It's non stick, making it easy to flip food without it breaking up

The holes are small preventing food falling onto the grill
Combine a few of my recipes below and you'll have a veritable vegetarian feast fit for a king.
Smoked Vegetarian Barbecue Suggestions

Smoked Aubergine With Miso & Honey

---
Marinated Halloumi

Halloumi is a hard cheese traditionally made in Cyprus and is ideal for the barbecue grill because of higher-than-normal melting point compared to other cheeses.
The resistance to melting comes from the fresh curd used in the manufacturing process being heated before being shaped and placed in the brine.
Ask the traditionalists and they'll tell you that Halloumi is made from goats milk...and they are right. Demand however for this cheese has rocketed in recent years so over 80% of that produced is now a blend of goat and cows milk.
It has a pleasant mild salty taste and note how when eating it, it makes your teeth squeak!
Serves:- 6 people

Preparation Time:- 20 minutes
Marinade Time:- 4 hours
Cooking Time:- 10 minutes
Total Time:- 4 hours 30 minutes
Ingredients:-
750g / 1½lb Halloumi cut into 1 cm thick strips
6 tablespoons extra virgin olive oil
1 ½ tablespoons balsamic vinegar
4 plum tomatoes skinned seeded and diced
1 red onion finely chopped
2 tablespoons lemon juice
1 tablespoon chopped fresh basil
salt and freshly ground black pepper
Black olives (optional)
Method:-
Mix up all the ingredients and marinate the cheese for 4 hours. Place the cheese slices into a barbecue basket and place on barbecue grill with hot coals and brush on the marinade a few times.
TIP - Hot coals will help the surface of the cheese go brown and crisp and a barbecue basket gives a little extra spread of surface should your Halloumi soften too quickly.
When the Halloumi takes on a light suntan (about 10 minutes), remove from the grill, place in a serving bowl, dress with the black olives and pour over the remainder of the marinade.
Served as part of a salad or in a pitta bread, you can't go wrong.
Alternatively - If you have a hotplate grill, throw a few red onions on with the cheese. Make a bed of salad on your plate, lay some grilled Halloumi and onion on top and drizzle with lemon juice.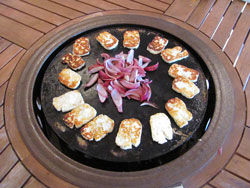 ---
Feta And Potato Burgers

Feta cheese is Greek in origin and most typically made from ewe's milk although in some areas of Greece there the addition of a percentage of goats milk is permitted.
Salty in taste and crumbly in texture you can pick it up in most supermarkets these days although if you really want the real thing then do beware packs that look similar and are labeled something like "Greek style cheese". These have a similar flavor and texture but more often than not they are made from cows milk.
Serves:- 4 people

Preparation Time:- 35 minutes
Cooking Time:- 15 minutes
Total Time:- 50 minutes

Ingredients:-
500g or 1¼lb potatoes
115g or 4 oz feta cheese
4 spring onions chopped
3 tbsp fresh dill
1 egg beaten
1 tbsp lemon juice
2 tbsp olive oil
salt and pepper
Method:-
Boil the potatoes for 20 mins and mash them - just break them up, don't make mashed potato.
TIP - It's important that the potatoes are quite dry so you can boil them in their skins, leave them to cool and then peel and mash them.
Crumble the feta cheese into the mash and add in the rest of the ingredients. Give it a quick mix and allow to cool.
When the mix is cool, make sure that everything is properly mixed and then you can set to making your patties.
Grill over high heat for 15 minutes until the patties have warmed through and are browning slightly to give that crispiness to the outside.
It's got to be a Greek salad and tzaziki to complete this vegetarian barbecue menu idea.

---
Chilli Cheese Quesadillas

What's great about this recipe is how all the flavors really go well together and the toasted pine kernels give that essential crunch that makes the wrap "eat" as good as they taste. In addition I'm a sucker for fresh coriander (cilantro) and this vegetarian barbecue recipe has it in abundance.
Serves:- 4 people

Preparation Time:- 20 minutes
Cooking Time:- 10 minute
Total Time:- 30 minutes

Ingredients:-
225g / 8oz chopped cheddar
2 red chillies seeded and finely chopped
4 tomatoes skinned seeded and diced
2 shallots finely chopped
1 clove garlic crushed or finely chopped
50g pine nuts toasted
4 tablespoons chopped fresh coriander
12 x 20cm flour tortillas
TIP - Use a timer when roasting the pine nuts, it's soooooo easy to pop them in the oven and forget about them only to find a charred mess in the roasting tin. Five minutes on 180°C / 350°F / Gas Mark 4 should be just enough to get that golden brown crunch.
Method:-
Mix up all the ingredients in a bowl and allow it to sit for 10 minutes just to let the flavors mingle. Lay out the tortillas and place a little of the mix in each wrap.
Roll up the wraps and place them on the barbie until the cheese starts to melt. This should be just long enough for the onion and garlic to soften to make the most wonderful chili cheese wrap.
Put a couple to one side where no one can see them because believe me these little guys will leave your grill so fast that there'll be nothing left for you...it's always good to have an insurance policy!
---
Spicy Bean Burgers

Commercially produced veggie-burgers are totally eclipsed by this vegetarian barbecue recipe. We do these all the time on our catering gigs and they always go down a storm with loads of positive compliments.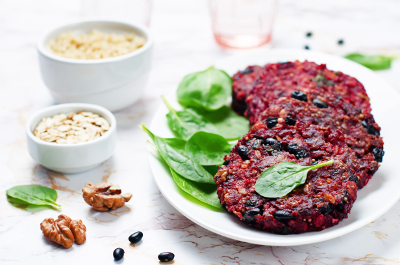 The recipe calls for a tin of beans and in this instance I've gone for red kidney beans but you could use cannellini, haricot beans, pinto beans etc. If you're feeling really colourful why not have a laugh with green flageolet beans?
If you only have dried beans available then these will have to be soaked for 24 hours first and then cooked for 30 mins or so until sufficiently soft to mash.
Serves:- 4 people

Preparation Time:- 20 minutes
Cooking Time:- 10 minutes
Total Time:- 30 minutes

Ingredients:-
1 tablespoon olive oil
1 small onion finely chopped
1 clove garlic crushed
1 teaspoon cumin powder
1 teaspoon coriander
115g / 4 oz finely chopped mushrooms
400g / 14 oz can of red kidney beans beans
1 red chilli, seeded and chopped
2 tbsp fresh coriander (cilantro) chopped
olive oil for brushing
salt and pepper
Method:-
Fry up the mushrooms in the olive oil until any moisture has been driven off then add the onion and garlic fry for a further 2 - 3 minutes until the onion is translucent. Now add the spice powders, continue to cook for another minute of so and then allow to cool.
Rinse the beans and then mash up in a bowl, add the mushroom mixture, the chopped chili and coriander to complete the basic burger mix.
Make into patties and you're ready to go.
Brush down the barbecue mat with olive oil, lay the vegeburgers on and 5 minutes each side over hot coals should be perfect.
See Also:-

Salads
Appetizers
Dips
Beans

Interesting External Links

A couple of the vegetarian barbecue suggestions above use Greek cheese. Click here for more about Greek cheeses


Return Home from Vegetarian Barbecue Suggestions,