Tzaziki Barbecue Dip
Tzaziki barbecue dip is a super healthy menu idea to kick start any BBQ cookout and it's easy to prepare too.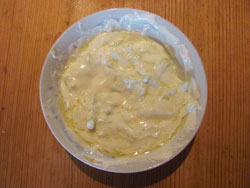 I was first introduced to Tzaziki on the Greek island of Paros many moons ago by a guy called Nick. He was a plumber from Clevedon near Bristol, England, and he was enjoying a fine life of long hard work in the winter and seriously long holidays in the summer. I wonder if he still does it?
We sat at a restaurant and dipped pitta bread into a plate of tzaziki and a plate of eggplant salad – what a great way to start a meal! So refreshing on a hot summers day.
This dish has to be served chilled in my book so that you get the coolness of the yogurt coupled with the smooth texture of the olive oil emulsion and the final kick of the garlic.
I now use dips like these with some vegetable cruditées as a great healthy start to any barbecue.
Alternatively just slice up a few pitta breads and the result's just as good as Nick and I can testify.
It's important to use Greek yogurt because you want it to be thick set and creamy, it will loosen up when you add the other ingredients.

Yield:- 2 cups or 480ml

Preparation Time:- 10 minutes
Refrigeration Time:- overnight
Cooking Time:- n/a
Total Time:- 1 hour 10 minutes (minimum)
Ingredients:-
1 medium cucumber peeled and finely chopped
225ml or ½ pint Greek yogurt
2 cloves crushed garlic
2 tablespoon extra virgin olive oil
4 Kalamata olives pitted and sliced

½ teaspoon salt
Method:-
Pour the yogurt into a bowl and add the rest of the ingredients. Give it a stir, what you're doing is making an emulsion between the yogurt and the olive oil so just make sure that everything is mixed together well.
Once well mixed, chill for at least one hour (and preferably overnight) to let the flavors come together. This will help the garlic soften and sweeten in flavor, if you eat it too soon it's a bit like eating a raw clove of garlic.
Tzaziki is always served cold and in my it's good fresh out of the fridge. Add the sliced kalamata olives for garnish just before serving.

See Also:-

How To Peel Garlic
More Great Barbecue Dips
Tasty Spanish Tapas Appetisers