Greek Pitta Bread Recipe
You'll love this Greek pitta bread recipe if like me you're into kebabs like souvlaki or if you like dips. A pitta is perfect for wrapping around anything to make a sandwich and because it's unleavened bread it's not bad for you either.
I use pittas a lot at lunchtime because (for a bread) they have a relatively low glycaemic index so you don't get all sugared up and feel drowsy in the afternoon.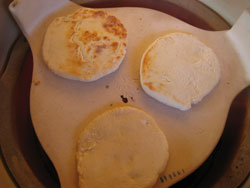 You can see from the picture above that I did cooked these flat breads on a very clean heat deflector stone of my new kamado. Unsurprisingly my kamado has since had much use and the heat deflector stones aren't that colour any more! Use the pizza stone over the heat deflector stones.

Any filling goes (try my souvlaki kabob recipe) and to give it that Greek pitta bread feel make sure that you have a bowl of tzaziki to top off any filling.
Serves:- 12 people

Preparation Time:- 20 minutes
Proving Time:- 2 hours
Cooking Time:- 10 minutes

Total Time:- 2 hours 30 minutes

Allergens:
Gluten (flour) is the only allergen in my pitta bread recipe.

Ingredients:-
450g or 1lb white plain flour
1 teaspoon salt
1 teaspoon white sugar
14g or ¼oz fast-action dry yeast
300ml or ½ pint tepid water
1 tablespoon olive oil
Method:-
You can follow the instructions below or if you have a bread maker, just throw all the ingredients in and set the bread maker off on the pizza setting.
Mix the flour, salt, sugar and yeast together in a bowl. Stir in the warm water and olive oil and mix together to make your dough. Remember that you can always add extra flour if the dough is too sticky or extra water if too dry.
Knead the dough gently on a lightly floured surface for 10 minutes and then leave the dough to prove by placing it in a large clean bowl for two hours in a warm place covered with a damp tea towel.
When the two hours is up, take your dough and kneed again for a further minute or so. Now cut the dough into 12 pieces and set aside for 30 minutes while you get your smoker up to 200°C or 390°F.
To prepare your smoker for cooking bread, make sure that your firebox is cleaned out and always use fresh charcoal, that way you won't get any unwanted flavours in the bread such as the residue of wood chips from from a previous smoke.
Roll out each piece of dough to form a flat oval and bake for 6-7 minutes and then wrap again in the damp tea towel until cool.
When you're filling is ready simply slap your pitta on the grill for a minute or two and you're ready to go.
See Also:-
Greek Souvlaki Recipe
Tzaziki
BBQ Dips
More Greek Menu Ideas
Croissants