Kamado Baked Croissants

Kamado baked croissants are supreme, I did these on a Big Green Egg (other ceramic barbecues are available!) and they proved to be so much better than when done in my kitchen oven.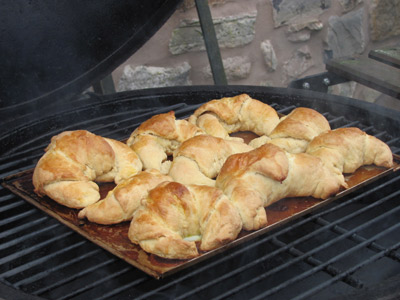 When if comes to leisurely weekend breakfast, what better way is there to start the day than with freshly brewed coffee and homemade croissants? Still warm with a nob of butter or dollop of jam....marvelous!
The origins of the flaky breakfast pastry go make many centuries but for me, it's all about France. This is where you are most likely to be served the breakfast that I've described above and it's got to be served outside in the early morning sun.......and if you see a Frenchman eating his croissant, don't be surprised if you see him covering it with jam and dunking it in his coffee!
The secret to good croissants is three fold:-
The dough – it's not a special flour, it's about creating a leavened puff pastry that's inter-layered with butter.
Time – the butter must remain chilled so there's a continuous need to refrigerate during the process
A good bread oven – which a kamado certainly is. Make sure that you have your kamado up to temperature and not just internally, right through the ceramic shell. That way even when you open the lid to place your croissants in, the kamado returns to temperature really quickly, just like in a traditional bread kiln.
The list of ingredients below is split in two, the first set is for making a batter to start the off the yeast culture and the second is for the bread dough itself.
Note also that this recipe requires preparation the day before at at least 2 hours on the day of baking so factor that into your timings (for me that means having the coffee ready for 10.00am!)
Yield:- 16 croissants

Preparation Time:- 1 hour
Proving Time & Chilling Time:- overnight
Cooking Time:- 20 minutes

Total Time:- ½ day

Allergens:
Ingredients:-
There's gluten in the flour.

For the starter culture
2oz or 25g dried yeast
½ cup or 120ml warm water
½ cup or 120ml warm milk
½ cup or 85g plain flour
2 tablespoons granulated sugar
For the bread dough
3 cups or 335g plain flour
2 teaspoons salt
12 oz or 340g unsalted butter
In addition
You will need extra flour to use when rolling out your pastry and a beaten egg to use as an egg wash prior to baking.
Method:-
Place all the batter ingredients in a mixing bowl, take a hand whisk and combine until you have a smooth paste. Cover and set this aside for 2 hours so that yeast can feed and multiply – you'll be able to see this happening because the batter will start to bubble and increase in volume.
Cut your butter up into ½ " or 1cm cubes and keep it chilled
In a separate mixing bowl take half the butter, all the flour, salt and using your hands gently squeeze the flour into the butter just so that everything starts to come together (you're not looking to work the flour completely into the butter). When done, put this bowl in the refrigerator until your batter.
When the yeast culture batter is ready, take your flour and butter mix out of the refrigerator and add the batter to it in order to make a nice dough. This dough now needs to be rolled out 4 times over a period of time and at the end of every rolling out, more of the butter is added.
Using additional flour to stop the dough from sticking, roll it out. Add a third of the butter cubes, fold it up and return it to the refrigerator for 15 minutes. Repeat this process for a second and a third time until you have used up the remaining cubes of butter.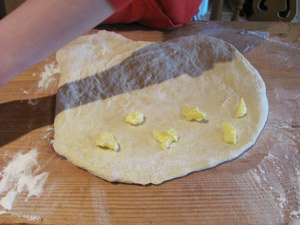 After the third 15 minutes in the refrigerator, roll the dough out for a fourth time until it's about ¼ inch or 6mm thick then fold it up, wrap it in stretch wrap and return it to the refrigerator overnight.
On the morning of the cookout, take your dough out of the refrigerator (if you want to roll it out again then no problem) and cut 16 triangle shapes out of it. Roll the triangles up from base to top and set them out on a lightly greased baking tray with a nice bit of room between them so that they can double their size.
Let them sit like this for a couple of hours at room temperature. This gives the croissants time to expand and you time to light the kamado and set it up for indirect cooking.
After the 2 hours, brush the croissants with the beaten egg wash and place them in the kamado for 15 – 20 minutes at 400°F or 200°C over indirect heat until golden brown. Serve them straight out of the oven with a pot of freshly brewed coffee.
See Also:-
More Kamado Cooking Recipes
Pitta Bread Recipe
Naan Bread
Toad In The Hole