Oven Barbecue Cookbook
I've called this the oven barbecue cookbook because this is the oven part of my recipes website and doesn't involve the BBQ grill - logical eh? It's not cheating, it's just simply adapting the ingredients to suit the weather.
These pages have a variety of recipes that will allow you to keep that barbecue taste going throughout the winter when an oven prepared meal is what's required.
You'll see all the traditional ingredients to make that great barbecue taste, all that's missing is the smoke.
You can add smoke flavour to your food using liquid smoke. To be honest, I don't particularly like it, I find it a bit "false" in flavour and prefer to add a little smoked paprika.

TIP – Remember to save time with all my recipes in this section, first job is to preheat the oven. None of my recipes have a long preparation time so this will save you 15 minutes of frustration when you've thrown everything in the pot!
There's some great recipes down below that'll keep you going until the first signs of spring but if you're like me and still want to light up the grill, maybe it's time to invest in a patio heater? Then again, not good for the environment, so I'll stick it out.
Rain or shine, there are some people who just won't be put off lighting the grill. You guessed it - it's me and my daughter Hannah! And before you ask, that's not my decrepit old caravan in the background.......my decrepit old caravan is just out to view (thankfully) to the right!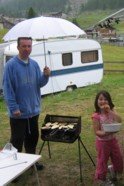 Brunswick Stew - This one enters the oven barbecue cookbook courtesy of SCM, here's his take on this classic one pot BBQ recipe.
Traditional Oven Barbecue Chicken - Tomatoes, Worcestershire sauce etc. All the traditional ingredients are here.
Oven Barbecue Chicken with Soy - A slightly Oriental slant to this one.
Oven Barbecue Chicken with Tabasco - Pepper sauce adds a good kick to the pot.
Traditional Oven Barbecue Ribs With Honey - Chili and honey make for top notch BBQ ribs.
Spicy Oven Barbecue Ribs - Mustard, garlic and Tabasco, fantastic!
Oven Pulled Pork Recipe - The tasty rub on this recipe came as a result of a question from Rob in Florida.
Oven Barbecue Meatballs - Homemade meatballs with a traditional barbecue sauce finished off with a hint of mustard.
Finally for a bit of fun (and special thanks to James Harbaugh of Philadelphia, Ms. for this idea) why not try Turtle Burgers?
See Also:-
Slow Cooker BBQ Recipes


Oven Barbecue Plank Cooking
Build A Barbecue For Next Season
BBQ Grill Islands