Easy Brunswick Stew Recipes
2 easy Brunswick Stew recipes for you here and both are ideal for using up those pulled pork and pulled brisket leftovers.

There's always been a debate about whether the origins of Brunswick stew are in Brunswick, Georgia or Brunswick County, Virginia and it doesn't really stop there because the list of ingredients can vary too. 
The prime ingredient of the original Brunswick stew is usually rabbit or squirrel but derivations now contain chicken, pork and beef and for that reason I find that preparing a stew like this is a great way to use up all those leftovers after a big cookout.
The name can vary too, some call it "Hog Head Hash" and as implied this stew originally started with a hog head. So the foundation ingredients can vary, what's not in doubt however is the low and slow cooking technique to tenderize tough cuts of meat.

That said, there are a few fundamental points to any variation on the Hog Head Hash / Brunswick stew theme:-
It is tomato based
It normally contains corn and sometimes okra and lima beans
It generally has a smoky flavor (hence why it's good for leftover smoked meat)
It is slow cooked at a low temperature
It is a fairly weak stew, but not a soup
Mine actually contains potatoes (in part to thicken it) although in some parts you'll find Brunswick stew recipes calling for it to be served over rice. Also given what I've said above about the varying types of meat normally used, don't feel that you have to stick to my recipe exactly, use whatever you have leftover.
You can also use the bones leftover from your cookout to make the stock and after that it's just one pot Dutch oven cooking.
Brunswick Stew Recipe #1

Serves:- 4 people

Preparation Time:- 20 minutes
Cooking Time:- 4 hours
Total Time:- 4 hours 20 minutes
Ingredients:-
½lb or 250g chopped smoked pork
½lb or 250g chopped smoked chicken
½lb or 250g chopped smoked beef
3 large potatoes
1 onion
1lb or 500g corn kernels
2 tablespoons Worcestershire sauce
1 tablespoon cider vinegar
1 level tablespoon sugar
1 can chopped tomatoes
1 tablespoon tomato paste
1 tablespoon pepper
1 teaspoon salt
Method:-
Pre-heat the oven to 260°F or 125°C.
Peel the potatoes, chop them into large chunks and place half of them in the food processor and half in your stew pot. Do the same 50:50 split for the corn.
Chop the onion and place that all in the food processor and blitz your potato, corn and onion mix until you have a nice creamy yellow paste.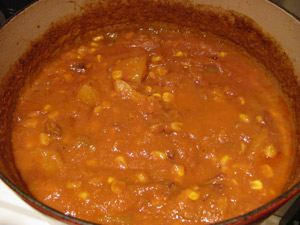 Throw your leftover meat and all the other ingredients in the pot and pour over the paste from the food processor. Stir everything together with the remaining ingredients.
Place the lid on your pot, slide it into the oven at 260°F or 125°C and let it stew for 4 good hours. As the stew cooks the paste will help thicken it to a nice rich consistency, check on it, add a little water if too thick or return to the oven with the lid off for ½ an hour if you need to reduce the liquid.
Serve in hot bowls either over rice or simply with crusty bread.
Brunswick Stew Recipe #2

Sent in by one of our US readers known only to us as SCM, this Brunswick Stew recipe reads more like bucket chemistry to me! Take it that all measures in this recipe are American imperial.

Ingredients:-
1-3LB BOSTON BUTT +/-
1-3LB CHUCK ROAST +/-
1-3LB CHICKEN +/-
1 GALLON TOMATOES W/JUICE ,GRIND
1 GALLON KETCHUP
1 GALLON CORN (no juice), GRIND ½
5 MEDIUM POTATOES
2 MEDIUM ONIONS

6OZ WORCESTERSHIRE
2OZ CIDER VINEGAR
1/3 CUP SUGAR
1 teaspoon smoke (mesquite)
1 heaping table spoon coarse grind black pepper
Method:-
Boil the boston butt, chicken, chuck roast, debone and grind on coarse setting (save the broth)
Grind tomatoes with the juice
Grind ½ of the corn ,do not use juice. Use the other ½ gallon whole kernel
Grind potatoes and onions
Dice another 2 medium potatoes (1/4?)

Add all ingredients to a 7 gallon pot and add broth to your liking.
I like it kind of like oatmeal consistency and mix together well
It needs to be put in pans and baked for 3 hours at 225 / 250, this way it will not scorch

You can cook it on top of the stove but you must stir constantly to not scorch it. If it ever scorches, throw it away because it will have a rank taste. I also like to use white or white and yellow corn mix. White corn seems to be a little firmer. But you can use yellow.

TIP - if you cook on stove try not to let it boil. Cook for about an hour and a half ,then let cool

See Also:-

Oven Barbecue Chicken Recipes
Oven Barbecue Meatballs
More Oven BBQ Recipes