Dutch Oven Cooking

Dutch oven cooking over the open fire or barbecue is a great way to enjoy life in the outdoors. You can used these cast iron pans for anything from baking bread and puddings to casseroles and stews.
What Is A Dutch Oven?
As an Englishman I wasn't familiar with the term Dutch Oven. As I've researched more into the world of barbecue I started to read more about dutch oven cooking and my reaction was hey...that's just a cast iron casserole pan.
And in essence, that's exactly what it is. Of course it depends where in the world you come from, the word changes but the pot is still the pot.
English - Casserole
French - Cocotte
Spanish - Cazuela
Netherlands - Braadpan


Slavic - Sač

Afrikaans - Potjie
Australian - Bedourie
In the barbecue world it seems that dutch oven is the all encompassing term and my website is dedicated to barbecue so a dutch oven it is.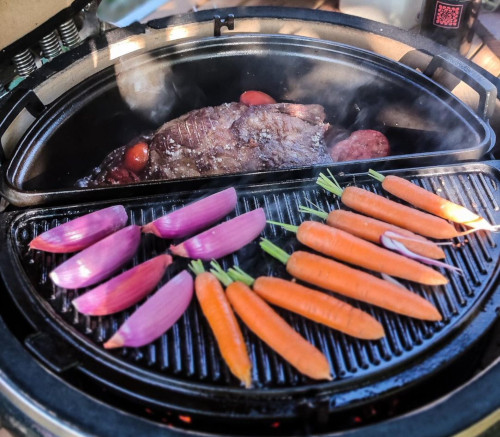 The Basics Of The Dutch Oven
It's a thick-walled cooking pot usually made of cast iron with a tight-fitting lid. That said there are some variations on the theme.
The idea behind them is that they are effectively a universal cooking pot that can be used on the stove top or equally well in the oven. The cast iron properties together with the tight fitting lid ensure moisture is retained and heat is distributed evenly. Once warm, cast iron retains heat really well so the Dutch oven also requires minimal heat to cook. 
Some Dutch ovens have little legs so that they can free stand directly over the coals or embers of a fire
Some have a bail which is an arched semi-circular wire handle attached to either side of the pot with lugs. This makes is easy to hang over the campfire using a tripod
Others feature a flat lid with a lip which allows coals to be place on top of the pot for an all round heat. The lip stops the coals dropping in your stew when you take the lid off
And technically a potjie has a rounded base like a cauldron
Click here to search Dutch Ovens on Amazon
Whichever design choose to buy or already have, a whole new avenue of outdoor cooking opportunities awaits.
The Perfect Barbecue For Dutch Oven Cooking?
Given that the original dutch ovens had either stubby legs so you could place them directly over the camp fire embers or a bail for tripod hanging, one could argue that the only way to really enjoy dutch oven cooking is around a campfire.
The best "barbecue campfire" that I know is the Ozpig and the dutch oven is a perfect cooking method to enjoy with this barbecue. It's a wood fired fire pit barbecue (although you can use charcoal if your wish), they kick out an amazing amount of heat to keep you warm and the circular opening on the top is perfectly designed for seating a dutch oven. The guys at Ozpig have have also designed what they call the "diffuser" which is a circular perforated plate that sits on top of the Ozpig (or Big Pig) onto which you place your dutch oven and the diffuser acts to spread the heat from the fire evenly around the base of your pan.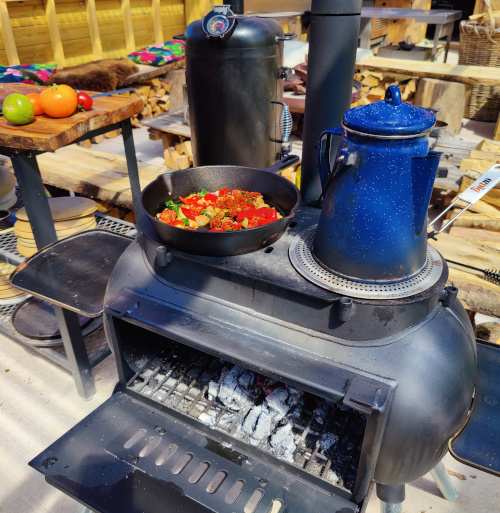 This is the dual stove top Big Pig by Ozpig
That's my "wood fire addicts" view. Clearly a dutch oven will work over any gas burner flame so unless you're an absolute traditionalist then go with the flow.

Dutch Oven Cooking On A Kamado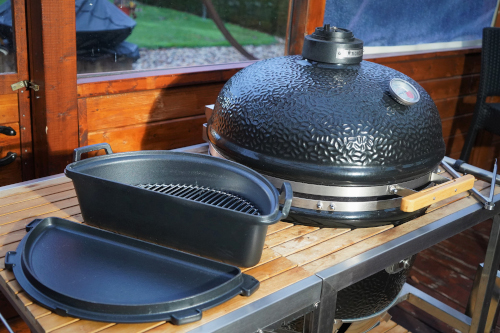 Just worthy of a mention knowing how popular kamado cooking is these days. You can now get cast iron semi circular fire pots that fit into the "Smart Grid System / Divide & Conquer" grill grates which give you the flexibility to cook half in the Dutch oven fire pot and leave the other half of the grill space available for searing or baking.  
Seasoning Your Dutch Oven
Some dutch oven / cast iron pans are enamel coated on the inside. If this is the case then you don't need to consider seasoning.
Seasoning cast iron cookware is an important first step so ensure that your food doesn't stick to the cast iron surface. It applies to cooking grates, fire plates, planchas and it also applies to a cast iron dutch oven.
Some dutch oven manufacturers will now supply equipment that is already seasoned but I'd still recommend going through the seasoning process yourself.
Brush vegetable oil all over the cast iron pot, inside, outside and on the lid too.
Place the dutch oven over indirect heat in your barbecue for about an hour and make sure that the temperature is 150°C (300°F) or above.
Allow it to cool and wipe off any remaining oil with a paper towel
Note: An absolute non-stick surface takes time so even after seasoning, cooking fatty foods to start your dutch oven experience will help.
Dutch Oven Cooking Guidelines
Always cook over a low heat and avoid sudden heat shocks
Never put cold water directly into a hot pan because it can warp or worse still completely crack
Use plastic of wooden utensils to protect your non stick seasoning
Cleaning A Dutch Oven
Never use the dishwasher, always wash by hand with warm soapy water
Dry immediately after washing, don't leave your pan on the drainer to drip dry
If you get signs of rust after cleaning then this is a sign that you need to do more seasoning. You can scrub off any surface rust and then go through the seasoning process outlined above.
Dutch Oven Cooking Recipes
Brunswick Stew - the classic for barbecue leftovers
Traditional Barbecue Baked Beans
Keralan Lentil Daal Recipe - sweet and mildly spiced