Dutch Oven Cooking

Dutch oven cooking over the open fire or barbecue is a great way to enjoy life in the outdoors. You can used these cast iron pans for anything from baking bread and puddings to casseroles and stews.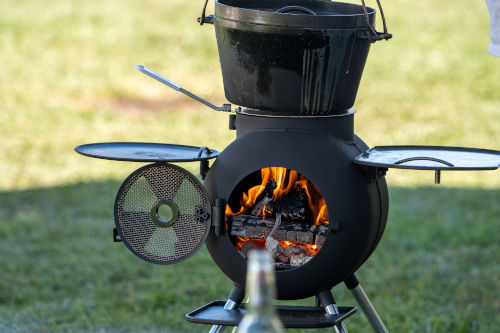 What Is A Dutch Oven?
As an Englishman I wasn't familiar with the term Dutch Oven. As I've researched more into the world of barbecue I started to read more about dutch oven cooking and my reaction was hey...that's just a cast iron casserole pan.
And in essence, that's exactly what it is. Of course it depends where in the world you come from, the word changes but the pot is still the pot.
English - Casserole
French - Cocotte
Spanish - Cazuela
Netherlands - Braadpan


Slavic - Sač

Afrikaans - Potjie
Australian - Bedourie
In the barbecue world it seems that dutch oven is the all encompassing term and my website is dedicated to barbecue so a dutch oven it is.

The Basics Of The Dutch Oven
it's a thick-walled cooking pot usually made of cast iron with a tight-fitting lid. That said there are some variations on the theme.
Some dutch ovens have little legs so that they can free stand directly over the coals or embers of a fire
Some have bail which is an arched semicirular wire handle attached to either side of the pot with lugs. This makes is easy to hang over the campfire using a tripod
Others feature flat lid with a lip which allows coals to be place on top of the pot for an all round heat. The lip stops the coals dropping in your stew when you take the lid off
And technically a potjie has a rounded base like a cauldron
Click here to search Dutch Ovens on Amazon
Whichever design choose to buy or already have, a whole new avenue of outdoor cooking opportunities awaits.
Dutch Oven Cooking Recipes
Brunswick Stew - the classic for barbecue leftovers
Traditional Barbecue Baked Beans
Keralan Lentil Daal Recipe - sweet and mildly spiced