30 Homemade Barbecue Sauce Recipes
Made In Under 30 Minutes
On this page are 30 easy homemade barbecue sauce recipes, most of which can be made in under 30 minutes.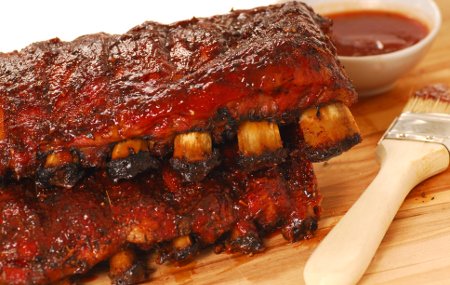 Some will tell you that there are a dozen different styles of barbecue sauce but I think that's narrow minded. It's probably true if you take just the USA into account but barbecue is bigger than that. Take Hoi Sin for example, a classic BBQ sauce from China.
Below you'll find 30 homemade barbecue sauce recipes with all the regional and flavor variations you can think of but first up I've got a recipe with all the basic ingredients for a classic barbecue sauce. If you prefer to jump straight into the regional variations the use this links:-
Right here we're going to cover the basic recipes that will give you a great tasting traditional barbecue sauce.
---
Easy Homemade Barbecue Sauce
Made in just 30 minutes, it really doesn't matter what you're cooking, this sauce is one of the best all rounders so the best advice I can give is "get grilling and enjoy!"
Just check out the list of ingredients and you'll see that everything you need to make a great tasting barbecue sauce is there. Rather than ketchup though, I've use tomato paste the base because I think that this gives a barbecue sauce a more natural tomato flavor, the sweetness then coming from the onions and the addition of sugar.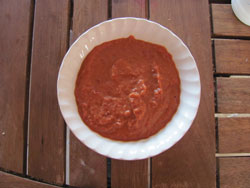 Yield:- 1 cup or 240ml

Preparation Time:- 10 mins
Cooking Time:- 20 mins
Total Time:- 30 minutes
Allergens:
Many homemade barbecue sauces (and this one included) contain Worcestershire sauce and mustard.
Worcestershire sauce contains both gluten and fish however I recently found a gluten free Worcestershire sauce in my supermarket and the ingredients list contained neither of these two allergens.
If you'd like to steer clear altogether then check out my final barbecue sauce recipe.

Ingredients:-
50ml or 2 tablespoons oil
1 onion chopped
1 tablespoons tomato purée (paste)
2 tablespoons wine vinegar
2 tablespoons soft brown sugar
1 heaped teaspoon mustard powder
2 tablespoons Worcestershire sauce
150ml or ¼ pint water
Method:-
Pour the oil into a saucepan, add the onions and fry for 3-4 minutes until the onions are translucent. Stir in the tomato purée and then add the rest of the ingredients. Bring the mixture to the boil and simmer for 10 – 15 minutes.
TIP - It's important to stir the tomato purée in separately in order to get a smooth barbecue sauce. If you just add it with the other ingredients it'll just form as red lumps in the barbecue sauce and you'll have no fun at all trying to smooth out the sauce.
---
My Basic Homemade Barbecue Sauce Recipe
Now, I'm a bit of a garlic fiend so mine will always include a crushed clove (or two). The other variation I like is a bit of spice so I ease down on the garlic and add a red chili or chili sauce.
Yield:- 250ml or ½ pint
Preparation Time:- 5 mins
Cooking Time:- 45 miins
Total Time:- 50 mins

Allergens:
Worcestershire sauce contains both gluten and fish. In addition, this homemade barbecue sauce contains mustard.

Ingredients:-
1 400g can of chopped tomatoes or 1 cup of ketchup
6 tablespoons brown sugar
4 tablespoons vinegar
4 tablespoons Worcestershire sauce
3 tablespoons lemon juice
1 teaspoon dry English mustard
1 clove garlic, crushed
A pinch of salt and pepper
Red chillies / chilli sauce to your taste
Method:-
If you're using canned tomatoes just throw everything into the saucepan, bring to the boil and simmer for 45 mins or so until you have a nice thick sauce.
In the same way I described in the recipe above, if you're using ketchup I find it worthwhile to spend some time at the start and dilute the ketchup in a structured way otherwise you end up with red lumps in your sauce.
Add the ketchup to the pan and then gently stir in the vinegar tablespoon by tablespoon stirring all the time. Once complete you can then add the rest of the ingredients and bring it up to the boil as before.
Remember, you can always vary chilies and garlic to suit your taste.
---
Regional Homemade Barbecue Sauce Recipes
I've got so many more homemade barbecue sauce recipes to share that I don't know where to start. By the time I'm finished we'll have done a virtual world tour and you'll probably be fully spiced up too.
America
Let's start with some tasty traditional recipes that will certainly get those lips smackin':-

Southern Barbecue Sauce - for the lovers of Tabasco.
Memphis (Sweet) Barbecue Sauce - Flavored with molasses and pepped up with chili, try it on chicken or pork.
Alabama White Barbecue Sauce - Great on white meat and burgers, it's white because it's got a mayonnaise base.
Arkansas BBQ Sauce Recipe - It's spicy, use it as a marinade, mop or sauce. This is an age old recipe.

Eastern North Carolina Vinegar BBQ Sauce - Rub it into your pork butt before the cookout.
Western South Carolina Barbecue Sauce - Subtle flavorings with a ketchup base.
Honey Barbecue Sauce - Two recipes for the price of one and both are supremely sweet.
Chipotle Barbecue Sauce - Fantastically sweet and spicy thanks to those smoked red jalapeños
Cranberry Barbecue Sauce - The only serious choice for Thanksgiving
Cola Barbecue Sauce - Here we use cola to provide the sweetness for the sauce.
Original Kentucky Bourbon Barbecue Sauce - The original recipe for a classic taste.
Bourbon Barbecue Sauce With Dijon Mustard - You could say that this has a European flavor to it with the addition of French mustard and a shot of Balsamic Vinegar.
Sweet Bourbon BBQ Sauce - Maple syrup and molasses add a distinctive sweetness to this one.
Jim Beam Kentucky Bourbon Barbecue Sauce - so much better than anything out of a bottle and it doesn't hold back on the liquor.
Texas BBQ Glaze - Just four ingredients and you've got a mop to die for.
---
Europe
Coffee BBQ Sauce - Hot and spicy with an espresso adrenaline kick. It's not for the faint hearted!
Mustard Barbecue Sauce - Delicious on a pork steak. Just slap it on!
Gourmet Barbecue Sauce - For those out there who thrive on gastronomy, fresh ingredients abound.
Coleman's Mustard Barbecue Sauce - Not by me, this one was entered into our BBQ recipe competition by Toni, Santa Barbara CA. It's in the European section because Colman's mustard is from Norwich in Norfolk.
Sauces For Meat And Fish

In Europe, whether you are grilling or smoking, it's a barbecue. These recipes below are great with grilled meats and fish so to me they're just as much a homemade barbecue sauce as any other.
Honey Mustard Sauce - With freshly chopped dill, this goes great on pork.
Apple Brandy Glaze - Pork and apple were simply made for each other.
Damson Jam Sauce - rich and fruity, ideal for duck.
Lime Sauce For Grilled Fish - The citrus acidity of the lime is perfect on white fish.
Lemon Butter Sauce For Grilled Salmon
- Traditional and very quick and easy to prepare.
Marie Rose Sauce - The homemade thousand island dressing, easy to make and perfect to dip your shrimps.
Bearnaise Sauce Recipe - The perfect accompaniment to a grilled fillet steak (filet mignon).
---
Asia
Asia is a big continent and there some great homemade barbecue sauce recipes in these next few pages:-
Korean Sweet Barbecue Sauce - Sweet and flavored with soy sauce, it makes a perfect combination with beef.
Asian Style Barbecue Sauces - Packed full of those traditional Chinese it works well on all meats.
Oriental Vinegar BBQ Sauce - Sweet and sour with a kick of chili. You choose how spicy you want it.
Hoi Sin Sauce - Chinese barbecue sauce made in your own home using everyday ingredients.
Mint & Coriander Sauce - Packed full of ingredients, it's more like a chutney. Works well with any lamb dish.
Fusion Sauce - East meets West to produce a unique barbecue combination.
So maybe I haven't tickled your fancy yet? Well if your looking for a homemade barbecue sauce to match up to your health, fitness and well-being lifestyle then here are the pages for you:-
---
Healthy & Low Sugar Homemade Barbecue Sauce Recipes
Low Carb Barbecue Sauce - Taking natural sweetness from caramelized onions, not one to try if you're in a hurry.
Sugar Free Barbecue Sauce - This sauce takes its natural sweetness from caramelized onions.
Quick Sugar Free BBQ Sauce - Use a diet cola to sweeten this one up.
Diabetic Barbecue Sauce - Another low sugar alternative.
I've always thought of vinegar almost as a "must have" in any traditional BBQ sauce but some people do have allergies to vinegar and one person I know just asked me for a recipes because they'd no vinegar in the house. Check out my reply for a Vinegar Free BBQ Sauce Recipe
---
Simply The Best?

I've saved the best 'til last. This is my Best Barbecue Sauce - all the traditional flavors are packed into this one.
And running in competition with me is Doug from Ottawa who sent in his best backyard BBQ sauce - let us all know what you think of this one.
Treat this as a P.P.S because how can we ignore the most obvious homemade barbecue sauce -
A Homemade Tomato Ketchup Recipe - Compared with the Heinz variety, this might just win it by a short head.
And finally, this homemade barbecue sauce recipe is difficult to categorise. Is it a sauce, is it a baste or mop or event a marinade? I like to think of it as a paste that works well on grilled pork or smoked pork, just paste it on close to the end of the cookout. It's spicy sweet with a high sugar content which is why you paste it on at the end of the cookout so it doesn't burn.

Preparation Time:- 10 mins

Cooking Time:- N/A

Total Time:-
10 mins
Allergens
Ingredients:-
450g or 1 lb Muscovado sugar
50g or 2 oz salt
50g or 2 oz paprika
50g or 2 oz celery salt
2 Tablespoons freshly ground black pepper
1 or 2 tablespoons hot chili powder (depending on your taste)
2 teaspoons ground cumin
1 teaspoon garlic salt
Zest of one lemon
100ml or 4 fl oz olive oil
3 tablespoons white wine vinegar
Method:-
Drop all the ingredients into a mixing bowl except for the olive oil and the wine vinegar and mix together thoroughly. Now stir in the olive oil to make a paste and finally add the white wine vinegar tablespoon by tablespoon.
Now you're ready to mop!

---
Bottling Homemade Barbecue Sauce

If you want to try bottling your own homemade barbecue sauce then use this link for information about how long you can keep a homemade BBQ sauce once you've made it.
Useful External Links

You might have you own secret homemade barbecue recipe and want to bottle it commercially like we do at Que Fresco. If you're considering this then this page is relevant: Finding A Bottler / Co Packer
Note that these references will help you get your barbecue sauce bottled but that doesn't guarantee sales.
The competition for bottled sauce sales is fierce so think carefully before investing major resources into your commercial project.