Honey Barbecue Sauce Recipes
Using the most natural sweetener in the world my honey barbecue sauce recipes are both quick and easy to make. 15 minutes from start to finish, just pop all the ingredients in a bowl and stir until everything is thoroughly mixed together.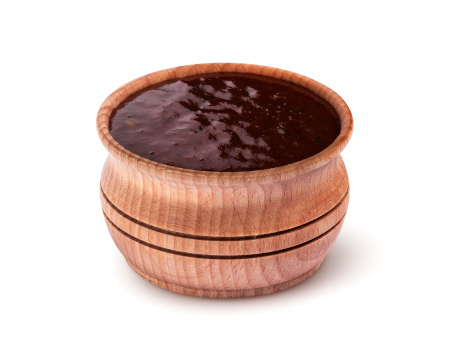 Did you know that in Roman times, soldiers used to dress their wounds using honey? It's one of the most natural ingredients with many anti bacterial properties - at last, something sweet that's good for you!
In all cases one of the main secondary ingredients mustard so if you haven't tried a honey and mustard combination before then you're in for a treat. Here are the three options from which to choose:

In addition to being used as sauces, these honey barbecue sauce recipes can also be used as mops (or glazes) and are perfect for brushing on your ribs during the final stages of cooking.
Because it's honey you need to be careful that the sauce doesn't burn, so brush on during the final 30 minutes of smoking and you'll add that beautiful sticky sweetness to the end result.
Barbecue Sauce Recipe No.1 (Regular)

This recipe is stunning on pork chops.

Allergens:
Celery (ketchup)
Mustard (Dijon mustard)
Soya & Gluten (soy sauce)
Yield:- 300ml or ½ pint
Preparation Time:- 5 mins
Cooking Time:- 10 mins

Total Time:- 15 mins

Ingredients:-
150 or ¾ cup honey
100ml or ½ cup ketchup
50 ml or 2 floz sunflower oil
1 tablespoon white wine vinegar
2 tablespoons brown muscovado sugar
1 teaspoon Dijon Mustard
1 tablespoon soy sauce
1 crushed garlic clove
Pinch of dry chili flakes
Method:-
Just place all the ingredients into a pan, warm gently to help dissolve the sugar and stir until thoroughly mixed.

---
Barbecue Sauce Recipe No.2 (Chinese)

This recipe has a Chinese twist to it, try it with spare ribs or duck.

Allergens:
Celery (ketchup)
Soya and Gluten (soy sauce)
Yield:- ½ Cup
Preparation Time:- 5 mins
Cooking Time:- 10 mins

Total Time:- 15 mins

Ingredients:-
Oil
2 cloves garlic crushed
60ml / 2oz tomato ketchup
3 tablespoons honey
1 tablespoon muscovado sugar
1 tablespoon dry sherry
1 tablespoon chili sauce
2 tablespoons soy sauce
1 tablespoon white wine vinegar
¼ teaspoon Chinese five spice
Method:-
As with these honey barbecue sauce recipes it's just a case of mix together, stir and brush on.
In order to get everything mixed it may be necessary to warm the barbecue sauce up a bit, which is fine but just remember to do it gently and stay with the pan. I've done it many a time where I set something off to warm, walk away to do something else and forget about it, only to return to a sticky mess!
Once you're happy with the mix, allow it to cool, cover and refrigerate until ready to use.
---
Honey Mustard BBQ Sauce With Fresh Dill
Honey barbecue sauce recipes don't get any easier than this and full credits go to my Polish correspondent Sebastian who sent in this recipe. He said that it goes great on any meat and he wasn't wrong. I find it particularly good on grilled pork chops or steaks.
Now just because I've mentioned Poland, don't just click away onto another recipe. Yes it's true that in communist times the quality a variety of Polish cooking really revolved around pork, potatoes and cabbage but since Glasnost things have changed dramatically on the culinary front so go with Sebastian on this one.
The recipe contains dill and I have to say that I've never been a big fan so when I saw it in the ingredients I wasn't overly enthused but how wrong I was. Dill has a slightly sweet taste to it and combined with honey it really works well.
Dijon mustard already contains vinegar too so that sweet and sour taste that you expect from any barbecue sauce is right here too.
The other great thing about this sauce is that you can make it in less than a minute and use it to top off some grilled meat or use it as a mop and baste it on towards the end of the cooking. I like the idea of a mop because it helps to keep the pork moist during the cooking.
I've made enough here to cover a couple of large chops so for more, just double up on the quantities.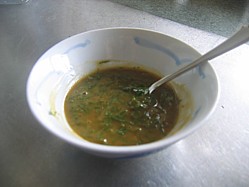 Allergens:
Yield:- ¼ cup or 60ml
Preparation Time:- 5 mins
Cooking Time:- n/a

Total Time:- 5 minutes
Ingredients:-
2 teaspoons Dijon mustard
2 teaspoons runny honey
1 handful chopped dill
Method:-
It really is as simple as spoon out the ingredients into a bowl and give it a stir round to mix in. I challenge you to find any sauce more delicious that can be done in such a short space of time.
Related Pages:-
More Homemade Barbecue Sauce Recipes


Low Carb Barbecue Sauce Recipes
Diabetic Barbecue Sauce Recipe
A great tip for peeling garlic