Diabetic Barbecue Sauce Recipe
Just because this is headlined as a diabetic barbecue sauce recipe doesn't mean that it has to be kept to one side and only brought out when there is a medical need. Anyone can make it and anyone can eat it.

I have to confess to being very conscious about my health and the food that I put into my body yet at the same time I'm also passionate about barbecue and outdoor cooking.
My argument is that if you are using my recipes for your own meals then that's got to be a step in the right direction because cooking from fresh ingredients is always better than starting with a processed ingredient.
That said, I know that sugar is not good for me and I also know that a number of my barbecue sauce recipes contain either a lot of added sugar or start with a processed ingredient such as ketchup.
So this recipe is based primarily on fresh ingredients but its still has a sweetness thanks to the addition of some sugar free cola.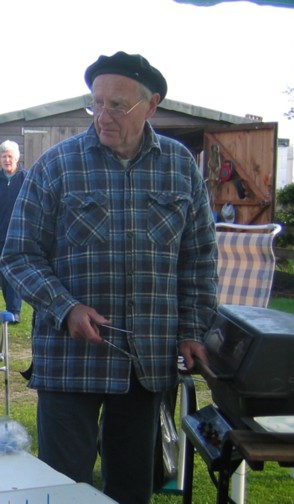 My Uncle Harold slaving over his gas grill
My uncle turned diabetic five years ago so when our family get together this is the barbecue sauce recipe I make.
That said, since I first put this recipe together my uncle's diabetes has rescinded. I have heard of this happening as you change diet towards more fresh ingredients and lose weight. Of course I'd like to think that it was down to the magic of my barbecue sauce but I guess that's probably stretching the point somewhat although as part of an overall diet change then why not? If you would like to learn more about how you can reverse diabetes by changing your diet then this website is a good place to start.

Note:- This recipe can be classed as a diabetic barbecue sauce recipe given the low sugar content although it is not sugar free. There is added sugar in Worcestershire sauce, the teaspoon of which that goes into this recipe constitutes approximately 1g of added sugar. Please remember I'm not a doctor and therefore I make no claims about the merits of this recipe.
Allergens:
Worcestershire sauce contains both fish and gluten.

Yield:- 240ml or 1 cup
Preparation Time:- 10 minutes
Cooking Time:- 10 minutes

Total Time:- 20 minutes

Ingredients:-
1 tablespoon onion, v. finely chopped or crushed
1 teaspoon Worcestershire Sauce
1 teaspoon lemon juice
1 teaspoon onion salt
1 teaspoon crushed garlic
A pinch of cayenne pepper
4 tablespoons tomato puree
225ml or 1 cup sugar-free cola
Method:-
It's easy to prepare, add the tomato puree to the pan and gradually dilute with the lemon juice and Worcestershire whilst stirring all the time - this will make sure that there are no lumps.
Now add the rest of the ingredients and continue to stir or whisk to ensure no lumps. Heat up the contents of the pan until it starts to boil and then take it off the heat.
See Also:-
Low Carb BBQ Sauce
Sugar Free BBQ Sauce
More Barbecue Sauce Recipes
The Easy Way To Peel Garlic