Stainless Steel Cooking Grates
& Replacement BBQ Grills UK Made
You need replacement BBQ grills & stainless steel cooking grates if your barbecue grill looks like this Weber kettle: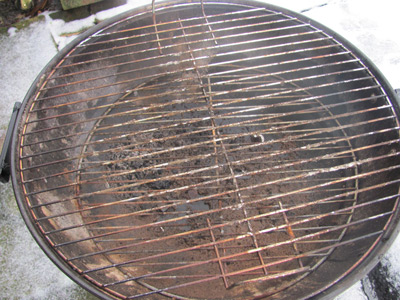 These cheap nickel or chrome plated steel grills looked sparkling in the shop but one year in (especially in the wet British climate) and the plating has chipped and started to rust.
The same even happens to porcelain enamel when chipped…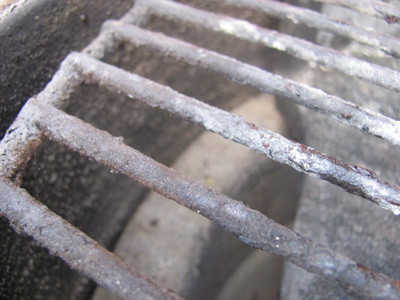 …but not stainless steel.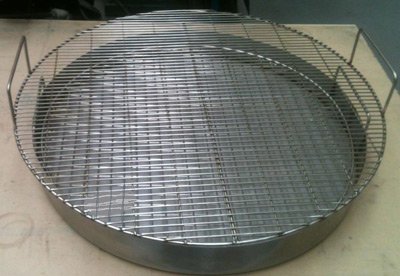 Cooking on rusty old grill grates isn't a pleasant experience, flavour is tainted and you can get debris in your food so that's why we've chosen to make replacement barbecue grill grates out of stainless steel. They don't rust, they do the job and year after year they look great…a design for life.
Why don't barbecue grill manufacturers use stainless steel? It's down to cost and cheap Chinese imports that look acceptable when new but pretty shoddy after a just one BBQ season..
Hand-made in the UK, a set of my rectangular or round stainless steel cooking grates will not rust, they will last you a lifetime even with our Great British weather!
After a cookout just brush them down with a wire brush, soak in warm soapy water and they'll come up good as new – they're dishwasher safe too.
Click here to see our standard range of stainless steel cooking grates
Not All Stainless Steel Is The Same
Whenever you are buying anything in stainless steel (this applies to gas grills too) always ask about the grade of stainless steel used because there are 2 types:-
Type 430: Quite a lot of stuff imported from China is made from this lesser grade stainless. Referred to as decorative stainless steel, a barbecue made from this material may crack, will rust and eventually fall apart.
Type 304: Is the real deal, the stuff used by professionals. It will not rust. Needless to say, this is the stainless steel bar that we use to make our grills
Click here to read our full guide to stainless steel.

Thin Or Thick Bars?

We make stainless steel cooking grates in 3mm bar and 6mm bar so which is the best? We prefer 3mm bar because it allows more heat to get in contact with the food but in some cases the thicker 6mm bar looks better with certain barbecues. There's not much in it so it's more about what's right for you.
Rectangular replacement barbecue grills are fabricated with a 3mm outer bar. Circular replacement BBQ grills both come edged with a 6mm outer bar (for rigidity) whether you buy a 3mm grill or 6mm grate.
Note: We also make replacement BBQ grills using thicker bar (8mm, 10mm & 16mm) to be used for replacement charcoal fire grates too.
Click below on the size that fits your grill or alternatively if you have a non-standard size, use our calculator to work out the cost and then call me (Paul) on 07814 500755 and we'll get it custom made for you.
Order Your Replacement Stainless Steel Cooking Grates Today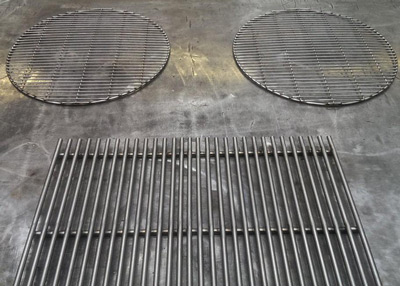 All our replacement BBQ grills are made in the UK from stainless steel and we offer UK wide delivery at no extra charge, place your order today and we'll have it made and delivered to you within the week using Parcelforce 48 hour delivery.
Sample prices are below for our standard range using 3mm bar and if you need something custom made, just complete the rapid response form below.
Remember, prices for all our replacement bbq grills include VAT and delivery. The minimum order value to qualify for free delivery is £60.

Rectangular Grates

3mm Bar Prices:

610 x 400mm -    £109.00

915 x 400mm -   £165.00

1220 x 400mm - £219.00

1220 x 600mm - £329.00

Non Standard Rectangular Grates

For non standard dimensions use this cost calculator link below for an approximate price (VAT & delivery included) on a rectangular 3mm bar grate. The answer to the query is the price in GBP £ Sterling, round it up to the nearest fiver to avoid error.
Note: For small sizes the carriage paid minimum order charge is £60.00 including VAT

Type your requirements into our enquiry / order form below to place your order.

3mm Bar Rectangular Stainless Steel Grill Grate Cost Calculator
Circular Stainless Steel Grill Grates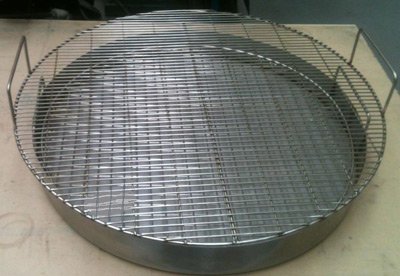 We are continually asked for 3mm bar circular stainless steel grill grates as replacement BBQ grills for rusty chrome plated ones on kettle barbecues. The most popular are the standard Weber sizes:-
18.5" (470mm) - £154.00
22.5" (570mm) - £227.00
To calculate the price for other sizes:-

3mm Bar Circular Stainless Steel Grill Grate Cost Calculator
Feed the diameter of the replacement bbq grills you need into the calculator and the answer to your sum is a guide price in GBP.
Note: For small sizes the carriage paid minimum order charge is £60.00 including VAT
Other Bar Thicknesses
600 x 400 x 6mm -  £145.00
600 x 400 x 8mm -  £183.00
600 x 400 x 10mm - £205.00
600 x 400 x 12mm - £219.00
600 x 400 x 16mm - £269.00
---
Cost Calculators For 6mm Bar

As with the cost calculators above just feed the dimensions of the replacement BBQ grills you need you'll get a guide price for your replacement grill manufactured in 6mm stainless steel. Next, type your requirements into our enquiry / order form below to place your order.
All prices for stainless steel grills include VAT and delivery.
Note: For small sizes the carriage paid minimum order charge is £45.00 including VAT
Non Standard 6mm Bar Rectangular Grates

6mm Rar Rectangular Stainless Steel Grill Grate Cost Calculator
For 6mm Bar Circular Grates
6mm Bar Circular Stainless Steel Grill Grate Cost Calculator
---
International Shipping

We offer international shipping for our replacement BBQ grills, additional costs below are approximate so please use the rapid response form to get an accurate quotation.
Northern EU -  £20
Southern EU -  £30
Middle East -    £40
North America - £50
How To Clean Stainless Steel Cooking Grates
Debris left over from your last cookout is the perfect feeding ground for insects and the perfect breeding ground for bacteria so it's important to always clean your stainless steel grills after using them. Never mind the fact that rancid fat deposits will make your next cookout bad.
Unlike some types of grill grate, my stainless steel cooking grates make this job a breeze.
Leave the stainless steel grills over the coals while you eat your food, during this time the heat will carbonize most of the fat deposits into a black crust. While the grill grates are still warm get a stainless steel wire brush and some warm soapy water.
You can also use the Dishwasher. Many will tell you not to but that's because their grill grates aren't stainless steel! Just make sure you've done the initial scrape first otherwise the heat dry cycle will cake the carbon debris on super hard.
OK, sometimes we have a couple of beers too many and forget to clean up after the cookout so if you've forgotten to clean your cooking grates recently or you have non stainless steel grills then try these tips:-
Place double layer foil over the grates and sit them over the gas burner (use the indoor hob if you have a charcoal grill) for 15 - 20 minutes. Allow to cool and you'll find that all the black charred matter will turn white and flaky making it easy to brush off with a wire brush.
Another technique is to soak stainless steel cooking grates in an ammonia solution overnight. Wash down with warm soapy water and all the grease will just wipe off leaving you with bright sparkling gill grates.
Cleaning Stainless Steel Surfaces

Stainless steel surfaces will give you great service if you apply the following basic rules:-
Clean regularly (it takes less time to do it a little and often).

Wash down with warm soapy water.
Do not use abrasive cleaners.
Do not use metal scourers (use nylon) for persistent debris, scrub lightly then re-apply the soapy water and repeat the scrub.

Wipe down with a dry towel.
With a dry cloth, massage in some baby oil.
For absolute hygiene, you can also spray with anti bacterial surface cleaner prior to the baby oil stage but do always read the label on the antibacterial cleanser because to be 100% effective, they will have different time intervals between spray and wipe down.
Look for an antibacterial spray that conforms to BS 1276 or BS/EN 13697. These sprays need only a minute between spray and wipe down whereas some of the cheaper products will need 5 minutes of more.

See Also:-

Stainless Steel Charcoal Grills
Stainless Steel Fire Pits
BBQ Trailer Hire
Commercial Smokers UK Built

Return To Recipes Home From Replacement BBQ Grills & Stainless Steel Cooking Grates