Stainless Steel Barbeque Grills
Stainless Steel Barbeque Grills And Fire Pits
Michael's stainless steel barbeque grills offer different cooking solutions yet at the same time can be used as a fire pit. When you've finished your BBQ and the cool descends over a typical British Summer evening, just throw a log or two onto your fire pit and continue to enjoy your al fresco dining experience. 
The Camp Fire Pit

This stainless steel BBQ grill is perfect for use at home or out in the field and with a deep ash pan you can make a hearty campfire too.
For The Campers: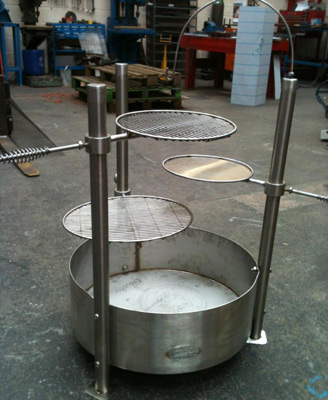 Ash pan elevated 50mm off the ground so preventing scorching of the grass
A kettle hook is screwed into one of the legs, ideal for brewing up or one pot campfire cooking.
Three cooking surfaces all with adjustable height. The grill, the hot plate and the warming rack.
3mm stainless steel fire pit for your roaring campfire
For Home Use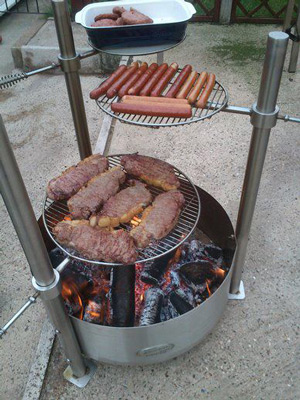 Well you've got all of the above and it looks good too!
Each cooking grate is secured with wing-nuts making for easy set up and adjustment. You can vary the height and the cooking grates during the cookout and each grate also spins away from the heat offering a novel way of serving.
Constructed exclusively from 304g catering grade stainless steel as you'd expect, the ash pan base is 3mm thick, the legs are 40mm diameter cross section and 800mm in height.
Prices:
300mm - £449  
600mm - £749  
900mm - £999

---
The Braai

Robust and functional, you can really build a big fire in one of these. Braai is the South African word for barbecue but it means much more than that. It's means building a wood fire, gathering with friends or family and cooking over the hot embers.

You get a 16mm solid grate to put the logs on together with a sliding ash pan underneath. As with The Campfire Cooker the ash pan is constructed from 3mm steel and stands above ground so preventing your grass or patio from scorching.
When your wood has settled and you've got a nice hot ash, slide in the cooking grate at one of the three shelf heights and enjoy!
Michael makes these stainless steel barbeque grills in two sizes, 400mm square & 800mm square. Of course if you want something custom made then just complete the rapid response form at the bottom of the page and he'll be happy to oblige.
Prices:
400mm - £499.00 
800mm - £799.00

Both stainless steel BBQ grills on this page are a welded construction from top quality catering grade stainless steel and both are made in Britain.
It's the quality of the stainless steel that makes our grills & fire pits stand out from the crowd and yes it also means that they cost more than a cheap Chinese import. Learn more about the stainless steel that we use and why.

Order & Delivery Of Michael's Fire Pit BBQ Grills

Every one of Michaels stainless steel barbeque grills is made to order so as soon as you send him your money, he gets to work and makes your grill. Manufacture and delivery normally takes one week, when your grill arrives it will be flat packed and easily erected in minutes.
Prices include delivery to mainland Britain (excluding highlands and islands) using Parcelforce 48 hour delivery service. 
Maintenance Of Stainless Steel Barbeque Grills

Your grill is designed and constructed to give you a lifetime of fun and BBQ cooking and you will need to take care of your cooking grates. Keep them hygienically clean and your BBQ food always taste better, use this guide how to clean stainless steel cooking grates and stainless steel surfaces.
See Also:-

Stainless Steel Charcoal Grills
Replacement Stainless Steel Cooking Grates
Commercial Smokers UK Built