Learn How To Grill Meats And Vegetables
Learn how to grill meats and vegetables with my quick and easy guide. Rather than wading through all the recipes that are listed on my site you can use this section to find out about the most popular grilling techniques and start your grilling experience with some simple "no messin' about" recipes.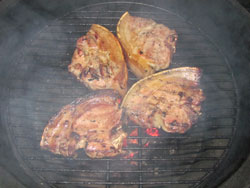 The definition of grilling is to cook something by direct heat, especially under or over a very hot surface in a cooker. This is the key differentiator between grilling and smoking, grilling is direct heat whereas smoking is indirect.
There's plenty more about how you can further develop flavor and keep your food succulent in the sections about homemade barbecue sauce and barbecue marinades but for this section we're just going to get you on the right path.
In each section you'll also get to understand the simple preparation techniques that make the grilling process easier together with advice on the tell tale signs so you know when your food is done.
I've kept the seasonings to a minimum so this is just about getting you started and learning about the grilling process so you can get it right and cook food safely and to your liking.
The Best Way To Do Grilled Pork Ribs
The Basics For All Grilled Tuna Recipes
There's lot's more information in the BBQ tips section of the site that will help you with heat control and your chosen fuel source whether that be charcoal, gas or electric.
Above all, grilling is about having fun and enjoying your cooking so if you feel there's something that I haven't covered, first check out the FAQ section of the site because if you're thinking it, generally speaking you won't have been the first and you'll probably find the answer there.
If not then you'll find a form on the same page that you can fill out and ask me, I'll do my best to answer.
See Also:-
Easy Grilled Vegetable Recipes