BBQ Grilled Tuna Recipe
This recipe for BBQ grilled tuna can easily be seared in a pan as well as on the BBQ grill so simply allow the marinade to work its magic and select the cooking method of your choice. You need to leave the marinade for a couple of hours to do the job so take account of this when planning your preparation time.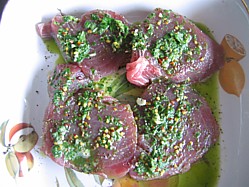 Tuna is a very large round fish with dark blue back and silvery grey sides & belly. The deep red / pink flesh is oily and a much heavier flesh than other fish, it's almost like meat and (in my opinion) should be cooked lightly and so that it's still raw in the middle.
Cut into a perfect bbq grilled tuna steak and you should see an oval of raw meat through the middle. When you bite into it you don't need to chew, it'll just melt in the mouth.

You need to be really close to the coals to get the sort of heat required to sear tuna well or get a good hot searing plate. I still refuse to bow to a gas grill but I have to admit that this is one time when a hotplate over gas can deliver and pretty tasty result.

I'm not too fussed about grill lines provided my tuna steak gets some intense heat so my preferred equipment for this recipe is my kamado ceramic bbq grill.
I go for a hot grill, a one inch thick steak and exactly two minutes each side but of course the final decision is yours. What really matters is that your fish is supremely fresh!
Serves:- 4 people

Preparation Time:- 10 minutes
Marinade Time:- 2 hours
Cooking Time:- 4 minutes

Total Time:- 2 hours 14 minutes

Ingredients:-
4 Tuna steaks cut 1 inch thick
Juice of one lemon
Handful of chopped basil
1 teaspoon dried chili flakes
1 clove of garlic chopped
Method:-
Throw all the ingredients (except for the tuna) into a food processor and blitz until you've got a nice paste.
Lay the tuna steaks out in a marinating bowl and pour the marinade over then set aside for a couple of hours.
Assuming that your tuna was fresh out of the refrigerator there's no need to refrigerate during the marinade process. You want the steaks to be at room temperature when you cook them because you are cooking for such a short period of time, if the steaks had been chilled before cooking, the center of the steak would still be cold when you served it. Cooking from room temperature ensures that this doesn't happen.
Lay the steaks out individually and that gets the biggest surface area available to work on.

Get the grill really hot. For my kamado I leave both top and bottom vents wide open and look for a temperature in excess of 300°C (570°F) before cooking. Tuna is pretty much fat free so you can grill at this temperature without fear of a flare up.

Slap the tuna steaks on the grill for 2 minutes each side turning just once and serve your BBQ grilled tuna immediately with new potatoes and a green salad.
See Also:-
Coriander Marinade For Grilled Tuna
Grilled Tuna Steak Recipe With Chili, Ginger And Lime
More Delicious BBQ Fish Recipes
Healthy Barbecue Salads
BBQ Marinades
How To Peel Garlic