Thai Grilled Tuna Steak Recipe
I love the colors in this Thai grilled tuna steak recipe (and the taste ain't bad either!). The green of lime and red of chili make a marked contrast from the tuna steak and really bring this dish to life.
The flavorings can be mixed up in a matter of minutes. It's not a dry rub because there's lime juice in it yet it's hardly a marinade so I'm not sure what exactly I should call it, whatever it is though, it's got a something of a Thai influence with all that ginger, lime and chili, not to mention the coriander garnish.
The mix is patted onto the tuna steaks and then they're ready to grill, so it could really be much more simple. There's enough mix here to do about 4 medium steaks.
I like my Tuna steaks to be about an inch thick (2.5cm) and just cook them for a minute of two to color the outside whilst still leaving the inside raw. Even the lime juice "cooks" the Tuna so I guess you might call the cooking process just a warm up exercise!
Of course, if you like to cook your tuna for longer then that's up to you but certainly 4 or 5 minutes on each side will see a Tuna steak fully cooked through.
I'm not looking to sear these with super intense heat because I want my Thai grilled tuna steak recipe to deliver "roasted" flavourings rather than something charred and bitter to taste. Hot coals over a charcoal grill are perfect but don't expect super sear lines even if you are using cast iron grill grates.

Serves:- 4 people

Preparation Time:- 30 minutes (including marinade time)
Cooking Time:- 5 minutes

Total Time:- 40 minutes

Allergens:
In this fish recipe, the only allergen is fish. If however you choose to use lime juice from a bottle then expect there to be sulphites present.

Ingredients:-
4 Medium tuna steaks
Zest and juice of one lime
½ inch or 1 cm of grated fresh ginger
1 red chili, seeded and finely chopped
A pinch of salt

For garnish:-

1 tablespoon freshly chopped coriander (cilantro)
Wedges of lime
Method:-
First of all, use this link for how to seed a chili without risking that horrible stinging by keeping your hands out of the way.
Add the lime zest, juice and grated ginger to a bowl together with the chili and mix. Now pat the mix onto the tuna steaks and let that flavour work its way into the tuna for 30 minutes.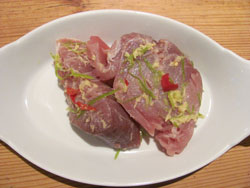 Normally at this point I'd say to drizzle a little oil over the steaks to stop them sticking to the grates but on this occasion it's going to interfere with the marinade. Your best is to brush the grates with a little oil before putting the steaks on - be sparing and you'll lubricate the grates, be generous and you'll have a flare up...so take care.

Grill the steaks over a high heat for a minute or two on each side and sprinkle with salt during the cooking process. That's it, you're ready to serve, so plate up, sprinkle the chopped coriander garnish and finish with a wedge of lime.
I served mine with chips (french fried potatoes) and a green salad.

See Also:-
Spicy Grilled Tuna Steaks
BBQ Grilled Tuna With Lemon And Basil
Grilled Scallop Recipes
More Barbecue Fish Recipes