Easy Grilled Scallop Recipes

Two easy grilled scallop recipes for you:-
What makes grilled scallop recipes so easy is that scallops take little time at all to cook over a hot grill - just two minutes on each side is perfect.
Too little cooking and they are cold in the middle, too much cooking and they soon get a rubbery texture that's not pleasant on the pallet. Just stick to the two minute rule and you'll be fine.
The secret is to have fresh sea scallops so check with your fishmonger to ensure that you're not buying frozen ones. If they've been frozen, they tend to retain water which comes out in the cooking and then you lose the crispy seared exterior texture because the scallops have in fact boiled rather than grilled. If you do have to use frozen scallops, make sure that they are properly thawed and place them on a cake cooling rack in the refrigerator for an hour to ensure that they have shaken off all excess moisture.
Learn more about the preparation of scallops.

---
Sea Scallop & Bacon Salad

It is especially important in this recipe to have dry scallops because we're cooking with bacon and we need that to remain crispy (there's nothing worse than soggy bacon).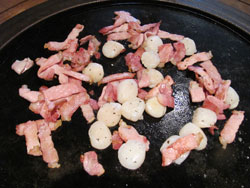 In this recipe I've chosen to remove the coral (that's the orangy bit) but don't throw it away as it has a wonderfully distinctive flavor and makes great fish stock.
I've worked on 5 sea scallops per person as good enough for an appetizer but you decide on the size of appetites you have (and of course how much you can afford).
Serves:- 4 people

Preparation Time:- 10 minutes
Cooking Time:- 10 minutes

Total Time:- 20 minutes

Ingredients:-
20 sea scallops – corals removed
8 rashers streaky bacon
Salad leaves
Method:-
Cut up the streaky bacon and sear on the hotplate for five minutes or so until the fatty areas start to brown and crisp up. Now add the sea scallops and sear for a further three or four minutes moving the scallops occasionally.
You will notice that the translucent color of the scallops becomes a firm white as they cook and you must remove them from the heat as soon as the translucency disappears.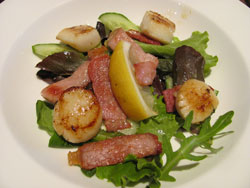 Build your salad with the leaves and then position your scallops and bacon on top.
A wedge of lemon to finish off and you're ready to serve.
---
Grilled Sea Scallops With Fennel

Rather than using the hotplate for this recipe I've chosen to grill directly over hot coals.

TIP - I recommend a Teflon® barbecue mat for cooking scallops over coals because they can really easily fall through the grill and onto the coals. To be honest the same applies for the fennel in this recipe too.
If using the searing plate on your gas grill then you don't need to worry about this last point, just brush your searing plate with a little butter prior to placing the scallops on.
Fish and fennel is a tried and tested formula and grilled scallop recipes don't take long to cook so let's get the grill out and start cooking!
Serves:- 4 people

Preparation Time:- 10 minutes
Marinade Time:- 30 minutes
Cooking Time:- 15 minutes

Total Time:-
55 minutes
Ingredients:-
16 scallops
1 fennel bulb
1 egg yolk
6 tablespoons melted butter
6 tablespoons olive oil
salt and freshly ground black pepper
Method:-
Take the fennel bulb, pull apart the "leaf" layers and soak them in olive oil for half and hour. Place the barbecue mat on the grill and brush lightly with olive oil. Grill the fennel for about 10 minutes on hot coals to soften but taking care not to burn and when cooked chop it up finely.
Timing here is critical because you need to be careful not to overcook your scallops and at the same time you don't want the sauce to split. Make your sauce first because the scallops only take a few minutes to cook and your sauce will stay hot during this time.
Melt the butter in the microwave or in a bowl over a pan of boiling simmering water. Place the egg yolk in another bowl, whisk and then place that over the hot water pan.
Now drizzle the butter drop by drop into a pan containing the egg yolk and whisk until the sauce has absorbed all the butter. Remove from the heat and keep whisking.
Now pop your scallops on the barbecue mat, season lightly with salt and pepper and grill for a couple of minutes on each side until they turn slightly opaque.
Arrange the scallops with 4 scallops on each plate, whisk up the sauce with added chopped fennel and pour over the scallops.
A lovely chilled glass of Muscadet should make either of these two easy grilled scallop recipes complete.
See Also:-
Barbecue Salads
A Fruity Scallop BBQ Salad
Healthy Barbecue Recipes
More Grilled Seafood Recipes


Return to Recipes Home Page from Easy Grilled Scallop Recipes