Easy Barbecue Scallop Recipe
The secret to this easy barbecue scallop recipe is "less is more" and this recipe produces melt in the mouth results with a tangy dressing.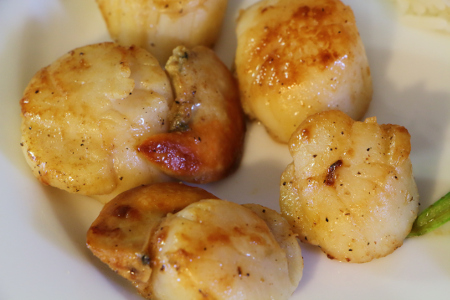 You can buy scallops ready prepared, fresh or frozen or fresh in the shell. I prefer to avoid the frozen one because I find them too watery and lacking in flavour but if it's all you can get...
Learn more about preparing fresh scallops in their shells.

Scallops have such a delicate flavor that it's really easy to overpower them. If you watch the chefs do them on TV then generally they are seared lightly in butter and nothing more.
Getting that seared colour and flavor is difficult unless you're using a searing plate. If you are using your searing plate then feel free to copy the TV chefs and just add my drizzle (below) and it will be just about perfect. They will sear scallops over high heat for a couple of minutes to give the color without burning them.
For the charcoal grillers like me, this barbecue scallop recipe calls for you to cook your scallops for 2-3 minutes each side over hot coals in a barbecue basket. like the one in the picture below.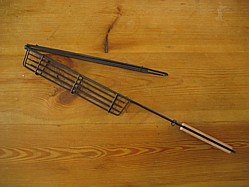 These little baskets are ideal to create individual servings of scallops because you can just fit between 5 and 6 into each basket.
When cooked, scallops turn slightly opaque and you need to be careful not to overcook otherwise they'll turn chewy and rubbery. It's very tempting to give scallops an extra minute just to make sure that they are done but this minute is usually the difference between a well cooked scallop and one that is overdone.
All you need to do to then to the scallops is sprinkle lightly with salt and pepper and serve on a bed of salad leaves with one of my drizzles glistening over the top.
For an easy barbecue scallop recipe it has to be a simple lemon butter sauce.
Serves:- 4 people

Preparation Time:- 5 minutes (assuming your scallops are out of their shells)
Cooking Time:- 4 minutes

Total Time:- 9 minutes

Ingredients:-
100g / 4oz of unsalted butter
Juice of half a lemon and zest
salt to taste
Method:-
Gently melt the butter and warm through, drizzle in the lemon juice and stir to create a light emulsion then finish off with the lemon zest and salt.
I know it sounds stupid to use unsalted butter and then add salt, but believe me it does make a difference to the consistency of the sauce.
Alternatively sprinkle on a little paprika and give this barbecue scallop recipe an extra bit of zing!
For a variation on the theme then try my Lime Drizzle and prepare the scallops as above.
Are you getting my drift? If so, you don't need my help anymore, you can make up your own barbecue scallop recipe, just add what feels right to you. Give it a whirl and if it works, don't forget to share your experiences with me!
Preparation Of Scallops

Scallops are bivalve molluscs with ribbed shells that are almost circular. The colour of their shells varies from light brown, yellow orange to a pinkish or purple.
The little orange bit is called the coral and has a very distinct flavour. Some people prefer to remove it but it's your call - unless it has already been removed by your fishmonger. I actually like it and ask for the corals to be left on but even if you have them removed don't throw them away, they're great for fish stock and soups.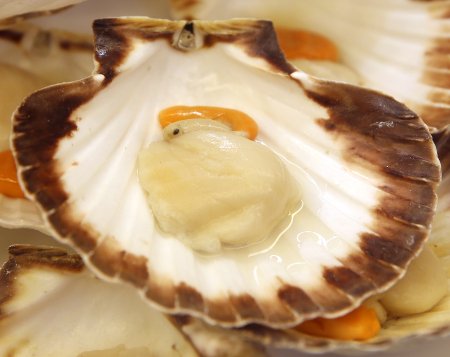 If buying scallops in the shells, look for shells that are tightly closed. If any are slightly open, tap the shell sharply and if fresh, they will close up instantly. If they don't close, don't buy them. The season for fresh scallops is October - March.
Getting scallops out of their shells is a tricky business involving forcing your knife into the shell to break the seal and for this reason I always wear protective gloves to avoid stabbing myself - better still, get your fishmonger to do it!
When you have opened the shell, use your knife to remove the scallop from the shell taking care to also cut away all round the grey coloured beard-like fringe surrounding the scallop. You'll also see a black thread, this is the intestinal tract and this needs to be removed as well.
When clear and cut away from the shell, rinse gently in cold water.

See Also:-
More Grilled Seafood Recipes
A Fruity Scallop BBQ Salad Recipe
Two More Grilled Scallop Recipes