Easy Barbecue Shrimp Recipe
This easy barbecue shrimp recipe will make Spanish tapas a reality in your backyard barbecue. In fact with a few easy seasoning options that I picked up on a recent trip to Spain you get four recipes for the price of one and they all taste awesome!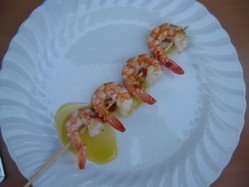 Note:- In Britain and the Commonwealth, very small crustaceans are called shrimps, they are grey brown in color and pink when cooked. This recipe refers to what in North America and other parts of the world are called shrimp (larger crustaceans that we in Britain refer to as prawns). Forgive me if I suddenly start talking about barbecue grilled prawns rather than shrimp.

What makes this such an easy barbecue shrimp recipe is that the flavour lies in the drizzle that goes over the shrimp so that leaves a very straight forward way to cook the shrimp.
I've used size 21/25 shrimp and I've bought them ready prepared with the tail fin left on. If you want to prep the shrimps for yourself then you'll find all the information you need in my article how to grill shrimps.
Most shrimp that you find in the fishmongers will have been previously frozen but always ask. If you live close to the coast and can get fresh shrimp then go for it but if like the majority of us you have to buy frozen then just check where the shrimp have come from.
Cold water shrimp is best and generally the most expensive because it is wild shrimp.

Madagascan warm water shrimp is an acceptable farmed product

I avoid shrimp from the Far East because the farming methods are not regarded as sustainable.
Grilling shrimp is really easy. Thread the tails onto a skewer through both the thick end and the thin end of the tail, that way they stay on the skewer when cooking.
You don't need a temperature probe to tell when the shrimp is done just follow the colour change:-
Raw shrimp flesh is grey and translucent
Cooked shrimp is opaque white with occasional pink (especially where the shell remains)
When the colour change has taken place, remove them from the grill, season with a little salt and pepper and then you're ready for the drizzle.

I've got four different "drizzles" to top off your grilled shrimp, each of which you can make in advance and quickly warm through as the shrimp cooks.
Serves:- 4 people

Preparation Time:- 10 minutes
Cooking Time:- 5 minutes

Total Time:- 15 minutes

Allergens:
Ingredients:-
For the "sizzle drizzle"
6 tablespoons olive oil
1 red chili
2 cloves chopped garlic
pinch of paprika

sprinkle of salt
Method:-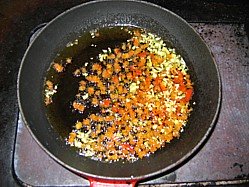 Fry up the garlic and chili in the olive oil for couple of minutes until fragrant, add the pinch of paprika and sizzle for a further minute then drizzle over your cooked shrimps. Sprinkle on a little salt to finish.
OR
---
Limo Fino
So called because of the use of lime and Fino Jerez. Fino is a dry sherry light in colour, if you can get it great, if not then just look for a pale dry sherry.

Allergens:
Ingredients:-
4 limes (put one to one side)
3 tablespoons olive oil
2 cloves chopped garlic
splash of dry sherry
Method:-
Fry up the garlic in the olive oil for a couple of minutes, add the juice of three limes and the dry sherry and some of the lime zest. Chop your final lime into wedges for garnish and what are you waiting for? – we're done.
---
Chilli Barbecue Shrimp Recipe

My chilli barbecue shrimp recipe produces a wonderful glaze that you can coat onto the shrimp as they cook.

Serves:- 4 people

Preparation Time:- 15 minutes
Cooking Time:- 10 minutes
Total Time:- 25 minutes
Allergens:
Ingredients:-
30ml / 2 tbsp groundnut oil
2 garlic cloves
1 shallot chopped
½ tsp chili powder
1 tsp fennel seed
6 black pepper corns
1 star anise broken up
1 cinnamon stick broken up
2cm / 1 inch piece root ginger chopped
30ml / 2 tablespoons water
30ml / 2 tablespoons rice vinegar
2 tablespoons muscovado sugar
salt pepper to taste
1 lemon cut into wedges
Method:-
Simply fry up the garlic and shallot in the groundnut oil for two to three minutes until fragrant, then toss in the spices and cook for a further two minutes.
Take it off the heat, pour in the sugar, water and rice wine vinegar and stir until and low and behold we have a beautiful glaze with which to coat your shrimps.
---
Sweet Chilli Barbecue Grilled Shrimp Recipe

If the recipe above was too much preparation then this easy sweet chilli barbecue shrimp recipe is for you. It's almost too easy!

Allergens:
Groundnut oil is derived from peanuts. Check the label on your chilli barbecue sauce (unless using homemade).

Ingredients:-
3 tablespoons groundnut oil
3-4 crushed garlic
1 tablespoon honey
1 tablespoon chili barbecue sauce
½ lime and zest
a pinch of salt and pepper
Method:-
Fry up the garlic in the oil for a couple of minutes until fragrant, take the pan off the heat and stir in the remaining ingredients. Get those coals hot and get brushing on the glaze as your shrimps cook.
See Also:-
Seed a Chili Without The Burning Eyes!
Easy Grilled Shrimp Recipe
Grilled Shrimp Kabobs
Thai Grilled Marinated Shrimp Recipe On Skewers