Easy Grilled Shrimp Recipe
This grilled shrimp recipe has Thai influences in the ingredients and is perfect for the searing plates on your grill. It really is a 15 minute meal from preparation to eating so just the ticket for lunch on a hot Summer's day.
I used my plancha tabletop gas grill which worked really well, just a sprinkle of oil to get everything moving and then essentially a stir fry type process to finish the dish off.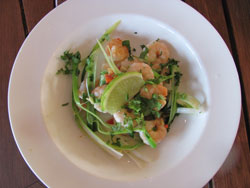 If you've got a bit of extra time then preparing this dish with my Thai influenced grilled shrimp marinade is a worthy addition to the recipe but if you're short on time then just carry straight on ahead.
What makes Thai food stand out is the use of citrus fruits especially lime, mixed up with chili and coriander, exactly what abounds in the marinade. You only have to marinate the shrimps for 30 minutes or so and it really makes all the difference.

Despite the Thai influence though I like to serve it with some warm un-levened bread such as naan bread or pitta bread rather than rice, not that these are typically Thai but it just seems to go well together.
Note:- This grilled shrimp recipe calls for prepared shrimp (heads off, peeled & de-veined) and you'll find all the information about preparing shrimp yourself in my article how to grill shrimps. Of course you can still buy the shrimp ready prepared if you wish.

Serves:- 4 people

Preparation Time:- 10 minutes
Cooking Time:- 5 minutes

Total Time:- 15 minutes

Ingredients:-
250g or ½ pound of raw shrimp tails (peeled, de-veined and heads removed)
Juice of one lime (not required if using the marinade)
1 red chilli seeded and chopped

8 spring onions (scallions) sliced longitudinally
1 tablespoon finely chopped coriander (cilantro)
Salt to taste
Method:-
So that's 10 minutes spent chopping the veggies now you need just five minutes to cook. 
Start with a little oil on your hotplate and when up to temperature, throw the shrimps and chopped chilli onto the grill. The grey translucent shrimp tails will quickly turn an opaque white colour with flecks of pink, this is the sign that your shrimps are cooked through.
Drizzle with lime juice during the cooking process taking care to add the juice gradually so as to ensure that the shrimps continue to sizzle and not boil in the juice.
If your shrimps boil then the flesh starts to take on a fluffy watery texture that just isn't pleasant on the palate so try and avoid this by using the lime juice sparingly.
Move the shrimps around on the grill plate to ensure an even cooking and when in the final throes, add the scallions to soften for the last minute and season with a little salt.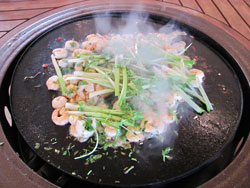 Serve in warm bowls with a naan bread and sprinkle over the fresh coriander.
See Also:-
Thai Beef Salad
Chili Barbecue Shrimps Recipes
Grilled Garlic Shrimp Recipes
Thai Grilled Marinated Shrimp Recipe
Grilled Shrimp Kabobs
Grilled Seafood Recipes
Tasty Barbecue Marinades