Best Outdoor Tabletop Gas Grill And Table
The best tabletop gas grill and table had to be the Red Hot Plancha, because it was the tabletop and grill table all in one. The grill plate was integral to the table so making it the perfect outdoor patio dining table too.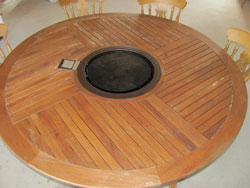 You probably detected (sadly) that I'm writing the past tense and yes this table top gas grill hasn't captivated the  the alfresco dining market as perhaps they were hoping to do.
I don't think that there was anything fundamentally wrong with the concept just some basic design flaws.

There was nothing revolutionary from a technical point of view and mechanically it was quite simple so in theory there was very little that could ever go wrong with it. Fundamentally a circular table with a hotplate grill in the center, under the hotplate were two circular burners to heat the hotplate that would blow out in even the smallest gust of wind and a battery operated ignition (1 x AA battery)... that broke in no time. 
The design wasn't all bad news and some thought had gone into the neat column storage area underneath the table to house the gas bottle.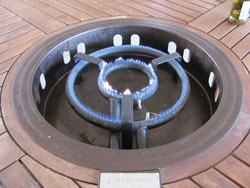 Why was this tabletop gas grill so great?
As I've said, it was far from a technical revolution, the difference was the cooking concept – social alfresco dining. Your traditional barbecue, grill or smoker usually relies on one person doing the cooking and everyone else chatting and having a good time. If you had a Red Hot Plancha, everyone cooked and you too could join in the party.
Who should have bought one?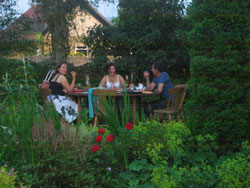 You should have bought one of these if you're into outdoor dining and dinner parties but do the cooking more out of necessity rather than because you love it. Look at the pro's:-
You're not cooking with your back to your party guests
The plancha grill table was a great talking point
You could use it as a regular outdoor patio dining table
This last point is worthy of note because the cost of one of these units wasn't much more than the cost of a regular table and that's probably where it all went pear shaped - not enough attention paid to the quality.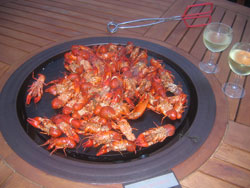 I trialed a six foot diameter plancha which was perfect for 8 – 10 people only it was so big you couldn't reach the plancha in the middle! Seriously, cooking food meant standing up from the table to lean into the centre.
There was also a four foot table suitable for 4 – 6 diners and a 3 foot table  ideal for a couple both of which were a whole lot more practical.
The final design floor worthy of mention was that the plancha wasn't non stick which meant that you had to use a massive amount of oil when cooking. Hardly healthy and oil continually spitted all over you whilst cooking!

We assume that the business is no more

Well there was a website but frankly I've heard nothing from these guys in a number of months. If you do make an enquiry and get a response, let me know.
See Also:-
Cuisine A La Plancha
Hotplate Barbecue Grills
Patio Dining Furniture


Return to Home Page from Best Outdoor Tabletop Gas Grill And Table