One Of The Easiest Grilled Garlic Shrimp Recipes Ever
Using the hotplate grill makes for the easiest grilled garlic shrimp recipes ever. You don't have to wait for the grilling season either because this recipe works just as well in the frying pan.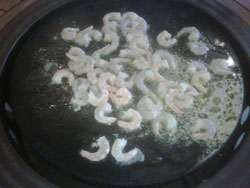 Shrimps or prawns? After many seconds deliberating over the best translation, I decided just to grill them and eat. After all it's not about what you call them it's about how they taste!
Note:- There are actually some small differences biologically speaking between shrimps and prawns but from a culinary perspective there's nothing to speak of.

TIP - If using frozen shrimps make sure that they are properly thawed out and free from water otherwise you'll end up boiling everything rather than grilling. Just take a look back at the photo at the top of the page and you'll see what I mean.
You can see on the right hand side of the plancha that there's a build up of water (with oil mixed in) and you want to avoid this at all costs otherwise your shrimps take on a spongy texture. Better luck next time eh?
I defrost shrimp in a sieve or colander over a deep pan, that way when the ice melts the water drips away nicely. If you haven't got this set up, let them defrost in a bowl, drain the bowl of water and pat the shrimps dry using a tea towel.
Other than the preparation of chopping the veggies that accompany the shrimp, you can have this on the table in 5 minutes.

This quantity below is good enough for about four people and I work on eight prawns per person.
Serves:- 4 people

Preparation Time:- 10 minutes
Cooking Time:- 5 minutes

Total Time:- 15 minutes

Ingredients:-
Peeled raw shrimps / prawns
3 tablespoons olive oil
2 cloves garlic
1 red chili (optional)
Salt and pepper to taste
Method:-
If you're starting with prawns that still have heads and shell on then use my preparation guide.

Peel and chop your garlic, seed the chili and chop, get your plancha or frying pan up to temperature and drizzle with olive oil.

The shrimps / prawns will take about 5 minutes to cook maximum and the chili should be OK at that too, I just like to take a little care with the garlic so that we don't burn it.
Throw in the shrimps and give them a couple of minutes, now add the garlic and chili, and then give everything another couple of minutes (and a light agitation) until the shrimps are white opaque with pink flecks and that's it, 15 minutes from start to finish, you don't get many grilled garlic shrimp recipes easier than that!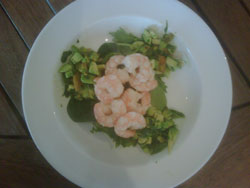 Season lightly with salt and pepper and serve in a bowl as a salad or just with a crusty roll to mop up all that delicious chili garlic oil – yum.
I've chosen a selection of salad leaves and diced avocado. A drizzle of extra virgin olive oil over the top adds a nice glaze to the presentation.

See Also:-
Thai Grilled Marinated Shrimp Recipe
Grilled Shrimp Kabobs
Seafood Fruit Salad
Grilled Seafood Recipes
Tabletop Gas Grills


Return to Recipes Home Page from Easiest Grilled Garlic Shrimp Recipes