Barbeque Shrimps Seafood Fruit Salad
I saw this seafood fruit salad on one of my summer vacations to France when we were staying in the town of Andernos-les-Bains on the Arcachon basin near Bordeaux. I always take the month of August to travel and search out new barbeque inspiration and so it came about whilst walking around the market hall.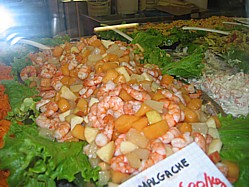 The market hall is packed full of great stalls selling meat and seafood together with the odd independent oyster farmer selling his produce direct and it was here that I found this wonderful charcuterie stall selling all manner of pre-prepared dishes.
My daughter Lucy pointed out this fruit salad that included shrimps (or prawns) and I immediately thought that this has to be one for the barbecue. It really doesn't matter what fruit you put in the salad bowl so long as you've got the grill going and have some freshly prepared barbeque shrimps to finish it off.
This dish is so versatile as well because you can do it as a healthy barbeque lunch, part of a range of tapas appetizers or simply as a side dish to another seafood plate.
Serves:- 4 people

Preparation Time:- 20 minutes
Cooking Time:- 5 minutes

Total Time:- 25 minutes

Allergens:
Shrimps are shell fish and this is regarded as an allergen. In addition there will be sulphites in the lemon juice if you use a bottle but there are no allergens in freshly squeezed lemon juice.

Ingredients:-
250g or ½lb of uncooked peeled shrimp tails
2 apples
2 oranges
1 pineapple
1 melon
Juice of 1 lemon
Method:-
Thread the shrimp tails onto skewers and get them on the grill, two or three minutes each side on a hot grill until they have turned pink.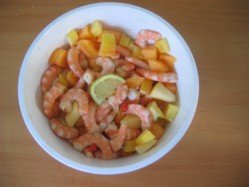 Prepare your fruit salad by peeling the fruit and corring it as appropriate. Chop it into "bite sized" pieces and toss the cubes into the salad bowl. Sprinkle on a little lemon juice to keep the fruit absolutely fresh.
Take the barbeque shrimps off the skewers and throw then on top of the salad. Give it a toss and tuck in.
See Also:-
Healthy Barbecue Recipes
Tapas Appetizers
Grilled Seafood Recipes
BBQ Grill Comparisons


Return to Home Page from Barbeque Shrimps Seafood Fruit Salad