Grilled Shrimp Kabobs
Grilled shrimp kabobs (or kebabs) make for a great appetizer and this easy recipe will have your party guests queuing for more.
The simplicity is in the marinade which takes no time at all to prepare and then the shrimps can sit there until they are ready to be threaded onto the skewer.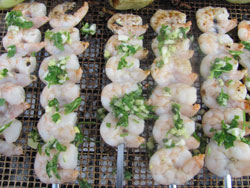 Note:- If you're reading this outside of North America then read grilled shrimp kebabs. It doesn't matter how you say it, this recipe still tastes the same...great!
My recipe starts with ready prepared shrimps which are the most expensive to buy, if you want to lower the cost then buy them with head on and in their shells. Learn how to prepare the shrimp yourself.
TIP - A Teflon grill mat will save you a lot of heartache by stopping the shrimp from sticking to the cooking grate.

I've done this for 6 people and worked on 5 shrimps per skewer.
Serves:- 6 people

Preparation Time:- 15 minutes
Marinade Time:- 5 minutes
Cooking Time:- 5 minutes

Total Time:- 25 minutes

Ingredients:-
30 raw shrimps size 21/25 peeled and veined.
1 inch cube of fresh ginger
2 tablespoons chopped fresh coriander
Juice of 1 lime
1 clove garlic
Extra virgin olive oil
Sea salt flakes

Method:-
Peel the ginger and chop it up into smaller cubes then put it in the garlic crusher and crush the ginger into your marinade bowl - doing it this way stops all the juice squirting off in different directions when you squeeze the garlic crusher.
Peel and crush the garlic then add the chopped coriander and the lime juice. Place your shrimps in the bowl and give them a good mulch round, leave them for five minutes and that's all there is to it.

Thread your shrimps onto skewers making sure that the skewer penetrates the upper and lower parts of the tail and grill over medium coals.
2-3 minutes on each side will be enough and you'll see what was the raw grey translucent flesh of the shrimp tail turn white opaque with some tinges of pink. When this colour change has happened then they are ready to eat.
Place on a clean plate, sprinkle with a little sea salt, drizzle with extra virgin olive oil and tuck in.

See Also:-
Cajun Barbecue Shrimps
Thai Grilled Shrimp Recipe
Barbecue Shrimp Recipe With Four Drizzle Options
Grilled Seafood Recipes


Return to Recipes Home from Grilled Shrimp Kabobs