Cajun Barbecue Shrimps
For Cajun Barbecue Shrimps we need a good bucket load of uncooked shrimps or tiger prawns. Well, not quite a bucket load. For a BBQ appetizer I work on about five of six shrimps per skewer and 2 skewers per person.
Cajun cooking originates in the Deep South in and around Louisiana through the descendants of French speaking Canadian immigrants (from Acadia) and traditionally the cooking is simple using fresh local ingredients.
As such, a lot of herbs abound and smoking food is also in the Cajun cooking repertoire. OK so in this case we're on the grill but let's not split hairs.
So what I've got for you in this recipe are some of the traditional herbs and spices that are found in Cajun cooking prepared as a rub to lightly sprinkle on the shrimps prior to grilling.
The rub preparation (and indeed the grilling) takes no time at all so just as a reminder, if you're going to be using wooden skewers you'll need to get them onto soak them for 30 mins before barbecuing. That way they won't burn.
Whether you use fresh or frozen shrimps is neither here nor there, they all work well; just remember to peel and de-vein them before putting the rub on! Use this link for the key steps in preparing shrimp for the grill.

You'll see also in the picture below that when peeling mine I left the tail on for decoration.
So below is my traditional Cajun barbecue rub and if you like this one click on my Barbecue Rubs section for other great rub ideas.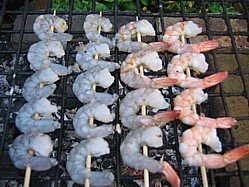 OK here's the rub…………..
Yield:- 3 tablespoons

Preparation Time:- 20 minutes
Cooking Time:- 5 minutes

Total Time:- 25 minutes

Ingredients:-
2 teaspoons hot paprika
1 teaspoon dried thyme
1 teaspoon dried oregano
1 teaspoon black peppercorns
1 teaspoon white peppercorns
1 teaspoon onion granules
1 teaspoon garlic salt
1 teaspoon cumin seeds
Method:-
Grind in a pestle and mortar and the rub is ready for use.
The next job is to thread the shrimps on the skewers before sprinkling on the rub - I do it this way round because the shrimps are typically wet, when done I can then dry my hands and sprinkle on the rub – it's a lot less messy.In addition, you want to sprinkle the rub to give a gentle seasoning to what after all is a subtle flavoured flesh.

Grill your Cajun barbecue shrimps for two to three minutes each side on hot coals and the job's done. You'll know when they're done because the grey translucent flesh (on the left side of the picture above) turns opaque white like on the right hand side of the picture.
See Also:-
Chili Shrimps Recipe
Citrus BBQ Shrimps
Grilled Shrimp Kabobs
Tapas BBQ Shrimps
How To Grill Shrimps