A Typical Aussie Barbecue
A Typical Aussie Barbecue
Shrimp Recipes On The Barbie!
A typical Aussie barbecue is all about shrimp recipes right? OK so shoot me if I'm stereotyping but I do mean it in the best endearment. For true authenticity the Australian way of spelling barbecue is barbeque....or is it simply a barbie?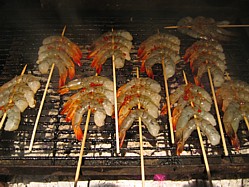 To try an make this typical Aussie barbecue as authentic as possible I'm cooking on my Ozpig Big Pig. I've got the optional charcoal plate to keep the coals right under my cooking grate (a regular wire rack) for optimal heat intensity.
Shrimps are really easy to cook but easy to overcook too. That's why I've set up my Ozpig for maximum heat, look for the colour changing to pink and they're done, don't be tempted to leave your shrimps over the heat otherwise they'll turn rubbery. 
Last time I was out in Sydney we took a trip to the fish market – oh what a feast. Our barbie was piled high with Shrimps, Yabbies, Moreton Bay bugs to name but a few.
Now we can't get these wonderful crustaceans all over the world so I'm going to dedicate my page to some great shrimp glazes. And if there's not enough here, I've also got a recipe for Yakitori sauce that goes great on barbecue shrimps or check out my Tapas Appetizer section that also has some "drizzle" ideas.
If using wooden skewers – soak them for 30 minutes before harpooning your shrimps (or prawns).
I work on five or six raw shrimps per skewer and 2 skewers per person so add it up and you've got the quantity. Uncooked tiger prawns / prawn tails are just as good so let's get cracking with a typical Aussie barbecue!
Barbecue Shrimp Recipe #1

is a wonderful glaze packed with spices and flavours but not too hot.

Serves:- 4 people
Preparation Time:- 10 mins
Cooking Time:- 5 mins
Total Time:- 15 mins

Ingredients:-
30ml / 2 tbsp groundnut oil
2 garlic cloves
1 shallot chopped
½ tsp chili powder
1 tsp fennel seed
6 black pepper corns
1 star anise broken up
1 cinnamon stick broken up
2cm / 1 inch piece root ginger chopped
30ml / 2 tablespoons water
2 tablespoons muscovado sugar
salt pepper to taste
1 lemon cut into wedges
Method:-
Simply fry up the garlic and shallot in the groundnut oil for two to three minutes until turning clear and fragrant. Toss in the spices and cook for a further two minutes then take it off the heat.
Pour in the sugar, water and rice wine vinegar and stir until and low and behold we have a beautiful glaze with which to coat your shrimps.
Too much hassle?
Barbecue Shrimp Recipe #2 For A Typical Aussie Barbecue

is 8 minutes quicker………….
Serves:- 4 people
Preparation Time:- 5 mins
Cooking Time:- 2 mins
Total Time:- 7 mins

Ingredients:-
3 tablespoons groundnut oil
3-4 crushed garlic cloves
1 tablespoon honey
1 tablespoon chili sauce
½ lime and zest
a pinch of salt and pepper
Method:-
Fry up the garlic in the oil for a couple of minutes until fragrant, take the pan off the heat and stir in the remaining ingredients. Get those coals hot and get brushing on the glaze!
See Also:-

More Great Seafood Recipes For The Barbie
Thai Grilled Marinated Shrimp Recipe
Information about BBQ Skewers
Essential Tip For Peeling Garlic
BBQ Grills