A Roast Beef Barbecue Salad
How about a roast beef barbecue salad? This is a great outdoor BBQ menu idea for a light Sunday lunch but it's not just any old salad, there's Thailand stamped all over this one.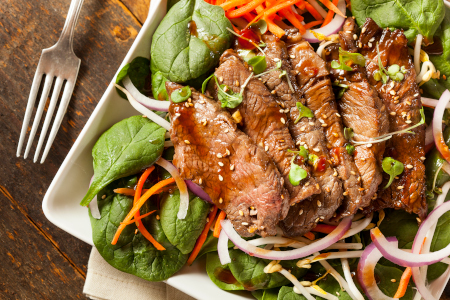 It's spicy, it's healthy, it's delicious! But don't just take my word for it, get the coals good and hot and try this lunch time delight.
This salad has a bit of everything, salt from the soy sauce and the Thai fish sauce, sweetness from the honey and a good chilli kick too.
And don't just stick with the vegetables that I've used for the salad, with this one anything goes so there's no excuses! This quantity will serve four so feel free to adapt dependent on numbers. Provided you have the ingredients for the dressing, anything goes!
Serves:- 4 people

Preparation Time:- 15 minutes
Cooking Time:- 5 minutes
Total Time:- 20 minutes
Allergens:-
This recipe includes the following allergens:
Thai fish sauce contains fish. If you have a fish allergy or are vegan then you can substitute with this vegan fish sauce recipe. Note however that whilst eliminating fish it doesn't eliminate soy.
Soy sauce contains both soy and gluten. You can eliminate the gluten element by substituting soy sauce with tamari but to take soy out of the equation altogether then use this soy free soy sauce recipe.
As replacement for sesame seeds try poppy seeds.

Ingredients:-
2 8oz or 225g Steaks
½ cucumber cut into matchsticks
2 carrots cut into matchsticks
1 lemongrass stalk cut into strips
2 tablespoons chopped spring onions
Juice of 2 limes
1 tablespoon Thai fish sauce
1 tablespoon light soy sauce

2 teaspoons honey
2 red chillies chopped
Chopped coriander (cilantro) to garnish
1 tablespoon toasted sesame seeds

Method:-
Cut your veg sticks as prescribed and build the base of your salad on a plate.
Mix together the lime juice, sauces, honey and chillies to make the "drizzle".
Very hot coals on the barbecue are required with preferably cast iron grill grates or a plancha searing plate and grill the beef steaks for a couple of minutes on each side just so that they start to crisp and color.
Beef is safe to eat rare so long as the surface is thoroughly cooked. You're looking for high heat with this recipe to get a pink juicy interior with a crisp brown exterior. The cast iron part of the grill grate is what will add those extra sear marks.

At the end of the cooking, remove your steaks from the grill, place them on the carving board and allow them to rest for 5 minutes. The intense heat will have contracted the beef muscle and if you carve now, the juice will run out. This 5 minutes gives the meat time to relax allowing the juices to remain in the steak rather than running out onto your board when you carve.
While the steak is resting it's time to toast the sesame seeds. A cast iron frying pan or skillet is ideal for this so place it over the coals to heat up.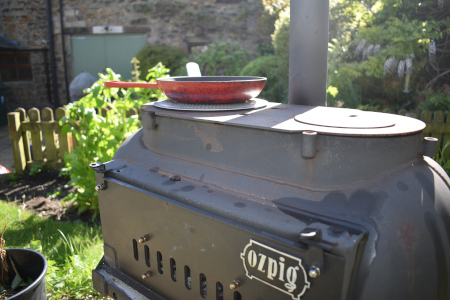 Add the white sesame seeds and stir with a wooden spoon (there's no need to add oil) and keep your eye on them because very quickly they will start to turn brown. When they have all turned a rich brown colour and a few start to pop / jump in the pan, remove from the heat and you're ready to plate up.

Take a sharp knife and slice as thinly as possible. Lay the steak on the salad base and then drizzle your dressing over the top.
Finish off with a sprinkling of chopped fresh coriander and the toasted sesame seeds and you've got a great Thai roast beef barbecue salad. I hope you enjoy it as much as I do.
Variations To A Roast Beef Barbecue Salad

You can make a roast beef barbecue salad like this by substituting the vegetables to suit what you have available. Shredded red and white cabbage and sticks of broccoli stem work really well.
Just remember that in order to get that Thai style flavouring into a roast beef barbecue salad you need chili and lime together with a little salt and sweetness. The coriander is also a must in my book.
See Also:-

Healthy BBQ Salads
Thai Grilled Shrimp Recipe
Tender Barbecue Beef Recipes
Great Healthy Barbecue Menu Ideas
Information About BBQ Grills
Information About BBQ Smokers
Barbecue Construction