Barbecue Lamb Chops
If you want a tasty recipe for barbecue lamb chops that are quick and easy to prepare then you've come to the right place. Lamb is my favorite meat for the BBQ grill so I'm going to do it justice.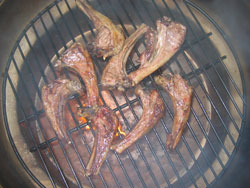 This is an interesting BBQ lamb chop recipe that was done for me at a friend's house. It relies on a wonderful combination of flavors all mixed together in an easy marinade.
Don't worry, the marinade doesn't take long to take effect – this is not one of those overnight soaks. Just give yourself and extra 30 mins for the marinade to work its magic. In fact, just enough time to light the coals and pour a drink!
For the basics it all starts with the preparation. Be particular with your butcher and make sure he or she knows exactly what you are looking for – your chops should be about 1 inch thick, pink and nicely marbled (see the piccie below). The marble is the fat that gives flavor, it should be rippled in the meat and not just a lump on the exterior.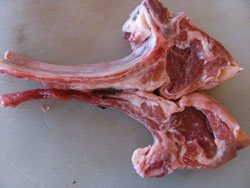 For fine dining you would normally chine the bones. This means little more than removing the fat and meat from the rib and leaving the eye of the chop on the bone. Great for presentation, poor on value for money and completely unnecessary in my book when it comes to barbecue lamb chops but if you do want to have a go then watch this video.

Your chops should be out of the refrigerator and up to room temperature. This will take a couple of hours and it is vital to ensure that the pink middle is nicely warm and succulent.
The marinade only takes 30 minutes so there's no need to refrigerate during this period.

Serves:- 4 people

Preparation Time:- 5 mins
Marinade Time:- 30 mins
Cooking Time:- 15 mins (max)

Total Time:- 50 mins

Allergens:-
This barbecue lamb chops recipe contains
Soy sauce - allergens soy & gluten

Mustard
Worcestershire sauce - allergens fish and gluten
Ketchup - allergens celery
Note there may be allergens in other ingredients so always read the label.

Ingredients for the marinade:-
2 tablespoons red currant jelly
2 tablespoons tomato ketchup
2 tablespoons light soy sauce
2 tablespoons honey
1 tablespoon dry English mustard
1 tablespoon Worcestershire sauce
Ingredients for the grill:-
Lamb chops of course!
This marinade should be enough for 8 or 10 depending on size. Usually there's not a great deal of meat on a chop so that should be sufficient serving for four depending on how healthy an appetite you and your guests have.
Method:-
Place the chops in a shallow bowl. Mix up the marinade ingredients, pour over the chops and let the marinade go to work for 30 minutes. (For such a short space of time you don't need to refrigerate).
Place the chops on the BBQ grill over hot coals and grill for about 10 – 12 minutes depending on the thickness of the chop. Turn halfway through the cooking.
This timing will give you chops that are nicely crisp on the outside and pink in the middle. If you prefer your barbecue lamb chops more well done then add a further 5 minutes to the timings.
If using a bbq thermometer look for:-
130°F 55°C - Medium rare
140°F 60°C - Medium
160°F 70°C - Well done
Remove the chops from the heat and allow them to rest for at least five minutes, during this time the core temperature will continue to rise.

That's it, sit back and enjoy……………
See Also:-
More Great Barbecue Lamb Recipes
Grilled Lamb Chop Recipe
Juicy Barbecue Marinades
Barbecue Grill Comparisons
Alabama White Barbecue Sauce Recipe