Best Barbecue Sauce
Recipes For Ribs

These have to be the two best barbecue sauce recipes for ribs and I can't take the credit for them either. Most sauce recipes for ribs are treasured and kept secret but today we're in luck because I've managed to persuade one of my best pals to part with his recipes.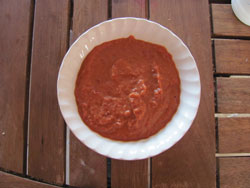 There are two recipes here, the first works with fresh ingredients whilst the second recipe cuts a few corners for those short on time.

If like me you like a rich, thick barbecue sauce on your ribs, then these recipes hit the spot. By using chopped tomatoes and tomato puree in this first recipe instead of ketchup you get a richer flavor in your barbecue sauce.
Allergens:
Worcestershire sauce contains both gluten and fish.
Malt vinegar will contain traces of gluten
Mustard
Yield:- 500ml or 2 cups

Preparation Time:- 10 mins
Cooking Time:- 30 mins
Total Time:- 40 mins
Ingredients:-
2 tablespoons olive oil
3 cloves garlic peeled and crushed
4 tablespoons finely chopped onion
1 x 400g can chopped tomatoes
1 tube tomato purée or paste (between 150g - 200g)
3 tablespoons brown sugar
2 tablespoons vinegar
1 tablespoon Worcestershire sauce
1 teaspoon dry English mustard
1 teaspoon cayenne pepper
Ground black pepper to taste
Method:-
Put the onions, crushed garlic and olive oil into a saucepan (with a lid) and fry gently until the onions turn clear. Do this over a low heat so that the onions sweat and the garlic doesn't burn.
Now add the rest of the ingredients, mix well and simmer for 20 – 30 minutes with the lid on. This will give time for the tomatoes to break down and soften but at the same time by placing the lid on the pan we ensure that the liquid doesn't reduce too much.
I prefer to cook my ribs dry with a rub and then add the barbecue sauce it the last 15 minutes or so of cooking. That way the ribs develop a slight crisp bite to the outside of the meat which gently softens with the addition of barbecue sauce. 
You can then add more sauce as you want when you serve.

---
Can You Have 2 Best Barbecue Sauce Recipes?

Well if you are short on time then yes you can! This recipe can be done in half the time by replacing a lot of the fresh ingredients with powders.
Allergens:
Yield:- 750ml or 3 cups

Preparation Time:- 5 mins
Cooking Time:- 15 mins

Total Time:- 20 mins

Ingredients:-
2 cans tomato sauce (or jars of pasta sauce)
3 tablespoons paprika
1½ tablespoons dry mustard
1 tablespoon white vinegar
1 tablespoon onion powder
1 tablespoon garlic powder
1 tablespoon ground basil
1 tablespoon cayenne pepper
2 teaspoons black pepper
Method:-
Just throw everything together in a saucepan and and stir!
Provided everything is mixed well together then you can apply this barbecue sauce over the ribs from cold and just let it heat up in the final 15 minutes of cooking.
Alternatively warm it through and add to your ribs at the point of service.

I suppose by claiming that these are the best barbecue sauce recipes ever I'm leaving myself wide open to objections and argument. Taste is after all very subjective so if you know better, let me know!
See Also:-
More Barbecue Ribs Recipes
Diabetic Barbecue Sauce Recipe
Homemade Barbecue Sauce
Tip For Peeling Garlic


Return to Home Page from Best Barbecue Sauce Recipes For Ribs