Cola BBQ Sauce Recipe
This cola BBQ sauce recipe adds a sweet note to the traditional barbecue sauce and could be just the perfect thing to add your personal signature to your cookout.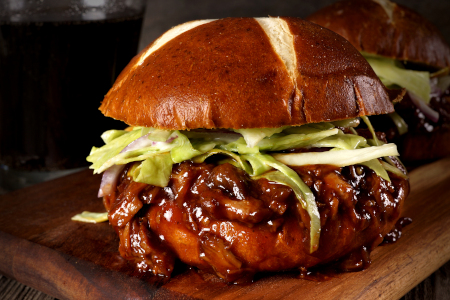 You might not think of cola as being something to add to a barbecue sauce but it does work. It adds a depth of flavor, creates a rich color and adds a good dose of sweetness too. If you want to cut down on the sugar in your sauce then a great way to do this is to use a diet soda. To be fair, it doesn't taste exactly the same but that's exactly like the drink itself.
Traditional BBQ sauce flavors basically come from a mix of sugar and vinegar (like a sweet and sour) so this recipe uses the cola as one of the sources of sugar (the other being the ketchup) so there's no need to add any more.
Note also that there's no need to add salt because you're putting in a load with the garlic and onion salt.
I guess the purist among us might argue that the flavor is different whether you use Pepsi or Coke in your cola bbq sauce but frankly I can't tell the difference between either of these or indeed any other brand of cola for that matter.
Allergens:
Celery (Ketchup)
Fish (Worcestershire sauce)
Gluten (Worcestershire sauce)
Yield:-
2 cups or 480ml

Preparation Time:- 10 mins
Cooking Time:- 10 mins

Total Time:- 20 mins

Ingredients:-
1 cup cola
210ml or 1 cup ketchup
50ml or 1/4 cup Worcestershire sauce
3 tablespoon steak sauce
1 tablespoon wine or cider vinegar
1 teaspoon onion salt
1 teaspoon garlic salt
½ teaspoon freshly ground black pepper
Method:-
It's almost as simple as throw all the ingredients into a pan, mix them up and bring to the boil but I like to add the ketchup first and gradually dilute it with the cola. This doesn't affect the flavor but it does make the ketchup dissolve that much quicker and will save you "stirring time" later on.
So when you have "let down" the ketchup, add the remaining ingredients and bring the sauce to the boil. Let it simmer for about five to ten minutes and you will have a wonderfully thick sauce ready to baste onto your favorite cut of meat.
If you do find that you have a few lumps then a bit of work with a whisk or a stick blender and you'll sort it out in no time.

Related Pages:-
More BBQ Sauce Recipes
Low Carb Barbecue Sauce Recipes
Diabetic Barbecue Sauce Recipe