Jim Beam Barbecue Sauce Recipe
Homemade Jim Beam Barbecue Sauce Recipe
It's about time there was a Jim Beam barbecue sauce recipe that's homemade because homemade tastes so much better!
In fact you can make this quicker than it takes for a trip to your local foodstore AND because this one won't contain the added preservatives that are inevitable in any bottled up product it'll taste that much fresher and more natural.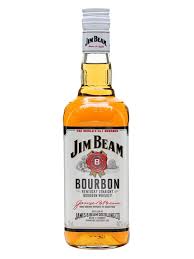 The Prime Ingredient
With any of my recipes you can add a teaspoon of liquid smoke to give it that extra smoky flavor but I think that this is the wrong way to do it. Firstly it's just too artificial for me and smells ghastly while it's cooking and secondly I think that it's your BBQ smoker or grill that should do the talking. In other words, get that smoky flavor in the cooking and not just added at the end. Get some wood chips!
You'll also notice in the ingredients that it requires English mustard and in this recipe I've used "ready made". If you've only got the powdered variety then just make up a couple of teaspoons worth by mixing with water, stir well to make sure there are no lumps. Then refrigerate for 30 minutes to rest and make sure that all the mustard flavors have properly mingled.
Allergens:
All the regular protagonists abound in this recipe...
Celery (Ketchup)

Gluten (Worcestershire sauce & Soy sauce)

Fish (Worcestershire sauce)

Mustard

Soya (Soy sauce)
Yield:- 2 pints or 1 litre

Preparation Time:- 10 mins
Cooking Time:- 20 mins

Total Time:- 30 mins
Ingredients:-
1 pint tomato ketchup
8oz or 240g brown sugar
3 tablespoons Worcestershire sauce
2 teaspoons English mustard
½ pint or 250ml Jim Beam Kentucky Bourbon Whiskey
4 tablespoons apple cider vinegar
4 tablespoons soy sauce
½ teaspoon ground cayenne pepper
Method:-
I said it was quick and easy and it's almost as simple as throwing all the ingredients into a large saucepan. I add the ketchup first and then gradually dilute the ketchup with the Jim Beam before adding any of the other ingredients (and stirring all the time). This just ensures that you don't end up with globules of ketchup which when your sauce is dilute can be really difficult to eliminate other than by a lot of simmering and stirring. So just taking this first step nice and easy it can save you more time at the end slaving over the hot stove.
Once you've got the ketchup diluted with the Jim Beam just add the remaining ingredients, stir gently and bring to the boil.
Now ease off on the heat and simmer gently for about 20 minutes or until your sauce has reached your required consistency. This not only reduces the sauce, it also vapourises the alcohol which can leave a bitter taste.

That's your homemade Jim Beam barbecue sauce recipe ready to serve and so much fresher and more natural than anything you'll find in the supermarket.
What Is Jim Beam?

Jim Beam is a Kentucky bourbon whiskey.
Is bourbon whiskey different to any other kind of whiskey?.. Yes, you can learn more about differentiating bourbon from rye, from Scotch by clicking here.
Is this Jim Beam barbecue sauce recipe different to any other bourbon recipe?.. Well, that's up to you. No doubt Jim Beam will tell you that it is; but then they are trying to build a brand. If you're happy to accept the generics of bourbon then you might want to try one of these recipes below.
Original Kentucky Bourbon Barbecue Sauce

Bourbon Barbecue Sauce With Dijon Mustard
See Also:-
More Homemade Barbecue Sauce Recipes

Return to Home Page from Homemade Jim Beam Barbecue Sauce Recipe