Damson Jam Sauce Perfect On Smoked Or BBQ Duck Breast
How a five minute experiment turned into damson jam sauce, now one of my favourite ways to serve duck breast! And don't worry if you haven't got damson jam, you can just as easily make it with plum jam or cranberry jam. Duck is the perfect meat to go with any fruity sauce......or should that be the other way round?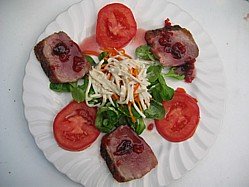 How this all came about was whilst holidaying in France, my wife let me loose at the supermarket and I came back with two beautiful duck breasts and announced that I was going to slap them on the BBQ grill.
So armed with nothing other than what was in the cupboard, my wife "magic'd" up this wonderfully fruity jam sauce that frankly is the perfect accompaniment to any duck whether grilled or smoked.It's fruity, it's sweet and that chilli note in the background just gives it that extra flavour dimension.

Yield:- ⅓ cup or 75ml

Preparation Time:- 10 minutes
Cooking Time:- 15 minutes

Total Time:-  25 minutes
Allergens:
None (to our knowledge) but do check the label of the jam if it's not home made.
Ingredients:-
4 tablespoons jam
1 tablespoon Port
1 tablespoon water
½ red chili, seeded and finely chopped
Method:-
Add all ingredients into a saucepan and bring it to the boil. Simmer for 15 minutes to allow the sauce to thicken a little and let the chili infuse.
The duck breast was grilled skin side down for the majority of the cooking time and you can use this link to read the full grilled duck breast recipe.

When cooked, allow the duck breast to rest for five minutes and then you are ready to plate up. Slice the duck breast on the diagonal and then present a little of the sauce with each slice.
In the middle I've got a light salad so it's your choice on the salad leaves and the final touch is something that I've found to be unique to France - celeri remoulade. It's basically shredded celeriac in a creamy mustard mayonnaise, absolutely delicious on the plate and well worth a trip to France just to try some! As a more practical alternative, shred some celeriac and coat it in our Alabama white barbecue sauce.

Related Pages:-
BBQ Duck Recipes
Homemade Barbecue Sauces