Spicy Green Fresh Mint Coriander Chutney
This spicy green fresh mint coriander chutney goes absolutely perfectly with any indian lamb recipe but I particularly like it with barbecue lamb koftes and it works a treat on these Galouti grilled lamb kebabs.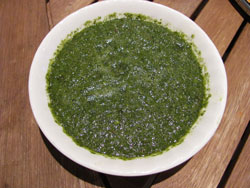 It's in the sauce section because I draw the parallel to the traditional mint sauce that you'd serve with lamb but then this really is a melange of chopped herbs with very little liquid so hence this one is a chutney in my book.
Do give yourself a bit of time with this recipe, not because it's a long one but because the flavors really improve with age. Once you've mixed everything together, let it stand for a couple of hours (cover and refrigerate) to let all the flavors mingle.
It's got fantastic color and great fresh flavors so give it go, you won't be disappointed.
Allergens:
There are no allergens in this recipe assuming you use a fresh lime. If using bottled lime juice then look out for sulphites which will have been added as a preservative.

Yield:- ½ cup or 120ml

Preparation Time:- 15 minutes
Marinade Time:- 2 hours
Cooking Time:- n/a

Total Time:- 2 hours 15 minutes
Ingredients:-
30g or 1oz chopped coriander (cilantro) leaves and stems
30g or 1oz chopped mint
1 clove garlic chopped
2 green chillies seeded and chopped
3 shallots finely chopped
A good pinch of salt (to your taste)
½ teaspoon soft brown sugar
Juice of 1 lime
120ml water (approximately)
Method:-
It's very simple, if you've got the ingredients as stated above then you've already chopped everything up so all you need to do is mix everything together and leave it to stand for a couple of hours.
When it's had a good amount of time to stand, just spoon a little over your lamb kofte, tuck in and enjoy.
See Also:-
Fusion Sauces
Asian Style Barbecue Sauce Recipes
Marie Rose Sauce
Lime Fish Sauce
Homemade Barbecue Sauce


Return to Gas Grill Recipes from Spicy Green Fresh Mint Coriander Chutney