Recipe For Grilled Lamb Kebabs AKA Galouti Kebabs
This recipe for grilled lamb kebabs has been inspired first by my student days and the Galouti kabobs I tasted on a recent trip to India.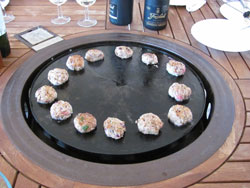 When I was a student (too many years ago, it's frightening!) I used to live in an area of Manchester called Rusholme, famous for it's Indian community and cuisine. Indeed the Oxford Road strip has now been branded as the "curry mile".
As you travel south down the Oxford Road on the left hand side is a little takeaway called "Abdul's" and it does the most fantastic seekh kebab in fresh naan. Supremely spicy and covered in lashings of yogurt sauce, this sausage shaped beef kebab is to die for!
The Galouti kabob is a variation on this theme that originates in Lucknow, Uttar Pradesh in Northern India rather than Rusholme. It is a regional speciality of what is known as the Awadhi cookery tradition and is made of minced lamb, goat or buffalo meat. (I'm going to use lamb).

After mixing with the herbs and spices the authentic Galouti kebab would be shallow fried in ghee (clarified buttter) until brown but as you might expect, I'm going to adapt this grilled lamb kebabs recipe slightly.

To make it more grill friendly I've also decided to make patties rather than the sausage shape as this makes it easier to cook. If you like them you can always make the patties a bit larger and convert this recipe into a lamb burger. Read this article about how to make the perfect burger.
Note:- Because you are making patties, select ground lamb that has a reasonable fat content because this will help moisturise and add flavour during the cooking process. Avoid anything marked "extra lean". If you're in you local butcher, ask for 25% neck fillet with 75% shoulder and this will give you a good mix at an economical price.

I chose to do my grilled lamb kebabs on the hotplate tabletop grill and it worked really well making the patties easy to turn. I was a little concerned that with such small patties I might end up losing a few through the grate of my charcoal grill and onto the coals so if cooking over charcoal I would recommend using a barbecue mat.
Serves:- 4 people

Preparation Time:- 30 minutes
Marinade Time:- 2 hours
Cooking Time:- 20 minutes

Total Time:- 2 hours 50 minutes

Ingredients:-
500g or 1lb ground lamb
1 tablespoon grated ginger
2 tablespoons fresh chopped coriander
¼ teaspoon cloves
¼ teaspoon cinnamon
¼ teaspoon mace
Ground seeds of 1 cardamom pod
1 teaspoon hot chili powder
Salt and pepper
2 tablespoons ground almonds
2 tablespoons orange juice
1 chopped onion
1 egg yolk
Plain flour
Vegetable oil
Chopped fresh coriander (cilantro) for garnish

Method:-
Throw the ground lamb and all the spices into a mixing bowl, give it a good mulch round with your fingers until thoroughly mixed. Cover and place it in the refrigerator for an hour.
Whilst the lamb is chilling take your chopped onions and lightly fry them until soft and translucent (not brown), this should take about 5 minutes over a gentle heat.
Now it's time to mix everything together get your lamb mix out of the refrigerator, throw in the rest of the ingredients (orange juice and egg yolk) including the cooked onions and get your fingers in there again! Cover with stretch wrap and return to the refrigerator for another hour or longer depending on when you are cooking.
Take this time to make your cucumber raita.

30 minutes prior to cooking, remove your lamb mix from the refrigerator and form it into small patties, dust lightly with flour. Set them to one side so that they can acclimatize to being back at room temperature.
When you are ready to cook, pop them on the plancha or hotplate until golden brown which should take about 20 minutes with regular turning.
Note:- You are cooking with ground meat so it's important that the patties are cooked through, it's not like a steak or a chop where it's acceptable to serve it pink. For the avoidance of doubt use an instant read temperature probe and look for 70°C or 160°F.
Enjoy your Galouti grilled lamb kebabs straight off the grill plate with a sprinkling of chopped fresh coriander to garnish and a good dollop or raita.
See Also:-
Barbecue Lamb Shish Kebab
Barbecue Lamb Kofte Kebabs
BBQ Lamb Recipes For Greek Kebabs
Smoked Lamb Ribs
More Barbecue Lamb Recipes


Return to Gas Grill Recipes from Recipe For Grilled Lamb Kebabs AKA Galouti Kabobs