Barbecue Lamb Shish Kebab
Barbecue Lamb Shish Kebab
My barbecue lamb shish kebab recipe is as close to the original as you can get thanks to some special advice from my local Turkish restaurateur.
A good shish kebab is quite long and generally comes on a long thick metal skewer. If you try to use bamboo skewers you'll be woefully short!
My student days were served in Manchester many moons ago and without doubt the best kebabs came from Abduls takeaway in Rusholme.
I always remember a shish kebab (kabob) being made with lamb but then occasionally with chicken to so as part of my research for this recipe I though that I'd better find out a bit more about what a shish kebab really should be.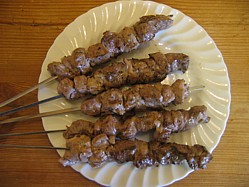 Well the bottom line is that shish is a Turkish word meaning "skewer"! After that it generally refers to meat on a skewer so what the hell, I've made a decision and I'm doing a barbecue lamb shish kebab.
So after some more soul searching and a little help from my friends in Rusholme, I think I've come up with a winner here, at least something to rival the best.
On this occasion I've gone for couscous as a base although it goes just as well with quinoa, Bulgar wheat or rice. Add one of my barbecue salads as a side.
Serves:- 4 people

Preparation Time:- 20 minutes
Marinade Time:- 1 hour
Cooking Time:- 10 minutes

Total Time:- 1 hour 30 minutes

Allergens:
Couscous contains gluten. Other than that and assuming that you are using freshly squeezed  lemon juice then there are no other allergens. Bottled lemon juice however contains sulphites.

Ingredients:-
500g or 1lb diced lamb
1 red pepper cut into squares
1 large yellow pepper cut into squares
1 onion cut into wedges
6 tomatoes halved
1 tablespoon melted butter
180g (1 cup) dried couscous
240g (1 cup) hot water (or stock)


Salt and pepper
For The Marinade

5 tablespoons olive oil
Juice of one lemon
3 cloves garlic crushed
1 onion grated
2 teaspoons chilli powder
salt and freshly ground black pepper
Method:-
Mix up all the ingredients for the marinade in a glass bowl, turn in the diced lamb and give it a stir. When the lamb is fully coated, cover and leave to marinate for an hour. (Learn more about marinades here). There's no need to refrigerate, just give it the odd stir every now and then for good measure.
Thread the lamb onto the skewers interlaced with the vegetables and then barbecue on hot coals for about 8 - 10 minutes giving them a turn every now and then. Use the remainder of the marinade as a baste to max out on the flavour.
Note:- It's important to put veg on the skewer as well as the meat because this helps evenly distribute the heat. If your skewer is exclusively meat and tightly packed then the cooking time is longer and you'll end up with dry cubes of lamb. I learned by my mistakes!
Whilst the barbecue lamb shish kebab is cooking make up the couscous. Traditionally couscous would have been steamed over a stew pot for a long period of time so that the couscous absorbs the flavours of the stew. The quick way to make couscous is simply to add salt and pepper to the dried grain and pour hot water (or stock) in batches over the couscous and stir. Gradually the couscous will re-hydrate and fluff up and at this point you can add some of the melted butter to give it an extra flavour dimension.
Note:- Different brands of couscous will absorb differing amounts of water so this is why you add the water in batches. As you get closer to the end of the water use your judgement as to how much water to add.

When everything is ready, plate up the couscous, lay the barbecue lamb shish kebab on top and pour the rest of the melted butter over the kebab. A barbecue salad to garnish and you're ready to go.

You can serve as I've done or if you're more of a hands on person, how about a pitta bread and salad as an alternative serving suggestion?
Related Pages:
More Information about BBQ Skewers
Tomato And Onion Salad
Delicious BBQ Marinades
Great BBQ Lamb Recipes