Homemade Chipotle Barbecue Sauce Recipe
Don't buy it! It's really easy to make, just follow my homemade chipotle barbecue sauce recipe and you can have your own smoky BBQ sauce in under 30 minutes.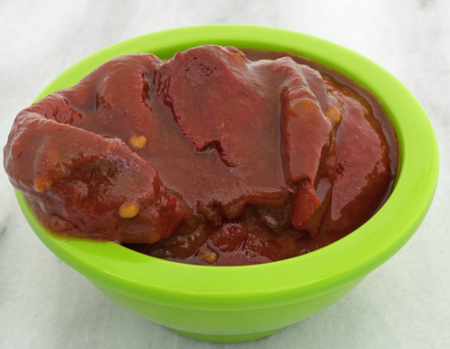 The base ingredient chipotle, (pronounced chee-pot-ley) is a smoked red jalapeño that you can either buy or smoke yourself.
If smoking yourself you can use green jalapeños but I don't think that the end result is as sweet. In addition, using the green jalapeño isn't really authentic because of how the chipotle is produced...
Like many peppers, the jalapeño is first green and then ripens to a deep red color and it's at this stage that most of them are harvested and sold. The chipotle is prepared from any jalapeños that remain on the plant at the end of the season ie. those that are withered and dried.
You then smoke the dried chilli to produce the end product, an ingredient that adds heat but also its own distinctive earthy, smoky flavors unique to a chipotle barbecue sauce.

The most common way to buy chipotles is canned in adobo sauce which essentially is a mix of spices, vinegar, tomato sauce (and sometimes other chilies). You can use the canned variety in my chipotle barbecue sauce recipe, no worries but use this link if you want to smoke chipotles yourself.

Allergens:
Celery (ketchup & celery salt)
Fish (Worcestershire sauce)
Gluten (Worcestershire sauce)
Abodo sauce recipes vary so if you have a specific allergy then always read the label on the chipotle chilli can.

Yield:- 3 cups or 720ml (approx)

Preparation Time:- 10 mins
Cooking Time:- 15 mins

Total Time:- 25 mins

Ingredients:-
450 ml or 16 oz tomato ketchup
2 onions chopped onion
110ml or ½ cup water
2 cans chipotle peppers chopped
100g or 4 oz brown sugar
2 tablespoons cider vinegar
1 tablespoon Worcestershire sauce
1 teaspoon minced garlic
½ teaspoon celery salt
½ teaspoon black pepper
A splash of cooking oil for frying
Method:-
Heat the oil gently in a sauce pan, throw in the onions and the minced garlic and fry gently until the onions turn clear (about 5 minutes).
Now add the rest of the ingredients, bring the mixture to the boil and simmer to reduce the volume. How long do you simmer? Well, you'll know when the chipotle barbecue sauce is ready because it will start to thicken and start to bubble (and probably make a mess of the stove top at the same time).
When you've reached that consistency take the pan off the heat and allow to cool. You can then use your chipotle barbecue sauce either as a final mop or a side condiment.

---
Preparing Home Smoked Chipotles From Jalapeños Chillies
Use this recipe for preparing home smoked chipotles from jalapeños and you'll create a wonderful preserved ingredient that you can use in many recipes.
Follow the method below and you'll end up with either the dried chillies that you can store in a airtight container or a paste that you can refrigerate or freeze for use at a later date.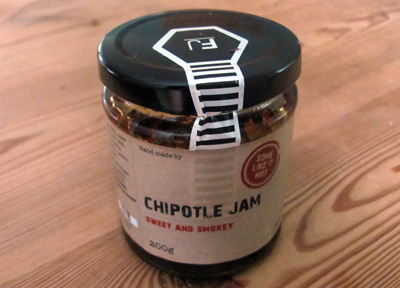 This is what my mate Paul makes out of his chipotles
Used extensively in Mexican cooking you can use chipotles as an ingredient in any slow roasting process or stew. They add both a heat and smokiness to your cooking. For the purposes of making my chipotle barbecue sauce recipe you can use either format.

You'll notice in the recipe ingredients that you need red jalapeños and preferably those that are on the verge of drying out. This is following the traditional production process where the moist under ripe jalapeños are picked for market and will ripen in transit, some are left to ripen and dry out on the bush it is these that are made into chipotles. Using the most ripe that you can get best mimics this tradition.
You're looking for a heavy smoke so try some large chunks of pre-soaked oak and be prepared for a long process. The hot smoking dries the chillies and removes approximately 80% of the moisture content.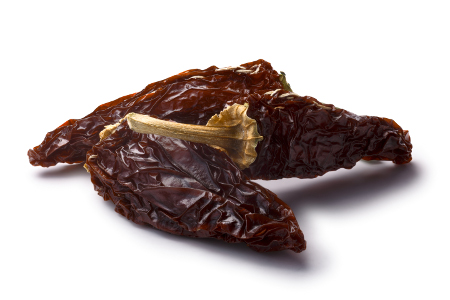 If you're making just the dried home smoked chipotles (rather than the paste) then you only need the red jalapeños from the ingredients list below.
Note: These ingredients below are required to make the chipotle paste, if you're just after making dried chipotles then all you need are the red ripe jalapeños.

Allergens:
Because these are not pure ingredients I can't say for certain. The exact ingredients will be dependent on the respective pastes that you by so please check the labels

Yield:- 4oz or 100g

Preparation Time:- n/a
Cooking Time:- Up to 24 hours
Drying Time:- 2 weeks

Total Time:- 2 weeks
Ingredients:-
1 pound or ½ kilo red ripe jalapeño chillies
8 tablespoons dried red chili paste
5 tablespoons water
2 tablespoons tomato paste
2 tablespoons cider vinegar
1 tablespoon dark brown sugar
1 teaspoon garlic paste
1/4 teaspoon salt
Method:-
Set your smoker up with the oak wood chips to approximately 250°F or 120°C, lay the chillies on the rack and smoke until that are brown, shriveled, wrinkled and soft. Traditionally this could take days although in a custom hot smoker you should be able to achieve this in 24 hours or so.
I find that if you set your smoker up at the appointed temperature, tend it for a few hours and then just let it gradually extinguish then this gives a reasonable result.

For the dried chipotles - Place them on a cake cooling tray, leave them in a dry place at room temperature for a couple of weeks and then transfer to an airtight container.
For the chipotle paste - First follow the preparation process above. Heat the chipotles in a saucepan with all the other ingredients and simmer for 20 minutes or so until the sauce is very thick. Allow the sauce to cool, transfer to a container and refrigerate where it'll last for 2-3 weeks.
See Also:-
More Homemade Barbecue Sauce Recipes
The Best Barbecue Sauce Recipes
Low Carb Barbecue Sauce Recipes


Return to Home Page from Homemade Chipotle Barbecue Sauce Recipe