Memphis Barbecue Sauce Recipe
My Memphis barbecue sauce recipe is delightfully sweet but not too sweet with a hint of chili, emphasizing why the Memphis style is recognised as being as close as you can get to the prefect all purpose barbecue sauce.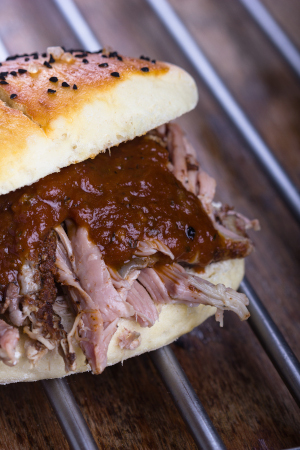 Made in 30 minutes it's the ideal accompaniment to chopped or pulled pork or chicken.
What I like about this recipe is the use of onions which when cooked gently add a natural sweetness to any sauce. The additional ingredients that sweeten things up are the sugar and molasses so if you prefer a less sweet sauce then you can just ease off on these ingredients a little.
I have succumbed to using liquid smoke, not an ingredient I like to add to my BBQ sauces because to all intense and purposes it is an "artificial" flavor enhancer. I generally prefer a more natural smokiness with the addition of smoked paprika but as I said at the top, the Memphis barbecue sauce is recognized as that generic all purpose BBQ sauce so on this occasion I beg your indulgence.
Allergens:
Celery (ketchup)
Mustard (English mustard)
Fish (Worcestershire sauce)
Gluten (Worcestershire sauce)
Yield:- ½ litre or 1 pint

Preparation Time:-10 mins
Cooking Time:-20 mins

Total Time:- 30 mins
Ingredients:-
1 tablespoon butter
1 large onion finely chopped
2 red chili seeded and chopped
500ml or 1 1/2 cups ketchup
3 tablespoons molasses
3 tablespoons brown sugar
2 tablespoons English mustard (ready mixed, not powdered)
1 tablespoon Worcestershire sauce
Juice of a lemon
1 tablespoon liquid smoke
1 teaspoon garlic salt
1 teaspoon fresh ground black pepper
Method:-
Heat a saucepan over a medium heat, melt the butter and throw in the onions and chillies for about 3-4 mins until the onions turn translucent. (You want a medium heat so that the onions don't burn, it's when they turn translucent that the sweetness comes).
Next turn the heat down a little and add the ketchup and molasses. Stir in until you are satisfied that it is well mixed then simply throw in the rest of the ingredients.
Bring the concoction up to the boil and simmer for about 10 minutes. That's it, you're ready to go. Just spoon it over your pork.
Related Pages:-
More Delicious Barbecue Sauce Recipes


Low Carb Barbecue Sauce Recipes
Diabetic Barbecue Sauce Recipe
Tasty Barbecue Chicken Recipes
Yummy BBQ Pork Recipes