Homemade Hoi Sin Sauce Recipe
(Chinese Barbecue Sauce)
This hoi sin sauce recipe captures the essential flavors of Chinese barbecue sauce using almost everyday kitchen ingredients so you too can make your own homemade hoi sin sauce for your next BBQ cookout.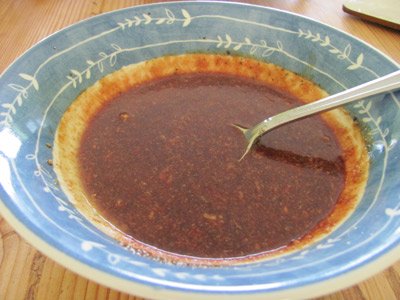 Hoi sin is used extensively in Chinese cooking and forms the basis of many barbecue sauces. It's the sauce that you get on BBQ spare ribs, it's the base sauce used to serve crispy Peking duck with pancakes and it is also a key ingredient in the marinade for char siu.
It is sweet, it is spicy and usually a red brown in color and one of the key ingredients is black bean paste. You can buy the paste (or indeed hoi sin sauce) in jars from many Asian food stores but for many that's not always practical or possible so I wanted to come up with an alternative that tastes pretty similar and you can make it in your own kitchen with everyday ingredients – well, ingredients that you can normally find in any supermarket.
After a number of false starts I think that I've got something worth shouting about and of course the best thing about it is that it's homemade. I think that it's time to buy a side of ribs because this sauce tastes great!
Allergens:
Soya (Soy sauce)
Gluten (Soy sauce)
Peanut (Peanut butter)
Sesame (Sesame seed oil)
Yield:- ½ cup or 125ml

Preparation Time:- 10 minutes
Cooking Time:- n/a

Total Time:- 10 minutes
Ingredients:-
4 tbsp dark soy sauce
2 tbsp peanut butter (black bean paste if you have it)
1 tbsp runny honey
2 tsp white vinegar
½ tsp garlic powder
2 tsp sesame oil
1 tsp chili sauce
¼ tsp freshly ground black pepper
½ tsp red food coloring
Method:-
The method statement for this hoi sin sauce recipe is as simple mixing all the ingredients together however the challenge is to get the peanut butter to mix in smoothly. With a lot of stirring and with age, it will come together but to speed things up it's best to add the peanut butter into your bowl first and then gradually dilute it down with the other ingredients.You can also use a stick blender.

The red food coloring is an optional extra, it's largely overridden by the dark coloration from the soy sauce when it is in the bowl but when you spread the sauce over your food the red color becomes that much more vibrant.
See Also:-
Homemade Barbecue Sauce
Chinese Peking Duck
Chinese Barbecue Pork (Char Siu)
Asian Style Barbecue Sauce
Oriental Vinegar Barbeque Sauce

Return to more Water Smoker Recipes from Homemade Hoi Sin Sauce Recipe