Smoked Duck Peking Style Recipe

This smoked duck Peking style recipe (or Beijing style) is wonderful, add the usual strips of cucumber and scallions in a pancake that's been coated in hoi sin BBQ sauce and wow! Chinese barbecue food at home, what could be better? Just follow my rub recipe and it's yours for the taking.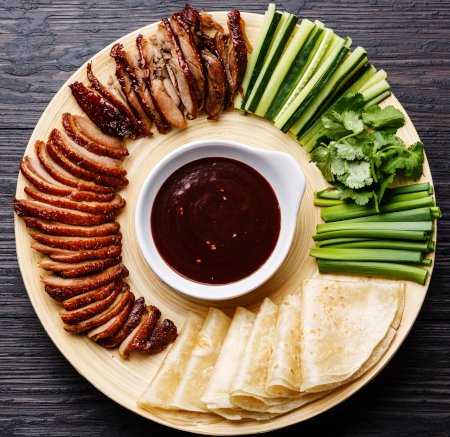 This dish celebrated around the world has 400 year old origins. The first people to breed duck were the Chinese, traditionally this recipe uses a special breed of duck (the Imperial Peking) that is kept in a cage and force fed to deliver supremely tender meat. Clearly I'm not going to doing that, I'm going to use a regular farm assured bred duck.
Traditionally Peking duck was cooked in a cylindrical clay oven so my use of a kamado ceramic barbecue smoker for this smoked duck Peking style recipe is at least closely in-keeping with the original.

In order to get the most our of this recipe you need to cook at two different temperatures. The first is the low and slow 250°F or 120°C which brings all the flavours together, the second is high temperature 395°F (200°C) in order to crisp up the skin.
I find that my kamado serves perfectly to cook at these two differing temperature stages but you can always do the second stage in your oven. I find that the short sharp shock of 395°F (200°C) is the best way but so long as you're cooking the second stage over 300°F (150°C) then the Maillard reaction will take place - it's this reaction that browns and crisps up the skin.

The rub needs preparing and applying to the duck 48 hours in advance and admittedly doesn't look great but it does use traditional Chinese ingredients. To make it absolutely authentic you should add red food coloring to the rub but this makes no difference to the flavour.
Preparation Time:- 20 mins
Marinade Time:- 48 hours
Cooking Time:- 6 hours

Total Time:- 3 days

Ingredients:-
One duck
1 tablespoon cider vinegar
4 teaspoons salt
2 star anise
2 teaspoons soy sauce
2 teaspoons Chinese 5 spice
2 teaspoons sesame paste (tahini)
1 teaspoon sesame oil
1 teaspoon powdered ginger
1 teaspoon sugar
For the "garnish"

Chinese pancakes
1 cucumber
6 spring onions (scallions)
Method:-
Grind up the star anise in a pestle and mortar then add the salt and continue to grind for a minute or so. Add all the other ingredients into the pot and mix well until a rich paste is formed.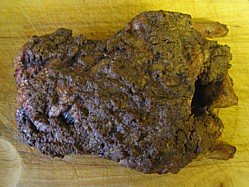 Take your duck and with a sharp knife score the skin surface taking care to not to cut too deeply into the fat. Rub the paste all over the bird and set aside for 48 hours in the refrigerator.
Now I have to say that the picture above shows the duck with all the paste on and it really doesn't do it justice. It might look a mess but the flavor at the end of the cookout is full on.
Set your smoker up for indirect cooking (insert the heat deflector stone in your kamado) and cook the duck low and slow at over a 250°F or 120° for 5 hours (60 minutes per pound). That concludes the first stage of the cooking process and you'll now have a beautifully succulent bird.
The paste is salty so scrape off any that's remaining before starting the second cooking stage.
Crank up your kamado / smoker / oven to 395°F (200°C) and pop the duck in for 20 minutes to crisp up the skin.
Note:- This is still indirect cooking set up.

During this time you can complete this smoked duck Peking style recipe by preparing the garnish.
Top and tail the spring onions and slice length-ways to produce strips
Peel the cucumber, cut into thirds and then cut each third length-ways into quarters. You can now easily cut out the watery centre. Now cut what's left of the cucumber length-ways to produce cuboid lengths.
Spoon out some hoi sin sauce into a saucer
Steam or warm your pancakes through in the microwave.
Now it's time to take your bird out of the oven for the final assembly of smoked duck Peking style.
Take two forks or bear paws and shred the duck meat.

Coat a pancake on one side with hoi sin sauce, add some shredded scallions and cucumber in a line along the centre together with some shredded duck. Roll up the pancake and take a bite!
Related Pages:-
Barbecue Duck Recipes
Barbecue Chicken Recipes
Tasty Turkey Recipes
Information About Smokers