Easy Grilled Potato Recipes
For Salads & Sides

The most important point to consider about all the grilled potato recipes below, whether for a salad or as an accompaniment to a main dish is that choice of potato is critical.

For the grilled potato recipes that feature bigger pieces of potato, look for a good all rounder, firm but a little floury. For the recipes using small cubes of potato you'll need something waxy but not so fluffy that it breaks up.
Waxy potatoes have a shiny skin, the flesh is translucent and feels moist and pasty. Examples of waxy potatoes include Charlotte, Nicola & Maris Peer.
The opposite of waxy is floury, these potatoes are brighter and more granular in appearance with a drier feel. Examples of floury potatoes include Estima, King Edward, Maris Piper & Desiree.
The secret to successful grilled potato recipes is to boil your potatoes first but timing is critical. Boiling starts the breakdown of the starch into the less complex carbohydrates that give cooked potatoes their sweetness but at the same time it also destroys the structure that binds the potato together. If you go over on the timing of this pre-boiling stage then your potatoes will break up.
Choose any one of the seven grilled potato recipes below, follow the timings carefully and enjoy!
Grilled Potato Slices - lightly spiced with smoked paprika

Grilled Potato Halves - marinated and seasoned

Grilled Potato Salad - with spiced chorizo

Potatoes Grilled In White Wine & Crème Fraiche - perfect for when you're on the move

Kamado Baked Potatoes & Onions
These final two aren't technically grilled potato recipes but if you're looking for an accompaniment to your main BBQ meal then these two make for great salads.
---
Grilled Potato Slices

Serves:- 4 people

Preparation Time:- 10 minutes
Cooking Time:- 5-10 minutes

Total:- 15-20 minutes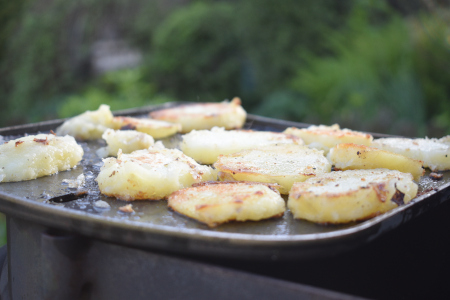 Ingredients:-
4 large potatoes
Salt
Pepper

Pinch of smoked paprika

1 tablespoon cooking oil
Method:-
Peel and slice your potatoes into wedges or slices just under 1cm or ½ inch thick. And pop them into salted boiling water for 10 minutes.
After ten minutes, strain into a colander and allow to cool. Spray your grill plates or cooking grate with olive oil.
When you're ready to cook, lay your potatoes on the grill and cook until golden brown which will usually take 5 – 10 minutes.
Resist moving them around or turning them too much because this will cause them to break up, if possible just cook one side until brown and then flip them once onto the other side.
Season with the salt, pepper and smoked paprika and tuck in.
---
Grilled Potato Halves

In reference to what I said at the head of this page, for this grilled potato recipe you can actually get away with using a waxy potato like Charlotte or Maris Peer. (You can easily identify a waxy potato by the skin - it is shiny).
Serves:- 4 people

Preparation Time:- 5 minutes
Cooking Time:- 25 minutes
Total Time:- 30 minutes

Ingredients:-
4 Large potatoes cut in half and par boiled
4 cloves of garlic (chopped)
2 tablespoons olive oil
2 teaspoons chopped fresh rosemary
½ teaspoon chopped fresh oregano
½ teaspoon smoked paprika
½ teaspoon freshly ground black pepper
¼ teaspoon salt
Method:-
Combine all the ingredients for the marinade and mix, add your potato halves and gently stir in. Now place your potato on the grill over medium heat and give them about 15 minutes on each side taking care to brown them and not burn them.
Brush occasionally with the remainder of the marinade for extra flavour. Dependent on how well bedded down your coals are there might be some flames as the oil drips onto the fire. This isn't a big deal provided you get the grill lid down pretty quick and get the fire under control - and please do take care.
This is the only one of the grilled potato recipes where I've shot a video:
You'll notice also how I've used a grill mat because this makes it easy to turn the potatoes without them breaking up. Just slide a burger flipper under the potato and everything should stay intact.
---
Grilled Potato Salad

This grilled potato recipe delivers crispy potatoes and crunchy chorizo all over a salad bed of green leaves.
You'll need the plancha or fire plate to sear the potato cubes to a crisp golden brown.
Serves:- 4 people

Preparation Time:- 10 minutes
Cooking Time:- 20 minutes

Total Time:-
30 minutes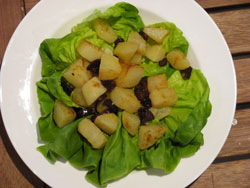 Ingredients:-
2 large potatoes
100g of 4oz chorizo
1 lettuce
Salt and pepper
Extra virgin olive oil
Method:-
Peel the potatoes, dice into 1cm (½ inch) cubes and pop them in a pan of salted boiling water for 10 minutes – just enough time to start to breakdown the starch with out losing the texture of the potato. Once done, strain the potatoes.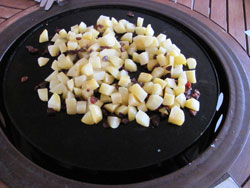 Chop your chorizo into small cubes and toss it onto the hotplate or grill pan for 5 minutes, you'll see the red oil start to run and the chorizo will start to crisp.
When this happens add the potatoes and grill until your potato is golden and your chorizo is crispy.
Make a bed out of lettuce, spoon on some of the potato / chorizo mix and season it with salt and pepper. A light drizzle with extra virgin olive oil to finish will just add that lovely sheen to this grilled potato recipe.
---
Potatoes Grilled In White Wine & Crème Fraiche
I use this grilled potato recipe when I'm out and about with my portable grill because when you've only got one heat source to play with and don't want washing up...this is ideal.
We're going to make some foil parcels and steam the potatoes in white wine and cream. I guess its a bit like Dauphinoise potatoes but without the garlic or gratin topping. Of course you can add garlic if you wish.
TIP - I ask below that you slice your potatoes thinly. This is really important to get the liquids surrounding as much of the potato as possible so that it cooks in a reasonable time.
Serves:- 1 person

Preparation Time:- 20 minutes
Cooking Time:- 40 minutes
Total Time:- 1 hour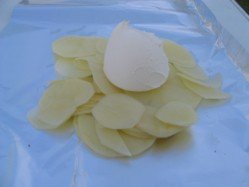 Ingredients:-
1 potato sliced thinly
1 tablespoon crème fraiche
1 good lug of dry white wine
Salt and pepper
Aluminium foil
Method:-
Lay the sliced potatoes on a tea towel and wrap them up for 10 minutes. This takes out some of the moisture and stops the potato slices sticking together. Ten minutes is long enough to do this without the potatoes going brown.
Rip off a good piece of aluminium foil and lay it flat on the table. On one half of the foil, lay out your potato slices so that they are separated and the moisture can flow round them, season with salt and pepper and then spoon the crème fraiche on top.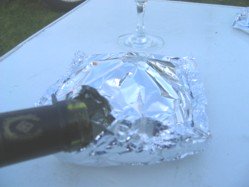 Fold the foil over and "scrunch" the sides together (a little like making a Cornish Pasty) but before you've completely sealed the potatoes in the foil, leave an opening where you pour in the good lug of white wine.
Now scrunch and completely seal the foil, pop it on the grill and leave it for 40 minutes. You can then put to one side and open when the main course is ready because provided you don't open the parcel the contents will stay hot for plenty of time.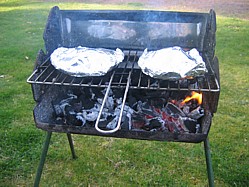 ---
Kamado Baked Potatoes & Onions
This grilled potato recipe uses the juices that land in the drip tray during the cookout.
I first tried this when I was roasting a chicken in my Big Green Egg but since then I've tried in a number of other ways like under smoked ribs. The beauty of the cooking process is that you really can't overcook the dish (unless you let it run dry!) and whatever you're cooking above it adds a different flavour to the final result. You just have to be careful not to use this technique when cooking really fatty food or something for a really long period of time.
For the purposes of this recipe and the pictures I've actually prepared this as an individual dish so you can see that it works just as well in a traditional oven as it does in a smoker or kamado. If you do it in this way it also makes a great healthy accompaniment to BBQ grilled fish.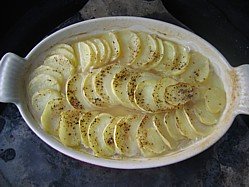 Serves:- 6 people

Preparation Time:- 20 minutes
Cooking Time:- 1 hour
Total Time:- 1 hour 20 minutes

Ingredients:-
Six large potatoes
1 large onion
500ml or 1 pint chicken stock
Salt and Pepper
Method:-
Slice up the potatoes and the onions so that they are reasonably thin. This will help the vegetables cook whether cooking at the higher temperatures of a traditional oven or lower temperatures when smoking.
Layer the potato slices, then onion, then more potato and season as you go with the salt and pepper and when complete, pour over the chicken stock with a final sprinkle of salt and pepper on top.
If cooking in traditional oven give it about 45 minutes to an hour at 180°C or 350°F. If using as the drip tray, just do what you'd normally do and place the tray with the onions and potatoes under the meat for smoking and go with the flow.
If you are on a long cookout you will need to keep a regular eye on it to ensure that it doesn't dry out. If too dry, just add some more chicken stock.
---
New Potatoes In Mojo Sauce
Seasoning a grilled potato salad to make it stand out takes practice. It's easy to just add mayo but now here's the flavour packed answer.
I've used steamed new potatoes for this salad, I steamed them over my Ozpig Big Pig wood fire and then transferred them to the cast iron BBQ plate and it worked great.
The reason for steaming them (rather than boiling) is two fold:

I think that the skins maintain more flavor when steamed
They don't go soggy when cooling - when they are cooked just lift the steamer shelf out and pour away the hot water, replace the steamer shelf, leave the lid off and the potatoes will cool and keep nice and dry
The mojo sauce recipe is below, so just steam your new potatoes, grill them to crisp up the skin and then drizzle on the mojo sauce. The results are amazing.
Serves:- 6 people

Preparation Time:- 10 minutes
Cooking Time:- 20 minutes
Total Time:- 30 minutes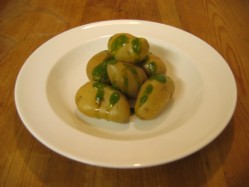 Ingredients:-
2lbs or 1Kg new potatoes
2 cloves garlic
1 tablespoon fresh coriander chopped
1 tablespoon fresh parsley chopped
1 teaspoon cumin
5 tablespoons olive oil
2 tablespoons white wine vinegar
Pinch of salt
Method:-
Steam your new potatoes for 20 minutes and then remove them from the steamer and set aside to dry.
To make the mojo sauce, place the solid ingredients and spices into a food processor and blitz then gently and drizzle in the olive oil. Transfer to a small dish, stir in the vinegar and season to taste.
Crisp the potatoes on the grill, transfer to a serving dish and pour over the mojo sauce.
---
Minted Pea And Potato Salad
Fresh new potatoes are required for this recipe, I usually go for the Charlotte variety but so long as they're small and waxy you'll be able to get away with whatever you get locally.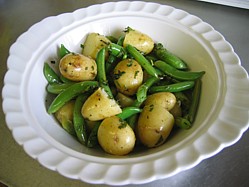 It's really easy to prepare, I like to serve it semi warm so it's something that you can throw together before going outside to enjoy the barbecue cookout.
Serves:- 4 people

Preparation Time:- 10 minutes
Cooking Time:- 20 minutes
Total Time:- 30 minutes
Ingredients:-
450g or 1 lb baby new potatoes
150g or 5oz sugar snap peas or freshly shelled peas
Handful of fresh mint finely chopped
Extra virgin olive oil
Lemon juice (a squeeze)
Salt and freshly ground black pepper
Pea shoots for garnish
Method:-
Boil the potatoes until almost tender (circa 15 minutes depending on size) and check using the point of a knife that they are soft.

When you are happy that the potatoes are cooked more or less to perfection, add the peas and boil for a further minute.
Drain into a colander to remove all excess water (the steam will evaporate most in about 30 secs) then transfer to your salad bowl and immediately toss in the olive oil and a squeeze of lemon juice.
Sprinkle generously with salt and freshly ground black pepper. Flake the chopped fresh mint over the top, add the pea shoots and a final drizzle of olive oil just to give it that shiny finish.
See Also:-

Vegetarian Barbecue Suggestions
Barbecue Salads
Barbecue Beans

Useful External Links For Easy Grilled Potato Recipes

Love Potatoes - This webpage will tell you all you need to know about potatoes.


Return Home from Easy Grilled Potato Recipes For Salads & Sides