Ozpig Big Pig UK Review
★★★★☆ - For kicking out serious heat the Ozpig Big Pig really packs a punch. There's no doubt that it has earned a permanent place on my patio, it will extend my outdoor cooking season and take me further into dutch oven cooking.
Big Pig is the latest creation from Ozpig, the Australian family run business whose passion for campfire cooking is second to none.
The original Ozpig appears to have evolved from a cutaway gas bottle into a fantastic portable camp cooking and heating system, in fact is was so good you'll find many an Ozpig lover cooking on their "pig" in their own backyards and now its larger stable mate Big Pig take it to a new level.
First Impressions
The Ozpig Big Pig looks like the carcass of two Ozpigs sitting side by side and welded together so clearly there's some commonality to the manufacturing process but that's not where the similarity ends.
With a well thought out design, quality manufacturing and a solid welded construction, Big Pig is a chip off the old block.
That said, weighing in at 41 Kg, Big Pig isn't something that you're going to move around on your own and is certainly not portable, it's definitely designed for back yard cooking and patio heating. The stainless steel legs are thicker than those on the Ozpig but otherwise it follows the same process for set up.
Upon close inspection I noticed that there's no water drain in the firebox. Maybe this only concerns the UK climate where (especially where I live) rain sometimes feels like a daily occurrence or it could just be a rouse buy the Ozpig guys to make me buy the protective cover. I guess I can't blame them for that.

From opening the box to lighting my first fire took about 20 minutes and I only needed to refer to the instruction manual once and that was to figure out whether the flue segment with the sliding gate damper was fitted closest to Big Pig or the top stack. (It fits closest to the Big Pig).
The instruction manual holds valuable information about how to light the Ozpig Big Pig and speaking from experience I can tell you that it's definitely a worthwhile read. There's a step by step guide to quickly and consistently building a good fire and there are also some great recipes to get your Big Pig adventure started. 

Note: when assembling your Big Pig for the first time, have a saucer of vegetable oil handy to dip an old rag into because one wipe with the rag around the joints makes fixing the legs and building the flue stack just that little bit easier.
Feeling Hot Hot Hot!
So I've had an Ozpig Series 2 in my campervan for a while so I know what to expect from the Ozpig Big Pig and it didn't disappoint.
I decided that the acid test for Big Pig was how well it performed on a starry skied November evening. The ambient temperature was around 2 - 3°C above freezing, I got a good fire burning to see how long could I stay outside in my chair with just the Ozpig Big Pig and a beer for company? It was just over 30 minutes before I came back inside the house, grabbed another beer and went back out!
With a healthy fire set and the drop down door open (which helps direct the heat straight at you) I was toasty and relaxed. I don't know what it is about staring into the depths of an open fire but it works for me.
The Big Pig features a damper system in the drop down door and the slider mechanism for this gets really hot so a pair of gloves is essential. The same can be said for the door securing catches so be careful when hot. 
Twice The Size, Twice The Space
A campfire cooker is designed to be portable and inevitably the small cooking area is always going to be a compromise. The Ozpig Big Pig effectively doubles the cooking space compared to the Ozpig S2 and provides extra flexibility with a half moon cast iron grill grate and half moon cast iron plancha. Steaks and chops on one side, seafood and veggies on the other.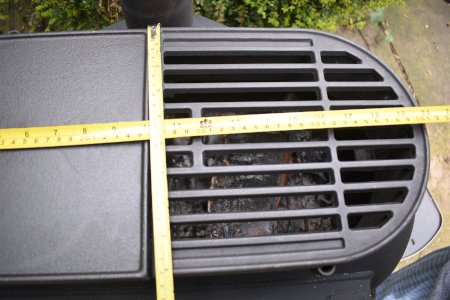 The Ozpig Big Pig Cooking Surface Area Is Approx
1200 sq cm or 190 sq in
Alternatively you can run two dutch ovens side by side and use the two side trays for warming.
A battery operated rotisserie completes a full complement of accessories so there's something for everyone unless you want to bake or barbecue low and slow. To go down this route you need buy the Oven Smoker accessory AND the oven smoker adapter plate which adds £225. 
Twice the space however does not equal loads of space. The cook area is still relatively small although credit where credit is due, all the Ozpig gear is well thought out. Look at how the plancha and grill grate are designed to fit securely around the lugs so there's no chance of slippage.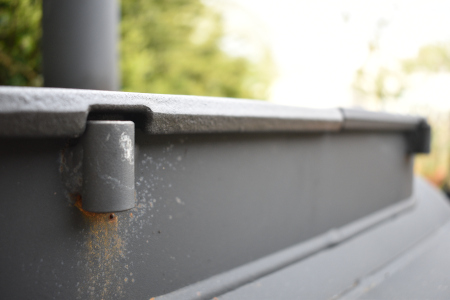 Oven Smoker
The oven smoker fits vertically onto Big Pig. In this article I'm just going to talk about how it fits to Big Pig and the opportunities that it presents so for more detail, please read my full article about the Ozpig Oven Smoker.
The concept is beautiful, it's a chamber that sits on Big Pig and creates a whole new cooking experience. It is essential to buy the Big Pig oven smoker adapter plate kit if you are fixing to Big Pig (the Ozpig portable BBQ features a different fixing mechanism that's built into the Oven Smoker).
So sitting over my fire, I now have an indirect cooking chamber fabricated from 2mm steel. Now I accept that the oven smoker is a cylinder whose diameter is going to constrain me to a certain size hunk of meat but in essence I've just constructed a perfectly acceptable and certainly more flexible alternative to a quality wood burning offset smoker for an extra £275 (including the adapter plate). 
Cheap offsets aren't worth the money, expensive offsets are exactly that...expensive. The Ozpig oven smoker connected to Big Pig gives me a low and slow "stick burner", I have the ability to regulate temperature using the damper slider in the drop down door and if I leave the drop down door open, I can take the Oven Smoker up to 200°C for roasting, baking and cooking pizza (pizza stone extra).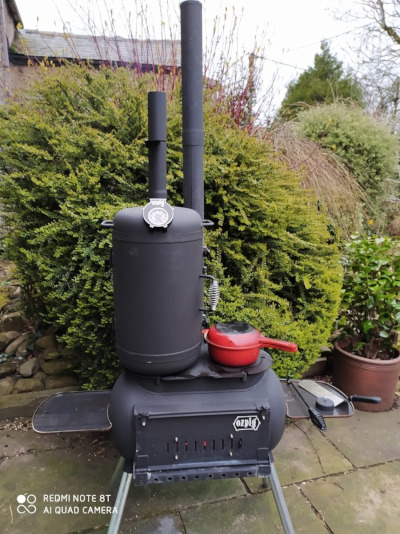 So with the addition of the oven smoker I've just created a perfectly acceptable small, high quality alternative to an expensive offset smoker that also doubles as an open fire pit and patio heater...what's not to like about that?
Maybe a future development would be to have a built in adapter port for a BBQ Guru pit viper fan?
Big Pig Pros And Cons
Pros
Quality build in 3mm steel
Doubles up as a serious patio heater
Good flexibility for multiple cookery styles
Cons
Grill space surface area isn't the biggest
It's 41Kg and not on wheels
First impressions on setting up the additional oven smoker...it's a little fiddly
Is The Ozpig Big Pig My Perfect Barbecue?
If you're already an Ozpig fan then you're going to love Big Pig.
Big Pig comes in at £495 which considering the quality of manufacture represents pretty good value for money. It will certainly be your perfect patio heater but whether it's your perfect barbecue is really down to the style of outdoor cooking that you want to do. That said Big Pig gets a big tick for versatility.
For a similar price you could get a bullet smoker which will cook more food and is more suited to classic low and slow barbecue staples like ribs brisket and pulled pork but isn't a great grill. You could spend more money on a kamado but it won't keep you warm, isn't the best for dutch ovens and won't give you the sights, sounds and smells of open fire cooking.
Speaking personally, The Ozpig Big Pig has won a corner in my heart and I can't wait to get back outside a play with a wood fire!
See Also:-

Ozpig Portable BBQ Cooker Review
Ozpig Oven Smoker
European Resources
Ozpig Europe & UK Website