Ozpig Oven Smoker Review
The Ozpig Oven Smoker is a cylindrical food chamber designed to fit on top of your Ozpig S2 or Big Pig. It's not a stand alone cooker in its own right because it doesn't feature a heat source.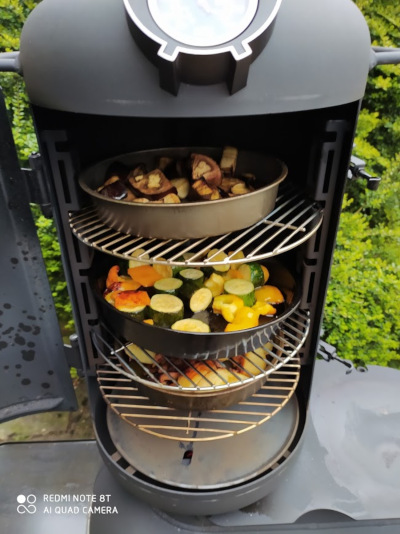 So why a separate review page to what is in effect a bolt on accessory? Well, you're going to have to bear with me while I explain why this welded steel cylinder has captivated me.
There's much written about how cheap offset smokers just aren't worth wasting your money on, and I agree.
There's equally as much written about why an expensive offset smoker is the only way to go, and I used to agree.
But now there's something in the middle that delivers the quality of an expensive offset but at a far more reasonable price....it's called the Ozpig Oven Smoker and then there's more!
Granted, there are compromises (the shape of the cooking area) but having used an Ozpig Oven Smoker I'm convinced that this baby is going to blow a massive hole in the UK offset market.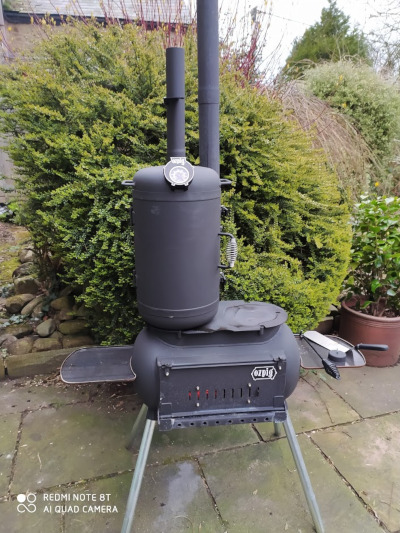 Back to basics, you need a heat source and this is provided by either the Ozpig or the Big Pig (ask your retailer for a combo deal to include both "a pig" and the oven smoker).

The magic of the oven smoker is in the name. It takes your Ozpig (or Big Pig) open fire cooker and patio heater and transforms it into a vertical oven or smoker.
Included in the kit are:
3 stainless steel grill grates of 26cm (10") diameter
1 grate (with legs) and water bath / drip tray
A heat deflector plate which sits in the bottom of the chamber to ensure indirect cooking
A stopper cap to fit over the Ozpig flue when using the oven smoker (Big Pig has a built in gate slide damper).
The oven smoker flue attachment also features a gate slide damper system to help you regulate the temperature which works extremely well with the sliding damper on the Big Pig door. If coupling the Oven Smoker to an Ozpig I'd definitely recommend investing in the adjustable door damper attachment.
The multi level system ensures that there's a compact space for roasting meat and plenty of space above for veggie cooking. I've bought a set of 22.5cm (9") diameter flan trays for convenience and easy clean up.
With a good fire and without using the heat deflector plate you can take the Ozpig Oven Smoker up to serious temperature, enough for cooking pizza. To be fair, I've not bought the pizza stones yet but on initial test using a lumpwood charcoal fire and direct heat, not only did the temperature dial heat right round to where I needed it to be, it really didn't take more than 15 - 20 minutes to get there.
Note: I started my fire with a Monolighter electric fire starter so add a little time if using firelighters.
Having done the back yard tests, I can't wait to take my oven smoker out on the road (I'll update this Ozpig Oven Smoker review after the Summer road trip) but for guys like me who want to use their Ozpig and Oven Smoker on the move, why is there a carry bag for Ozpig and no carry bag for the Oven Smoker? 
Fitting to Ozpig Traveller or Series 2
Coupling up the Oven smoker to your Ozpig is really easy.  First of all remove the flue from your Ozpig and place the stopper cap (included in the oven smoker kit) over the flue exhaust aperture.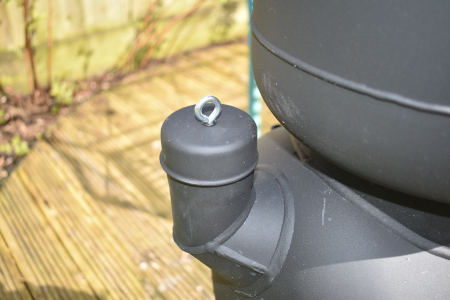 Check the seat of the oven smoker and you'll see a bolt thread which needs to be fully retracted as shown below.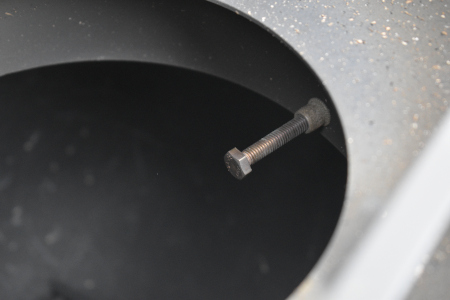 Now lift the oven smoker and lower the seat into the neck of your Ozpig, tighten the bolt from the inside and the oven smoker is securely in place and ready to use.
Fitting The Ozpig Oven Smoker To Big Pig
In order to fit the Ozpig Oven Smoker to Big Pig you need to buy an adapter plate kit (£49.95). The kit consists of
A two piece plate that creates the right sized aperture for the oven smoker to sit in. This cleverly uses the location lugs on Big Pig to ensure that it is positioned correctly
A double bar securing system to ensure that the oven smoker is locked in position and cannot fall over.
On first attempt it's a little fiddly you soon get the knack.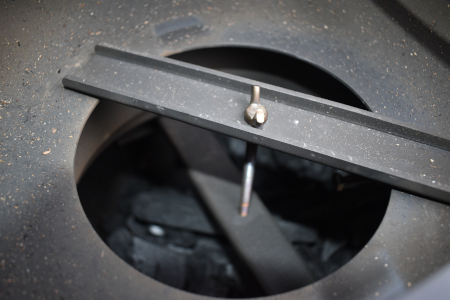 Pros and Cons
Pros
3 tiers of cooking grate plus a water bath make best use of the available space
Full temperature capability from low and slow right up to baking pizza
Quality 2mm welded steel construction with built in temperature gauge and stay cool door handle and locking catches
Cons
Your size of meat is constrained by the 26cm (10") diameter of the cooking grates although there is an oven smoker hangar rack but I haven't tested this item yet 
No carry bag
It doesn't fit under the standard protective cover
Verdict
A well thought out design with quality construction that's capable of hitting all the right temperature notes...what's not to like?
I'm not into big barbecue briskets and pulled pork so cooking quantity aside I can forgive the size constraints that are the inherent downside to a vertical system. Given the quality of construction I'm wondering why I would want an offset stick burner or bullet smoker in my garden when an Ozpig (or Big Pig) coupled to this oven smoker achieves exactly the same thing and more at a significantly lower price than the equivalent quality offset smoker. Especially when either "Pig" doubles up as a fire pit / patio heater after the cook when the cool evening air draws in. Right now it seems like a no brainer to me.   
The only reason I haven't given it a five star is because it's a bit fiddly to set up (with Big Pig) and you need to set up and break apart with each cook in order to protect it from the elements. This is especially the case here in the UK because it rains but I guess this might not be the same in other parts of the world. 
That said, I see myself equally using my oven smoker with Ozpig when out camping and back at home on my Big Pig so set up and pack up saves me buying two separate units. Certainly having the extra oven space over and above the apology for a kitchen that's fitted into my campervan is going to be a welcome improvement.  
For handy hints and two great videos on how to get the most out of the Ozpig Oven Smoker use this page on the manufacturer's website to get you started.
See Also:-

Ozpig Portable Barbecue
Ozpig Big Pig
European Resources
Ozpig Europe & UK Website