Smoked Aubergine Recipe (Eggplant) With Miso And Honey
My miso smoked aubergine recipe is perfect for an appetizer or as part of a larger BBQ platter.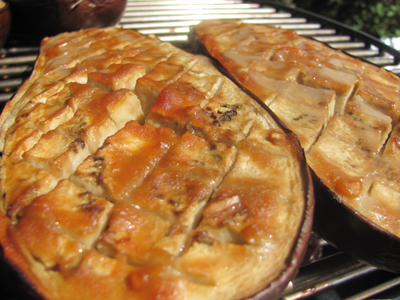 The savoury umami flavour of miso combined with the sweetness of honey, a touch of cherry wood smoke and you have the perfect flavour combination to bring out the taste of the aubergine.
In this recipe I smoke roast for the majority of the time and then finish off with a minute cooking directly over the coals so the best way to set your barbecue grill up is for 2 zone direct and indirect cooking.
This is easy to do in my Monolith ceramic grill (I just use one half of my heat deflector stone) but you can use this link to see the various set up methods dependent on the type of grill that you have.
Serves:- Four.
Preparation Time:- 10 minutes
Marinade Time:- 30 minutes
Cooking Time:- 30 minutes

Total Time:- 1hr 10 minutes

Allergens:
Miso is derived from soy so sadly if you have an allergic reaction to soy then this recipe is not for you. In addition there is soy sauce which contains gluten so if you have a gluten allergy use Japanese tamari. Finally I'm also using sesame oil and sesame seeds which can cause anaphylaxis.

Ingredients:-
2 whole aubergines
2 spring onions (scallions)
2 teaspoons sesame seeds (toasted)

4 teaspoons miso paste
2 teaspoons soy sauce (or tamari)
1 teaspoon sesame oil
1 garlic clove
1 inch cube fresh ginger
Method:-
In a small bowl add the miso, soy and sesame oil, crush the garlic clove, grate the ginger and stir together with a teaspoon until your have a well mixed paste.
Slice the aubergine in half length-ways and then score the flesh on the diagonal to create a diamond pattern taking care not to puncture the skin.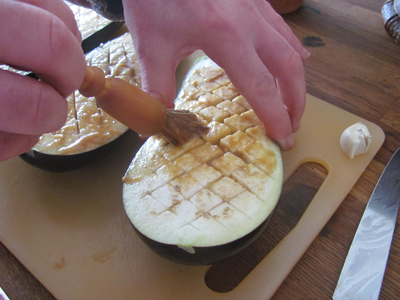 When complete use a brush to add your miso concoction to the exposed aubergine flesh. You can squeeze the sides of the aubergine a little to help get the paste deeper into the flesh.
Allow the paste 30 minutes to seep a little deeper into the aubergine and then it's time to cook.
Place your aubergine flesh side up over indirect heat at approximately 160°C (320°F) and smoke roast for 30 minutes. At this stage I add a few cherry wood pellets to the coals for extra flavour.
When complete, turn your aubergines over onto the direct grill and cook for about 60 seconds just get a darker caramelization to the aubergine flesh.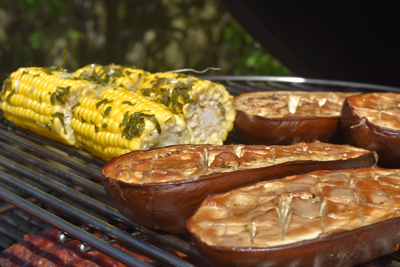 To plate up and garnish this smoked aubergine recipe, slice the spring onions and sprinkle over the top with the toasted sesame seeds.
Nutritional Information For This Smoked Aubergine Recipe

If you're not familiar with miso, it's basically a paste made with soy, rice, water and koji culture, the latter being an Aspergillus fungus made through the fermentation of soy and cooked rice. You don't find koji culture in all miso pastes but given the high profile now given the digestive benefits of fermented products I think it's worth seeking out.
In this recipe you slice the aubergine in half and most importantly cook it it in its purple skin which is rich in anthrocyanins - chemicals believed to help reduce blood pressure and lower LDL cholesterol levels.

See Also:-

More Vegetarian Barbecue Suggestions
Easy Grilled Vegetable Recipes