Healthy Greek Salad With Feta Cheese
OK so there's no need for a BBQ but this healthy Greek salad is a great accompaniment to any barbecue cookout because it's easy to prepare and the feta cheese makes it really tasty. It's that great Mediterranean philosophy of fresh ingredients, basic flavors, a little olive oil and you can't go wrong.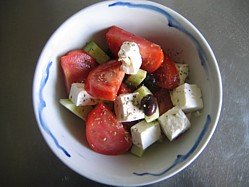 Feta cheese is made for either sheep or goats' milk and is stored in brine so it's a novel way to add salt and flavor to a salad. It's also served in good bite sized chunks – something to get your teeth into.
Greeks will no doubt argue that their feta is the best in the world because the sheep are allowed free range grazing on the hill sides but to be honest I'm not sure that I can tell the difference. That said, there is a massive difference between feta and similarly packaged "Greek salad cheese" because this latter product is made (more economically) from cows' milk. Always buy the real sheep or goats' milk feta, it's just so much creamier.
The recipe also calls for Kalamata olives primarily because they are a type of olive that originates in Greece and generally available the world over. It's not mandatory and if other olives more readily available then give them a try, use this guide to work out what will best suit your needs.

I've also used red onion because we're going to be eating it raw and it's not as strong as white onion. The lemon juice will tone down the onion anyway but if you aren't a raw onion fan then leave it out.
This recipe creates one large salad, I like also to serve as individual prepared salads for better presentation and to ensure everyone gets some!
And if you're ever in Greece, ask for Salata Therini
Serves:- 4 people

Preparation Time:- 20 minutes
Cooking Time:- n/a

Total Time:- 20 minutes

Allergens:
There are no allergens in this recipe assuming that you use freshly squeezed lemon juice. If using bottled lemon juice then look out for sulphites.

Ingredients:-
3 large tomatoes cut into wedges
1 cucumber, peeled and thickly sliced
1 red onion, sliced
2 green peppers cut into rings
150g or 6oz feta cheese
6 tablespoons extra virgin olive oil
1 tablespoon red wine vinegar
1 tablespoon lemon juice
2 dozen Greek kalamata olives
Sprinkling dried oregano
Salt and freshly ground black pepper
Method:-
Having cut up all the fruit and vegetables and throw them into a large salad bowl.
Mix up the vinegar, lemon juice, oil, salt and pepper and drizzle over the top of the salad and toss.
If you want to serve as individual Greek salads now is the time to divide out into separate bowls.
Finally dress with the olives, cubes of feta and a sprinkling of oregano and that's all there is to it.
See Also:-
Salad Recipes To Accompany Your Barbecue
More Healthy Barbecue Options
Vegetarian Options


Return to Home Page from Healthy Greek Salad With Feta Cheese