Quick Fried Steak A La Plancha
In France they call it Pierrade (cooking on a stone), it Spanish it will be described as "a la plancha" and I just call it quick fried steak because that's exactly what it is! If you're lucky enough to be able to do this on a red hot stone then great, but for me it's a hotplate barbecue grill.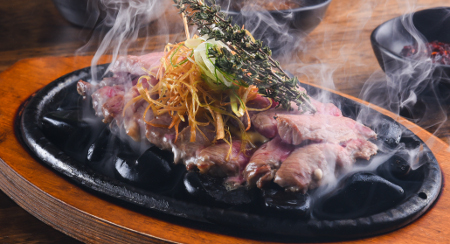 This recipe on a hotplate barbecue is really easy, just make sure that the hotplate is well cleaned before you start.
You can do it with a table top grill, the fundamental point is that everyone cooks their own meat so the grill needs to be in the center of the table.
It depends how many you're cooking for as to how much meat you need. You're probably a better judge of your own appetites but for a party of four I've used a pound of meat. It does help however to buy more because it makes it easier to thinly slice as I've described below. You can always cut any remainder for steaks.


Allergens:
The ingredients for this recipe just require fresh quality produce so there's not an allergen in sight.

Serves:- 4 people

Preparation Time:- 30 minutes
Cooking Time:- 1 minute

Total Time:- 31 minutes

Ingredients:-
500g or 1lb fillet steak cut 1-2 inches thick
2 teaspoons coarse sea salt
2 tablespoons of beef fat
Method:-
Trim any fat off the slab of beef then place the steak in the freezer for 30 minutes as this will make it really firm and easier to slice thinly.
Take a sharp knife and then slice the steak as thinly as you possibly can. Lay it out on a plate, give it 10 minutes to come back up to room temperature and then you can take it to the table.
Prepare your hotplate by throwing on the pieces of trimmed fat for long enough just to get the hotplate lubricated. Sprinkle some sea salt on the hotplate.
You can use tongs or just simply a fork and invite your guests to take a piece of meat and throw it on the hotplate, sprinkle with salt and cook to their taste.
There is no way to serve this quick fried steak in my mind other than lightly salted as described and a full bodied red wine – leave the healthy stuff for another course.
See Also:-
More Hotplate Cooking Recipes
Grilled Ribeye Steak Recipes