Grilled Ribeye Steak Recipes
Grilled Ribeye Steak Recipes
I've three grilled ribeye steak recipes for you:
Quick & Dirty Steak - with Bovril butter

Dave's Mega Rub - adds flavour and crust to a seared ribeye
Bistecca Alla Fiorentina - this one is different because it starts right back at the butcher to get something non-standard. A hunk of meat that has been taken from two ribs.
Whichever recipe you choose, they all start with the same first ingredient and that is a ribeye steak with a good marble of fat and that's what makes a ribeye so tasty.

The fat marble melts during the cooking and that's what makes a grilled ribeye steak so tasty, it is effectively basted naturally from the inside out. The muscle isn't load bearing and that's what makes it so tender. What more is there to say? My favourite grilled ribeye steak recipes are below.

Quick & Dirty Ribeye Steak Recipe

You might even say quick and dirty. This is the basic grilled ribeye recipe in terms of simplicity of seasoning and that makes it perfect for "dirty steak".
Dirty steak is where you don't bother with the cooking grates, just throw the steaks onto the coals, cook them and then dust them down whilst resting.
It's different, I'm not convinced it adds any flavour (or crunch) but it will raise an eyebrow or two among your guests and serve as a talking point.
Note:- This works best with lumpwood charcoal as there's too much ash from briquettes.

Serves:- As many as you like!

Preparation Time:- 5 minutes
Cooking Time:- 5 - 10 minutes
Total Time:- 10 - 15 minutes
Allergens:
Bovril contains celery, barley and wheat so gluten is going to be in there.

Ingredients:-
Ribeye steak

Rapeseed oil
Salt
Pepper
1 teaspoon Bovril (beef extract)

100g butter

Method:-
Remove the steaks from the refrigerator and let them acclimatize, drizzle with rapeseed oil, rub it in and then prepare a good amount of hot coals
When the coals are ready, season very well on one side with the salt only and throw the steaks directly onto the coals.
Timing will be dependent on thickness, I like my steak blue / rare and I find that 2 minutes on each side is just the ticket.

---
Dave's Mega Rub Recipe

My search for the best grilled ribeye steak recipes started and almost stopped right here with this one courtesy of my best friends of a friend. The flavor in this recipe is just incredible!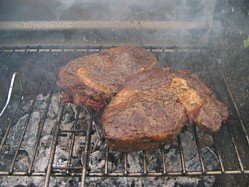 I first met Dave and his brother Tony at Le Mans as a friend of one of my business associates and ever since that day we've met up annually at "La Sarthe" for a few beers and a barbecue. (Don't tell our wives – they think we go for the motor racing!)
Ribeye steak is my favorite because it has the right balance of fat content. It's the fat where the flavor is and that's why you need to look for a good "marbling" of white fat throughout the steak. (See notes at bottom of the page)
Get your butcher to to cut your steaks reasonably thick, I like to go for about 1 inch.
After that it's all about a red hot grill and the rub and there's enough here for about 4 good sized steaks.
Serves:- 4 people

Preparation Time:- 15 minutes
Cooking Time:- 5 minutes

Total Time:- 20 minutes

Allergens:
It's all straight non-processed ingredients so no allergens to worry about other than mustard.

Ingredients:-
4 Ribeye steaks
Rapeseed oil

2 teaspoons garlic powder
2 teaspoons onion powder
2 teaspoons brown sugar
1 teaspoon black pepper
½ teaspoon mustard
½ teaspoon cumin
½ teaspoon coriander
½ teaspoon all spice
½ teaspoon mace
½ teaspoon salt
2 cloves
Method:-
Don't waste your ribeye by preparing straight from the refrigerator, always get your steaks up to room temperature before slapping them on the grill.
Drizzle with a little rapeseed oil (or other oil with a high smoke point) and this will give the rub something to stick to.

Crush the cloves in a pestle and mortar and then add the remaining ingredients, give it a mix and your ready to "rock 'n' roll".
Sprinkle the rub on both sides of your steaks and then grill over the highest heat that you can muster for the appropriate length of time dependent on how you like your steak done.
Remember, feeling your steak is the best way to tell whether it's cooked to your liking so read my section on how to grill steaks to get it right.
If you prefer to use a bbq thermometer then you need to look out for the following core meat temperatures but always remember that the core will rise a couple of degrees while the meat rests.
135°F (57.2°C) - Rare
145°F (62.6°C) - Medium rare
160°F (71.1°C) - Medium
170°F (77.7°C) - Well done
Note: - The amount of fat marbling in the meat is down to the cut of meat, the breed of the animal and what it was fed on when alive. To ensure that you get the best and can make the most out of grilled ribeye steak recipes like this, make sure you use a local butcher who knows where his meat has been sourced from.
So that's 2 of the 3 grilled ribeye steak recipes that I promised, you can find the third one here.

See Also:-
Grill Charms - Unique Grilling Gifts For Your Steaks
Grilled Beef Sirloin
Grilled Filet Mignon Recipes (Fillet Steak)