Outdoor BBQ Catering UK

Our outdoor BBQ catering UK wide service is headed up by the best...Andy, a champion competition BBQ chef!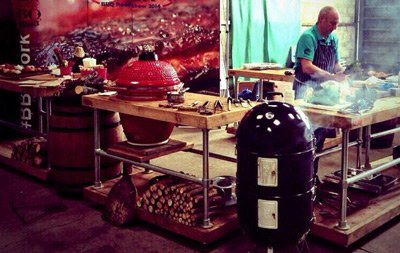 "The best beef short ribs I've ever tasted, cooked to perfection"
Jay Rayner
Food critic and writer, London

In fact we now have three teams dedicated to outdoor BBQ catering, UK wide, distance no object, they travel the length and breadth of the country to give you the barbecue event to remember. We offer a special low cost wedding BBQ catering menu and we also have one team dedicated to value BBQ parties and traditional hog roasts here in the North of England.
Our teams diaries book up quickly so please get in touch to reserve you date, just fill out the rapid response form below.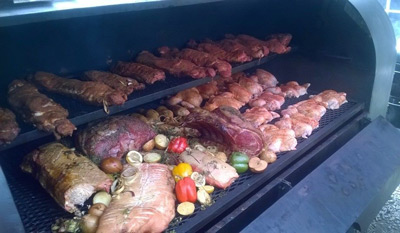 We understand that your event should be memorable and this means the catering should be exceptional. Our BBQ catering teams have a passion for originality and will work with you to incorporate your ideas into an individually tailored menu that reflects the essence, style and distinction you desire for your function.
We hope that our menu suggestions will give help whet your appetite!
Canapés
Imaginatively present bites circulated around your guests as they soak up the live fire experience.

Standard size £1.95 / head

Mini Yorkshire puddings, pulled pork, spiced apple relish,
Monkfish & chorizo brochettes with charcoal grilled, lemon vinaigrette
Tartlet of goats cheese, sun blushed cherry tomato, pesto & pine nuts (v)
Tandoori chicken skewer, minted yoghurt dip
Chargrilled duck wrap, Hoi Sin dipping sauce

Fish pie tartlet. Smoked haddock, prawns and salmon, gruyere & panko
Charred asparagus spears, butter hollandaise (v)
Mini Yorkshire puddings, salt beef, watercress & horseradish cream
Baby egg & bacon pies. Quails egg & pancetta filo basket with Hollandaise & black pepper
Thai spiced chicken, green mango chutney on black pepper poppadums
Quail eggs Benedict tartlet, lemon hollandaise
(v)
Large size £2.95 / head

Lamb Schwarma, pitta bread, garlic yoghurt

Foie gras crème brûlée with glass crisp top
House cured duck prosciutto, potato rosti, orange gel and crispy leek
Tempura king prawns, chilli tartare dipping sauce
Crispy Thai fishcakes, lemongrass & soy dip
Mini 100% Angus haché, burger rossini, foie gras pate in a brioche roll
Tournedos Rossini. Fillet steak crouton, pate de foie
Prawn cocktail with lobster ketchup in herb cones
Savory beetroot macaroon, creamed feta, cucumber, basil & pine nuts (v)
Chilled white truffle risotto
Fillet steak, diable sauce & cone of truffled french fries
Smoked beef short rib, brioche roll with chipotle Béarnaise
Plated Starters

Take the weight off your feet and sit down to BBQ at its best.

House smoked mackerel tartare pickled cucumber, beetroot jelly & dill vinaigrette... £5
Foie gras crème brûlée butter roasted lobster & toasted brioche... £8
Waygu beef carpaccio, rocket leaves, lemon, black pepper, extra virgin olive oil & amaranth... £7
Slow roasted suckling pig belly with pickled pear, spring onion mash & maple jus... £7
Miso glazed salmon with burnt onion puree, cucumber,mooli & pickled ginger... £6
Smoked chicken tartlet, caramelised onions, red pepper & tomato jam... £5
Classic smoked salmon, capers, diced shallots, gherkins & rocket... £5

Chicken liver pate with mixed leaves, spiced cider chutney & melba
toast... £5
Ham hock & parsley terrine pickled veg, gribiche sauce & toasted sour dough... £5
House cured salt beef, sorrel puree, allotment veg & wild flowers... £6
Whitby crab, lemon thyme mayonnaise, whipped avocado & shaved radish... £7
Prawn cocktail, tomato jelly, bloody mary crème fraiche & parmesan wafer... £6
London, Cardiff, Belfast, Edinburgh, This Is Outdoor BBQ Catering UK!

Our introductory set menus offer excellent value, huge variety at one fixed price.

£20 / head based on 100 people
Hickory smoked Memphis pulled pig, apple honey glaze & crisp golden crackling
100%Angus steak burger cherry tomato relish in a brioche roll
Handmade Cumberland sausage chargrilled, balsamic sweet shallots
Glazed spatchcock spring chicken "sweet with heat"
Classic coleslaw
Chives, spring onion & creamy mayo

(v)

Watercress & rocket with sugar snap peas, roasted red peppers, feta cheese, pomegranate & sweet lemon vinaigrette

(v)

New potato salad
Spring onion, thyme,mint & creamy dressing

(v)
£25 / head based on 80 people
Wood roasted beer can spring chicken, smoked garlic & lemon zest
Smoked pork ribs with black treacle glaze
Charcoal grilled "Feather blade" – Tender shoulder steak with Bovril butter
Plank cooked Scottish salmon fillet with whisky maple glaze
Hand linked Cumberland sausage with chargrilled sweet shallots
Creole slaw. Red & white cabbage, celeriac, green peppers, chives, shaved radish, spring onion & mild cajun mayo

(v)

Mixed herb leaf salad, citrus vinaigrette

(v)

Italian penne pasta. Slow roasted red peppers, grilled courgettes, black olives, basil pesto mayonnaise, shaved parmesan

(v)

New potato salad
Spring onion, thyme, mint & creamy dressing

(v)

Vibrant wild & basmati Persian rice with pomegranate, sultanas, pistachios & flat leaf parsley

(v)
Premium Set Menus

Looking for something different for that special occasion? Look no further than our premium set menus.

£30 / head 60 people
Corn fed tandoori chicken on long skewers in the charcoal clay oven
Hickory smoked Memphis pulled pig, apple honey glaze & crisp golden crackling
Spit roasted pichania (rump cap) smoked salt flakes, black pepper and garlic oil
Giant tiger prawns, garlic lemon parsley butter baste
Cherry smoked Iberico pork ribs, black treacle & chipotle glaze
Thai style red snapper brochettes, lemongrass, ginger, lime, coriander, palm sugar
Smoke roasted vegetable gateaux. A delicious & colourful vegetable stack, aubergine, red peppers, red onion confit, courgette & goats cheese

(v)

American style slaw, coriander, spring onion & saffron mayo

(v)

Vivid green salad. Watercress, sugar snap peas, garden peas, amaranth with lime & mint dressing

(v)

Vine plum tomatoes, roasted red onions & basil pesto dressing

(v)

New & sweet potato salad, spring onion, thyme,mint & creamy dressing

(v)

Classic Caesar salad red pesto croutons

(v)
£35 / head 50 people
The legendary Wagyu beef fillet with wild mushroom sauce
Tandoori spiced corn fed Goosnargh chicken cooked over charcoal in a clay oven
Hot maple smoked Scottish salmon, lemon & dill, grilled king scallops & asparagus
Award winning Iberico pork ribs BBQ maple glaze
Shoulder of Nidderdale lamb, lemon myrtle, fresh crushed garlic, thyme, black pepper & topped with mint mojo
Rib eye of Duroc "Black Angus of pork". Cuban spiced with orange, oregano, fennel & chilli, smoked salt flakeswith golden crackling
Mixed herb leaf salad saffron dressing & micro greens

(v)

Yorkshire fine fettle "Greek salad

(v)

Smoked sweet potato & cumin mayo salad

(v)

Pomordorino cherry plum tomatoes balsamic shallots & lemon thyme

(v)

Wood roasted Mediterranean vegetables, purple garlic & toasted pine nuts

(v)

Asian "raw slaw" ribbon salad, peanut & coriander dressing

(v)
                                             *******
Wood fired hot chocolate gooey fondant, vanilla berries and clotted cream
Veggie Options
Substitute any of these dishes into our set menus above and add your own personal twist to your menu.

Tandoori kebabs. Courgettes, tofu, red onions and halloumi cheese

(v)

Double portobello mushroom, Cambazola cheese, thyme in a mini brioche roll

(v)

Kohlrabi & carrot fritters with avocado cream sauce

(v)

Grilled aubergine pizza topped with sun blushed tomato, ripped basil, fresh oregano & mozzarela

(v)

Edamame burger with Asian chilli paste, panko and mirin

(v)

Grilled vegetable wraps, pine nut and cherry tomato salsa

(v)

Stuffed plum tomatoes mushroom risotto, Parmesan shavings & truffle oil

(v)

Coal fired sweet potatoes, maple pecan butter

(v)

Garlic& thyme roasted portobello mushrooms on tapenade focaccia toast

(v)

Warm cauliflower brûlée, piccalilli salad with toasted onion bread

(v)

Porcini mushroom soufflé, truffle velouté & pickled wildmushroom

(v)
A La Carte Salads & Sides - £2.50 / head
Classic caesar sala. Cos lettuce, Parmesan shavings, crispy garlic croutons & anchovies.
Char grilled bok choi with red peppers, lime, chilli & coriander

(v)

Vibrant Persian rice. Wild & basmati rice, pomegranate, sultanas, pistachios, chopped flat leaf parsley

(v)

Grilled vine plum tomatoes filled with wild mushroom risotto

(v)

Creole slaw. Red &white cabbage, celeriac, green peppers, shaved radish, spring onion cajun mayo

(v)

Chick pea & black bean salad, artichoke hearts, red pepper, broad beans, shallots & aged balsamic dressing

(v)

Watercress, rocket & sugar snap peas. Roasted red pepper, feta cheese, pine nuts & parmesan shavings

(v)

Sweet & juicy grilled sweet corn topped with chilli & coriander butter

(v)

Moroccan cous cous. Chick peas, raisins, red onion, flat parsley, charred red peppers, garlic & cumin

(v)

Mediterranean wood roasted veg with pine nuts, basil & parmesan shavings

(v)

Puy lentils & feta, red onion, sun blushed tomatoes, thyme & raspberry vinaigrette

(v)

Heirloom tomato salad, cucumber, grilled cantaloupe melon with chilli & basil dressing

(v)

Thai noodle & grilled bok choi salad
Sweet soy, plam sugar, lime zest, ginger, coriander, lemon grass & red chilli

(v)

Salt baked jacket potatoes, sea salt skin & parsley butter

(v)

Italian penne pasta, slow roasted red peppers, grilled courgette, black olives, basil pesto mayo, parmesan

(v)

Baby new potatoes, spring onion, chives, lemon zest & sour cream

(v)

Roasted goose fat potatoes, rosemary, garlic & smoked salt flakes
Hot baby new potatoes, lemon & minted butter

(v)
Unique Gaucho Experience £50 / head

This is barbecue on a grand scale. The ultimate meat fest with the most amazing salad bar, staff and entertainment!
Picanha - Beef rump cap, smoked salt flakes, black pepper, garlic and olive oil
Linguiça - Pork sausages with a robust, rich garlic flavour, slow roasted to mouth-watering perfection
Costela - Pure steer heaven! These tender beef ribs are simply amazing
Costela de Porco - Meaty pork ribs, sweet & sticky bourbon & black treacle glaze
Cordeiro - Tender lamb joint glazed with garlic, rosemary, mint and redcurrant
Acém - Beef brisket rubbed with sea salt, garlic, olive oil and slowly roasted to retain it's juicy flavour
Presunto - Slowly grilled gammon joint, tender and juicy
Frango Com Pimenta - Chicken thighs, chilli, garlic, sea salt and pepper
Giant Tiger Prawns with garlic & lemon
Chicken Livers wrapped in pancetta, tender and juicy
Pork Ancho - Tender applewood smoked juicy pork rib eye
Morcela - Handmade black pudding with champagne vinegar, truffle oil, lardo & raisins
Fraldinha - Beef hanger steak oozing with flavour, tender and juicy
Maminha - Tender beef blade, simply salt flakes & black pepper, truly amazing!
Main Course A La Carte

Simply choose three main courses and build your menu to suit

Beef kleftico tower. Whole shin of beef on the bonewith lemon, garlic & herbs... £9
South American style pichania. Rump pavé cooked on a rotating spit... £9
Hereford feather blade medallions. Slow cooked for 16 hours, hickory smoked on hot coals... £7
100% Prime rib steak burger. Smoked tomato relish, crisp panchetta & Monterrey jack cheese... £5
Rib eye Nidderdale lamb medallions. Rotisserie cooked over a rosemary infused charcoal... £6
St Louis pork belly ribs. Cooked with maple,muscovado sugar & apple juice... £6
Handmade smoked Polish sausage kielbasa. Charcoal grilled & served with caraway sauerkraut... £5
Rotisserie cooked Nidderdale lamb chump pichania, redcurrant glaze over a charcoal pit... £7
Rib eye Duroc pork "The black Angus of pork". Cuban spiced with orange, oregano, fennel, chilli & smoked sea salt, served with delicious golden crackling... £6
Korean style beef short ribs. Moist, juicy and packed with flavour... £8
Tandoori chicken. Marinated with spice, ginger & lemon, clay oven baked on giant skewers over fragrant coals... £4
Artisan Breads - £1.95

Pumpernickel
Russian black bread
Spiced sweet chilli bread baguettes
Mini sesame rolls or herb brioche
Roasted red onion together with sage & basil loaves
Wharfe valley rapeseed ciabatta loaves
Mini pavé of french herb bread
Honey & toasted sesame bread
Seeded granary flower pot bread
Heaven On A Plate - £6 per indulgence

Warm Valhrona chocolate fondant, summer berries, minted Chantilly cream
Passion fruit parfait, mango lime sorbet, pistachio sponge, lemongrass syrup
Orange & champagne jelly with honey madeleines & Chantilly cream
Baked lemon meringue, confit citrus fruits, lemon curd & thyme shortbread
Crème brûlée with lemon shortbread biscuit
Plant pot chocolate mouse, edible chocolate soil, chocolate pebbles
Lemon posset, raspberry puree, vanilla berries, almond shortcake
Warm triple chocolate brownie, Seville orange marmalade ice cream
Tandoori roasted marshmallows, dark chocolate fondue
Raspberry Eaton mess, golden meringue, soft whipped cream, raspberry sauce & edible glitter
Glazed lemon tart, confit citrus fruits, vanilla cream
Wood roasted peaches, Amaretto liqeuer, toast almonds, amaretti biscuits, cream Chantilly
Fragrant chilled summer berries,lemon custard, candied lemon
Caramelized rum and maple pineapple, vanilla pod & Jersey cream sauce
Terms And Conditions

All outdoor bbq catering UK bookings must be secured by a 50% non-refundable deposit. This must be paid within 1 month of receiving a quote for the booking, with the remaining balance payable 2 weeks before the day of the event.
Note: Your proposed date is only secured when we receive the deposit

Any cancellations or amendments to the booking must be made in writing four weeks before the function.

All quotations are valid for 28 days. Quotations can and may be
subject to change.

If the event is based on the client selling tickets, it is the responsibility of the client to ensure the numbers are met.
We will be flexible where possible and where proposed numbers are not met there will be a minimum charge of 75% of the original quotation.

Parking space and road access to the catering area must be available.

All parking permits/fees are to be met by the client.
Outdoor BBQ Catering UK Rapid Response Form

Here's the Outdoor BBQ Catering UK response form, fill it out now and book early to avoid disappointment.

Local BBQ Catering Teams

In addition to our three outdoor BBQ catering UK teams and given our base is in the heart of the Pennines we have one team dedicated to barbecue catering Lancashire, Cumbria, Cheshire & Yorkshire. This team focus on value events and traditional hog roasts.