Easy Barbecue Salmon Recipes
I've prepared four easy barbecue salmon recipes for your grill each with distinctive flavors and all that can be cooked in a very short space of time.
The Easiest Of Barbecue Salmon Recipes For Steaks Or Fillets

Salmon is really luxurious fish with pink flesh and prized for its flavour, it is a seasonal fish but thanks to farming, it is available all year round. That said, if you can get wild salmon then please do so (or substitute with sea trout) because farmed salmon is an environmental car crash.
Salmon is also easy to cook and here's a couple of tips:-
TIP - When doing fillets, do the skin side first and the majority of the grilling on this side, then just turn over to finish the other side.
TIP - If doing a whole fish side, scrape a knife over the skin from tail to head (this is called scaling) and this makes the skin less leathery.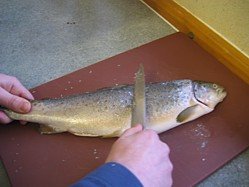 The time to cook salmon is really difficult to predict because salmon comes in all shapes and sizes and it also depends on the intensity of heat from your grill. If I'm doing a fillet then I give it about 7 or 8 minutes on each side over medium hot coals, a large salmon will take 20 minutes on each side.
You can tell when the fish is done in two ways:-
A whole salmon - the eyes turn milky.
Fillets / Side - the skin will peel away easily.
OK, first of my barbecue salmon recipes - the quick and easy
The Easiest Of Barbecue Salmon Recipes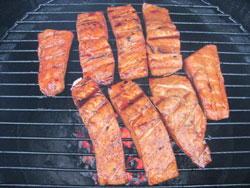 This first of my barbecue salmon recipes can be done with fillets or steaks and the sauce is good for about 4 pieces salmon fillets or steaks (150g / 6 oz. each) and all it calls for is the sauce to be brushed on during the cooking.
The basis of the recipe soy and sugar is a classic and it gives the salmon flesh a lovely dark glaze. There's that chilli kick from the Tabasco to finish things off too.
You may need to warm the sauce through a little to dissolve the sugar but you don't need to wait for it to cool before using it because it's going to be applied over direct heat.

Preparation Time:- 20 minutes
Cooking Time:- 10 minutes

Total Time:- 30 minutes

Allergens:
Soy sauce is brewed from soya beans and gluten is in there too. Forgive me for stating the obvious but salmon contains fish!

Ingredients:-
4 salmon fillets, boned and skinned or salmon steaks

450g / 2 cups of brown sugar
400ml / 1 cup soy sauce
2 tablespoons groundnut oil
5 shakes Tabasco
Method:-
Mix the sauce ingredients in a pan and warm through. Place the salmon fillets on the grill and brush over the sauce. Cook the fillets for approximately 10 minutes on each side (depending on thickness) brushing more sauce over occasionally.
Brush the barbecue sauce onto the steaks throughout the cooking process and when finished sprinkle on a little garlic salt and pepper and pop a wedge of lemon on the top.
Serve with a green salad.
---
Teriyaki Grilled Salmon Fillets
Salmon is a very traditional fish used in Japan for teriyaki. The word is derived from two words:-
Teri - meaning shine or gloss (from the sugar content)
Yaki - meaning the method of cooking ie. grilling
Now you can go down the shops and buy a great tasting Teriyaki marinade and make a perfectly respectable Teriyaki grilled salmon but come on, it's so easy, you've just got to make up the marinade yourself.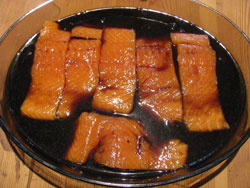 All you need to add are some salmon fillets of about 150g each, there's enough marinade to cover 6 or 8 portions.
Serves:- 8 people

Preparation Time:- 40 minutes
Marinade Time:- 30 minutes (minimum)
Cooking Time:- 20 minutes
Total Time:- 1 hour 30 minutes
Allergens:
Soy sauce is brewed from soya beans and contains gluten. In addition there is sesame oil which is derived from the sesame seed. Don't forget that all my barbecue salmon recipes contain fish!

Ingredients:-
8 salmon fillets, boned and skinned
250ml or 1 cup soy sauce
125ml or ½ cup white wine
125ml or ½ cup water
4 tablespoons white sugar
2 tablespoon white vinegar
2 teaspoons onion powder
2 teaspoons garlic powder
1 teaspoon sesame oil
½ teaspoon powdered ginger
Method:-
Just place all the marinade ingredients into a saucepan and bring it to the boil whilst stirring to dissolve the sugar. As soon as it starts to boil you can take it off the heat and put it to one side to cool.
Whilst the marinade is cooling you've got time to pin bone your salmon. Your fishmonger no doubt will have done a good job but it's always a good idea to pass your own scrutiny over the fillet. Use your eyes and fingers to detect any bones and remove them with tweezers or a set of (clean!) pliers.
Once the marinade is cool you can place your salmon fillets in the marinade bowl and pour over the marinade. Cover and refrigerate for at least 30 minutes but longer if possible.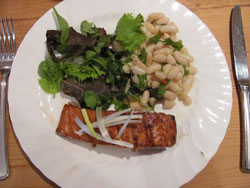 Medium hot coals are the order of the day and grill the salmon for approximately 10 minutes on each side depending on thickness. Remember that the marinade has sugar in it so you risk burning the salmon if your coals are too hot.

During the cooking you can also spoon on a bit more of the marinade for that extra "je ne sais quoi".
TIP - To avoid and chance of the fish breaking up, use a barbecue fish mat and only turn the fish once using a "burger flipper".
To serve, I suggest a green salad together with a cannellini bean salad.

---
Grilled Whole Salmon with Salsa Verde Stuffing
Preparation Time:- 30 mins
Cooking Time:- 40 mins

Total Time:- 1 hour 10 mins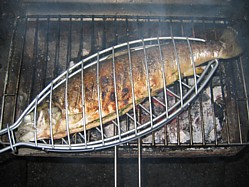 Now for the Daddy of all barbecue salmon recipes! What's great about this recipe is that not only does it taste good but it really looks impressive so great for that barbecue party.
This is the most fiddly of my barbecue salmon recipes because I've used a whole salmon that has been boned out for stuffing (ask your fishmonger to do this if possible). If doing it yourself, don't worry, it's a bit like making two fillets but just keep the dorsal flesh and skin intact. When finished don't forget to scale your fish.
You'll need half an hour for preparation of the stuffing and at the same time put half a dozen cocktail sticks to soak in water. You'll also need a large barbecue fish basket.
Allergens:
Sometimes it makes sense to add the allergens and other times I think that I might be insulting your intelligence. For the avoidance of doubt you'll find that both the salmon and anchovy contain fish and the mustard contains mustard.

Ingredients:-
For stuffing you're going to do a salsa verde:
2 cloves of garlic
1 small handful of capers
1 small handful of sweet pickled gherkins
6 anchovy fillets

2 large handfuls of flat leaf parsley
1 large handful of fresh basil leaves
1 handful of fresh mint
1 tablespoon of Dijon mustard
3 tablespoons red wine vinegar
8 tablespoons extra virgin olive oil
Salt and freshly ground pepper
For dressing:-
sea salt (if possible) & freshly ground black pepper
wedges of lemon
Method:-
Chop everything really finely and throw it into a bowl, pour in the vinegar and the mustard and stir. Then gently stir in the olive oil, a pinch of salt and pepper to taste. Paste the stuffing on the inside of the cavity and use the cocktail sticks to thread the belly of the salmon closed.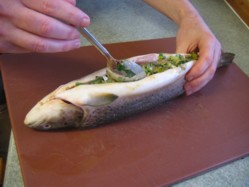 TIP – Wrap a bit of foil around the tail to stop it burning
On medium hot coals lay the salmon on a pre-oiled grill for approx 20 minutes each side and brush with a little olive oil from time to time. Try adding some olive wood to the fire. Resist the temptation to turn it because this is what causes barbecue fish to break up.
Transfer to a pre-heated serving dish and sprinkle on the dressings. Et voilà - the taste of the Mediterranean in your backyard barbecue!
---
Easy Barbecue Salmon Recipe With Mojo Sauce
What makes the last of my barbecue salmon recipes special is the Mojo sauce (pronounced moho) that accompanies it. In fact I've got two fish sauces, one spicy Mojo Red and the other herby Mojo Green so take your pick – or why not do both?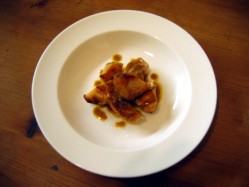 The origins of the sauce lie in the Canary Islands and it has to be said that these sauces work well drizzled over baby new potatoes as an alternative way of seasoning a barbecue potato salad just as well as Salmon so feel free to mix and match. I especially like the green one done this way.
This is an original tapas recipe and tapas in Spain is all about small quantities on a plate just to taste whilst enjoying an aperitif before lunch. To that end I've made this recipe by grilling the salmon in chunks that it can then be skewered with a cocktail stick. If you wish to present this more like a main course than of course then be my guest - just keep the steak intact and cook it for slightly longer.
Serves:- 4 people

Preparation Time:- 20 minutes
Cooking Time:- 5 minutes
Total Time:- 25 minutes
What makes this recipe really easy to do is that fact that the sauces don't need cooking. All you need to do is take the list of ingredients and mix everything together.
Just place the solid ingredients and spices into a food processor and blitz then gently drizzle in the olive oil. Transfer to a small dish and stir in the vinegar and season to taste.
Allergens:
Surprise surprise, my barbecue salmon recipes contain fish!

Ingredients:-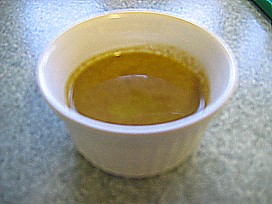 For the basic barbecue fish cookout

4 salmon steaks or

fillets

Salt and pepper
Olive oil
Flat leaf parsley garnish
………………and then for the sauces:-
For the red mojo sauce

2 cloves garlic
2 teaspoons paprika
1 teaspoon cumin
5 tablespoons olive oil
2 tablespoons white wine vinegar
Pinch of salt
For the green mojo sauce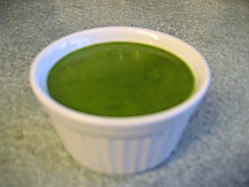 2 cloves garlic
1 tablespoon fresh coriander chopped
1 tablespoon fresh parsley chopped
1 teaspoon cumin
5 tablespoons olive oil
2 tablespoons white wine vinegar
Pinch of salt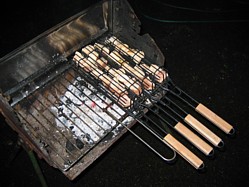 Method:-
For the salmon, cut the steaks up into cubes of approximately 1 inch, brush with olive oil and season with salt and pepper. Place the cubes in a barbecue basket and grill over hot coals for about 5 minutes, turning regularly. (If you are grilling the salmon as steaks then you need to allow about 6 or 7 minutes for each side of the steak.)
If you haven't got a suitable basket then try using a Teflon barbecue fish mat, just make sure you brush it with oil before cooking and the salmon will cook beautifully without sticking and disintegrating.
When cooked, transfer to a serving dish and then spoon over the Mojo sauce. Tuck in and enjoy.
See Also:-
Information About BBQ Baskets
Grilled Tuna Steak Recipe With Chili, Ginger And Lime
More Tasty Barbecue Fish Recipes