Roasted Cannellini Bean Salad
This roasted cannellini bean salad brings together everything that is Mediterranean, fresh, vibrant, healthy and the perfect accompaniment for grilled meat.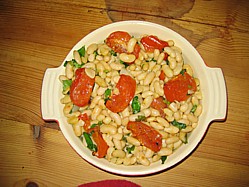 Technically you don't need a BBQ smoker to do this roasted salad but there is a slow roasting part to the recipe and you can (and I do) use my smoker. Just don't add any wood chips otherwise it'll take the flavor in a different direction to the Mediterranean taste that you're looking for.
I particularly like this bean salad with some grilled lamb chops or pork chops simply seasoned with salt and pepper – delicious!
I've used cannellini beans because they deliver a slight nutty taste with mild earthiness and they have a relatively thin skin with tender, creamy flesh. In addition they are relatively large and when cooked hold their kidney shape well, generally they are regarded as one of the best white beans for salads and ragouts
I've also gone for the fried variety because I think that they have more flavour and these will require soaking overnight before cooking. If you're pushed on time (or just can't be bothered) then feel free to substitute 2 or 3 x 440g (15oz) tins but also note that the preparation time is still going to be about 3 hours even with pre-cooked beans.
Serves:- 8 people

Preparation Time:- 24 hours
Cooking Time:- 2 hours

Total Time:- 1 day

Ingredients:-
500g or 1lb dried cannellini beans
500g or 1lb flavorful tomatoes – I like beef toms.
4 cloves garlic peeled and sliced
1 cup extra virgin olive oil
A handful of fresh basil
Salt and pepper
Method:-
Soak the cannellini beans overnight in water and cook according to the instructions on the packet.
Note: As the water comes to the boil you may get some grey foam floating on the top of the water, don't worry about it, this is just water soluble proteins that occur naturally in the beans. I've been told that if you add a little oil or butter to the pot then this stops the foam but let's not complicate the issue, when you've finished cooking the beans just pour them into a colander and rinse thoroughly.
Cut the tomatoes up into wedges and pop them into a roasting tray, drizzle over some of the olive oil and slow roast for 1½ hours at 100°C or 212°F either in the oven or smoker.
Now toss in the beans, garlic and the rest of the olive oil, move it around a bit, season with salt and pepper and continue to roast for a further 30 minutes at about 150°C or 280°F. Give it a stir every now and again to ensure that the garlic doesn't burn.
When the cooking is complete, pour the mix into a serving dish and allow to cool.
Once cool and when you are ready to serve your roasted cannellini bean salad, rip up the basil and sprinkle it on top with a squeeze of lemon juice.
TIP - Never chop basil, it bruises and loses its texture and color. Always use basil at the last minute and rip it.
See Also:-
More BBQ Salads
Healthy Barbecue Recipes
Vegetarian Barbecue Recipes