Spicy Grilled Pork Kebab Recipe

This spicy grilled pork kebab recipe is best described as spicy-licious! I'm pretty sure that you won't have tasted anything like it before but once sampled, it'll be a regular on your barbecue grill.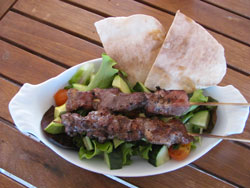 It's original influences come from a North African lamb recipe so if lamb is your choice, give it a whirl.
It's amazing to see how different areas of Mediterranean cooking still use the fundamental base ingredient of olive oil. You can see the similarities in the preparation style to Greek kebabs, if you leave out the spices altogether and you're gonna be pretty close to a Greek souvlaki.
This grilled pork kebab recipe requires an overnight marinade so if you're grilling today, bookmark this page for next time. Don't try to cut corners on this point, the marinade is absolutely essential both to tenderize the meat and to keep it moist on the skewer.
All too often I've have a grilled pork kebab that's absolutely bone dry and I hate it, it's the marinade that's going to stop you from serving tough chewy meat provided you give it the full 24 hours for it to work its magic.
Serves:- 4 people

Preparation Time:- 15 minutes
Marinade Time:- 2 hours
Cooking Time:- 10-15 minutes
Total Time:- 2 hours 30 minutes

Ingredients:-
450g or 1lb diced pork
3 tablespoons olive oil
juice of one large lemon
2 cloves garlic
handful flat leaf parsley chopped
salt and pepper
a teaspoon tip each of ginger, cayenne, all spice, cinnamon, coriander & nutmeg
Pitta breads & salad leaves for serving

Method:-
Mix up all the ingredients in a bowl and throw in the diced pork, cover and marinate for a couple of hours. It serves well to agitate the marinade every now and then by giving it a stir with a spoon.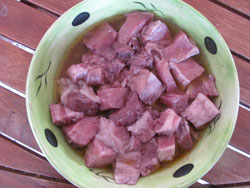 Don't be tempted to but the marinade in the refrigerator, if you do you'll notice that the olive oil goes cloudy in the cool temperature but this is nothing to worry about, it's normal. It'll also congeal and this additional viscosity slows down the action of the marinade so that's why I prefer to leave it a room temperature...it's not going to spoil in a couple of hours.
Whilst the meat is in the marinade you have time to make the dough for the pitta breads if you choose to make them yourself.

When your BBQ is nice and hot, slip the diced pork onto skewers:
Only use about ½ of the skewer and leave plenty of room to save your fingers from burning when you turn them.
Don't scrunch the meat onto the skewers, you want the cubes of meat to be loosely packed so that the heat can get all around. If you have the meat too tightly packed then the heat of the grill can't get to the inner area of the meat so you have to cook for longer and then the meat on the outside of the kebab will be overcooked and dry.
Pop them on the grill for 10 – 15 minutes turning once or twice to ensure that they cook on all sides and serve them hot.
The grilled pork skewers go perfectly in a pitta bread with a few salad leaves and a spoonful of natural yogurt.
Warm the pitta through on the grill giving it a minute on each side. Using a clean tea towel to protect your hand from the hot pitta, take the pitta in one hand and use your other hand to place a skewer in the pitta. Grip the pitta and pull the skewer to make a traditional kebab. Add some leaves, yogurt and enjoy!

Pages Related To This Spicy Grilled Pork Kebab Recipe:-

More Great Appetizers
Great Barbecue Pork Recipes
Delicious Barbecue Marinades
Information About Barbecue Skewers
BBQ Pork Recipe For Greek Souvlaki