Sunblush Tomato And Pesto Puff Pastry Bites
Crisp, flaky and golden, my sunblush tomato and pesto puff pastry bites are so easy to prepare and not only do they look great but they taste sensational.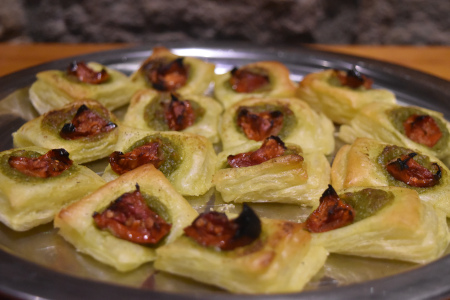 Cooked in minutes on my Monolith kamado barbecue the first thing to say about this recipe is that it is vegan. Normally the pesto element in this dish would have Parmesan cheese in it but I've chosen to leave it out because I don't think that it actually adds anything to this recipe. The addition of Parmesan would also render the recipe useless for vegetarians as well as vegans because Parmesan cheese is traditionally made using animal rennet.

I'm using shop bought vegan puff pastry by Jus-Rol. It's so good that I don't see the point in trying to make my own so I'm not going to break the recipe down to that level.
Note: I did do a batch of my sunblush tomato and pesto puff pastry bites using a non-vegan puff pastry and I found that the vegan stuff actually puffed up better then the non-vegan.
Serves:- 12 people with 2 pastries each

Preparation Time:- 15 minutes
Cooking Time:- 15 minutes

Total Time:- 30 minutes

Allergens
This recipe contains nuts. In addition there is gluten in the pastry.

Ingredients:-
For The Pesto
80g (½ cup) pine nuts
30ml (2 tablespoons) olive oil
A 60g handful of basil
1 tablespooon lemon juice
1 small clove of garlic
¼ teaspoon salt
To Complete The Sunblush Tomato And Pesto Puff Pastry Bites

1 sheet of ready rolled vegan puff pastry (I used Jus-Rol)
1 jar sunblush tomatoes
Pesto
Method:-
For The Pesto
Toast the pine nuts by gently heating them in a dry frying pan for a couple of minutes.

Put all the ingredients into a food processor and blitz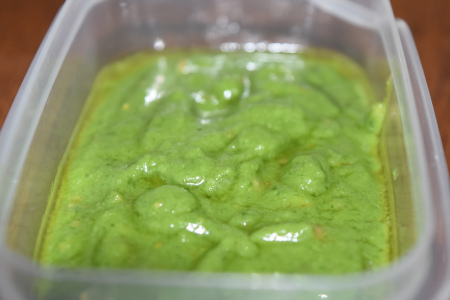 Pour off any excess oil floating on top of the pesto. I wouldn't normally do this to a pesto but I found that the oil can very quickly make the puff pastry go soggy and then it doesn't puff up as well when you cook it.

To Assemble The Sunblush Tomato And Pesto Puff Pastry Bites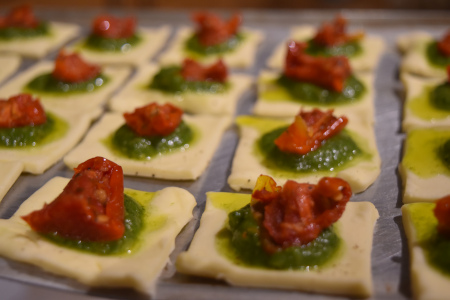 Roll out your sheet of puff pastry and cut it into 2cm (1 inch) squares and lay them out on your pizza stone.

Add ½ teaspoon of pesto to each square and top off with a piece of sunblush tomato. You may need to cut up your sunblush tomatoes depending on how big they are.
Set up your grill for indirect cooking at 200°C (395°F) - for my Monolith kamado this means having the heat deflrctor stones in place and then I'll be using the 2nd tier grill grate upon which to site my pizza stone.

Transfer the pizza stone to the grill and bake your pastries for about 15 minutes until the pastry squares have puffed up and turned a golden brown colour.
Serve immediately.

See Also:-

More Recipes For The Kamado
Plant Based BBQ Recipes
Vegetarian Barbecue Suggestions


Return Home from Sunblush Tomato And Pesto Puff Pastry Bites